Hurricane Lee now powerful Category 4 storm as it barrels through Atlantic with eventual path uncertain
Hurricane Lee weakened slightly to a Category 4 storm after reaching Category 5 strength Thursday night. Lee is expected to remain a powerful storm through early next week as its potential path for East Coast impacts remains uncertain.
For those in the American Caribbean islands of Puerto Rico and the U.S. Virgin Islands, sea state conditions are already deteriorating, and dangerous rip currents may be associated with Lee, the U.S. Coast Guard warns. It's of particular concern for those boating, fishing, beachgoing or engaging in water sports there this weekend.
National Weather Service advisories alert the possibility of life-threatening rip currents and increased seas ranging from 10 to 15 feet over the weekend along those coastal waters.
"We are concerned about people and boaters who may underestimate the impacts of this passing storm," said Capt. José E. Díaz, Coast Guard Sector San Juan (Puerto Rico) commander. "The increase in projected sea states of 10 to 15-feet severely reduces our ability to respond to a maritime distress with the full use of our resources."
Lee holds just under Category 5 status
The latest analysis Friday shows Lee has sustained wind speeds of around 150 mph – slightly below the 157 mph threshold to reach Category 5 status. 
HOW ARE HURRICANES RATED? THE SAFFIR-SIMPSON HURRICANE WIND SCALE EXPLAINED 
The storm underwent rapid intensification with extreme speed on Thursday, transforming from a Category 1 hurricane at 80 mph Wednesday night to a Category 5 monster at 165 mph just 24 hours later. 
Lee was only the 13th Category 5 storm to form east of the Caribbean on record. 
"When you see a storm that is wrapped up like that, then you know, you've got storm in the upper echelon" said FOX Weather Hurricane Specialist Bryan Norcross. "And this has been a really one for the record books in so many ways. And just thankfully, it's not heading for land, at least there in the short term."
The storm ran into a little wind shear later Friday morning, sapping a little of the storm's strength and knocking it down a rung to Category 4, but the storm is still well beyond the criteria of a major hurricane.
HURRICANE LEE LIVE TRACKER: SATELLITES SPAGHETTI COMPUTER MODELS, CONE OF CONCERN AND MORE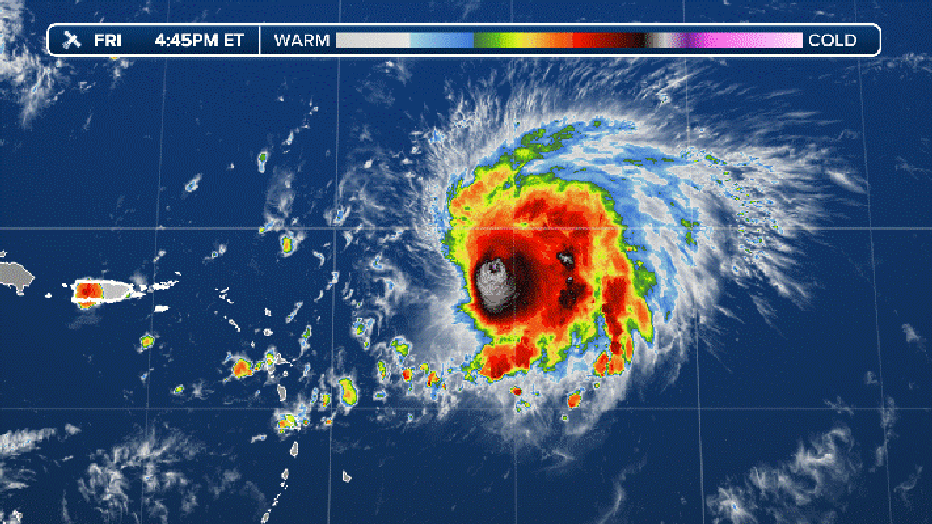 Current infrared satellite loop. (FOX Weather)
Will Lee have any impacts on the US East Coast?
By the weekend, Hurricane Lee is expected to bring gusty winds and rough seas to Lesser Antilles and Puerto Rico.
Beyond Sunday, the hurricane is expected to pass north of the islands and into the southwest Atlantic.
Norcross stated that Lee is not likely to be a direct threat to Florida, Georgia, or South Carolina, but the storm will generate high surf with powerful waves that may cause damage along the shorelines. 
While computer models predict Lee will stay offshore, some indicate that the Mid-Atlantic and Northeast coasts may still feel effects from the storm and monitoring future forecasts is recommended.
"Although there are some indications that Lee might begin a northward turn around the middle of next week, it is still way to soon to focus on specific model scenarios that far out into the future," the NHC stated.
WHAT IS THE 'CONE OF UNCERTAINTY' IN HURRICANE FORECASTS?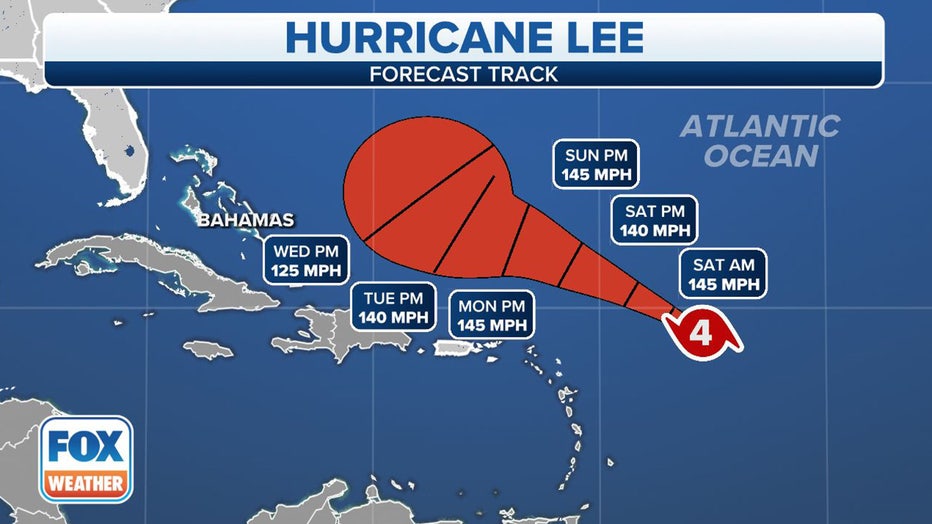 The forecast cone for Hurricane Lee. (FOX Weather)
Where is Hurricane Lee?
According to the National Hurricane Center, Hurricane Lee is less than 565 miles to the east of the northern Leeward Islands.
The hurricane continues to head in a west-northwest heading in the general direction of the northeast Caribbean and southwest Atlantic.
Early next week, the hurricane is expected to be north of Puerto Rico and east of the Bahamas.
HOW ARE HURRICANES RATED? THE SAFFIR-SIMPSON HURRICANE WIND SCALE EXPLAINED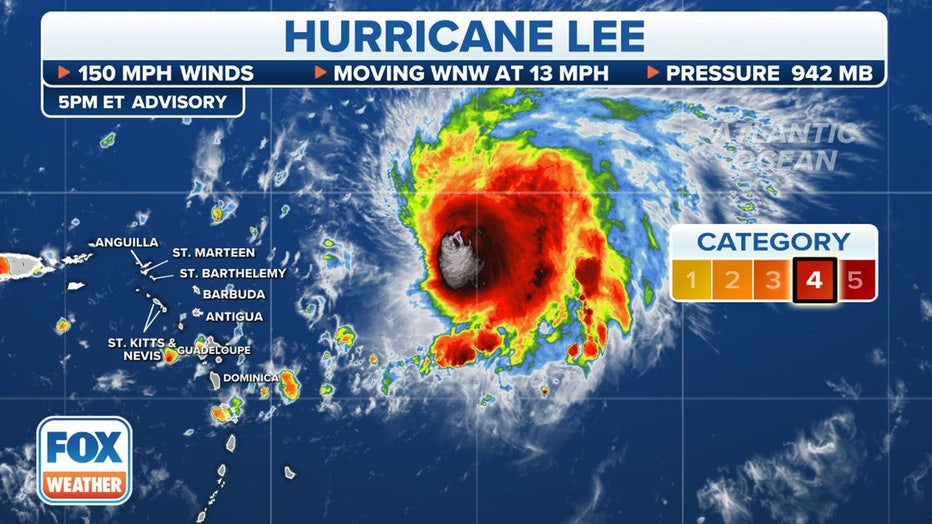 Where Hurricane Lee currently is. (FOX Weather)
What is the forecast track for Hurricane Lee?
Hurricane Lee is expected to move west-northwest during the coming days and near the islands in the northeast Caribbean during the next 36 hours.
While the cyclone is forecast to pass north of the islands, its close proximity rough seas are expected in the northern Leeward Islands which could cause coastal flooding.
There are currently no watches or warnings in effect for any landmasses.
TOP 5 STRONGEST HURRICANES EVER RECORDED IN ATLANTIC BASIN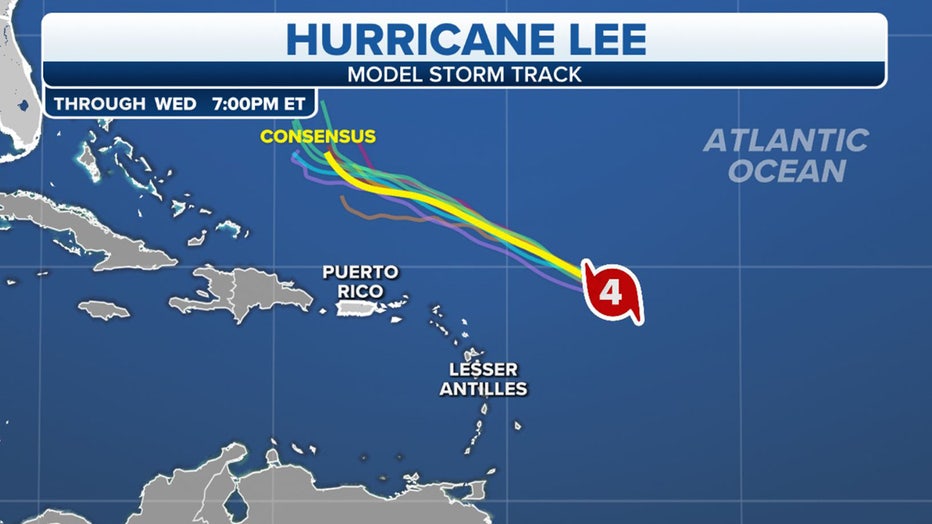 Spaghetti forecast model plots. (FOX Weather)