McDonald's to release Strawberry Shortcake McFlurry in US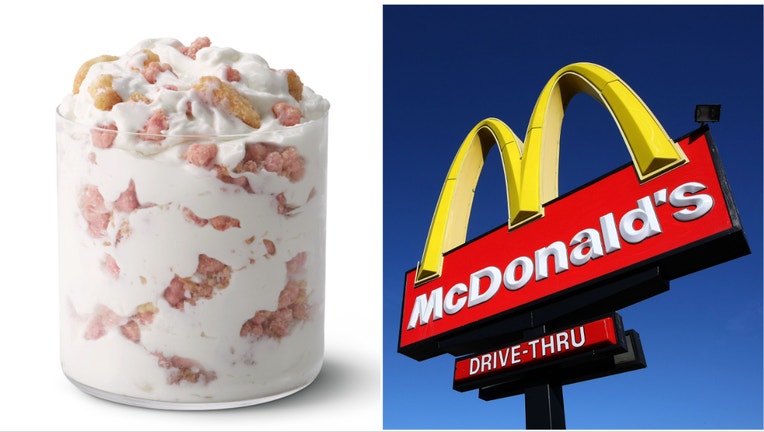 article
CHICAGO - The McDonald's McFlurry has been a popular, sweet staple among fast-food fans for decades. Now, the company has announced a new addition to their dessert lineup: the Strawberry Shortcake McFlurry.
According to a McDonald's spokesperson, the new McFlurry will feature creamy vanilla soft serve ice cream mixed with strawberry-flavored clusters and buttery shortbread cookies. 
The dessert item will be available on menus at participating U.S. fast food restaurants nationwide starting April 12, for a limited time.
On March 18, news of another McFlurry flavor circulated on social media after the Instagram account Snackolater shared the news. 
"This is a McFlurry option from Singapore," the snack company shared, noting at the time that the new dessert would include OREO cookies and strawberries. 
On Monday, Snackolater confirmed that the U.S. version would feature strawberry pieces and shortbread cookies instead. 
"This sounds so much better than the initial rumors and if you still want OREOs you can always have them added in as well. Actually... that might be a great idea to try," the company wrote. 
EARLIER: McDonald's reportedly adding Stroopwafel McFlurry; company says 'no comment' in Dutch
The popular McFlurry dessert was created by a Canadian franchise in 1995, and has since been added to McDonald's menus in 99 countries.
Last month, the Shamrock Shake and its McFlurry counterpart retuned to the menu at McDonald's. It typically returns to the menu in late February to celebrate St. Patrick's Day in March.
This story was reported from Los Angeles.