Parkland school shooting to be re-enacted as part of civil lawsuit before building is demolished
PARKLAND, Fla. - Nine members of Congress are expected to tour the blood-stained and bullet-pocked halls at Marjory Stoneman Douglas High School on Friday, shortly before ballistics technicians reenact the massacre that left 14 students and three staff members dead. 
Few have been inside the three-story building since the Valentine's Day 2018 shooting. The structure looms over the campus, locked behind a chain-link fence for use as evidence in last year's penalty trial for the shooter.
There is broken glass on the floor, along with wilted roses, deflated balloons and discarded gifts. Opened textbooks and laptop computers remain on students' desks - at least those that weren't toppled during the chaos.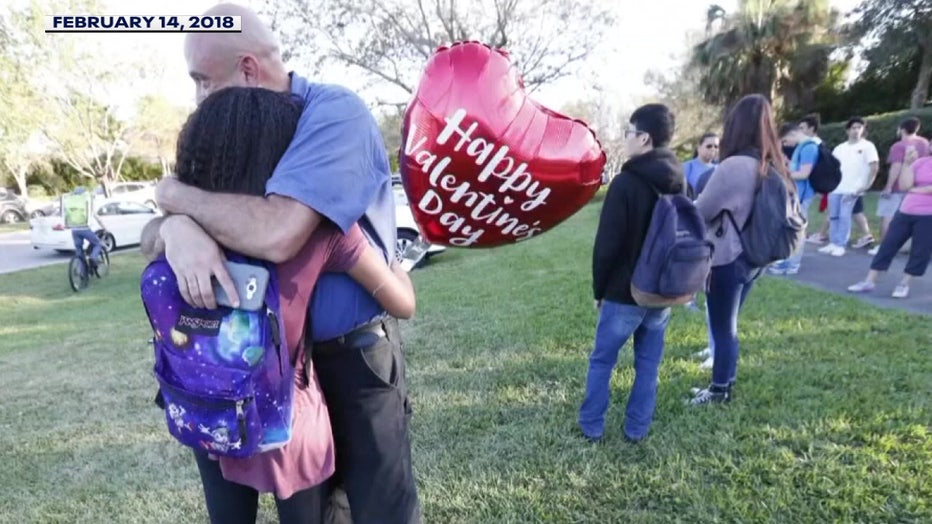 A student holds a Valentine's Day balloon while hugging a parent after a school shooting. 
In one classroom, there is an unfinished chess game one of the slain students had been playing, the pieces unmoved. The Associated Press was one of five media outlets allowed to tour the building after shooter Nikolas Cruz's jury went through. 
The shooting, which sparked a nationwide movement for gun control, traumatized the South Florida community. Cruz, a 24-year-old former Stoneman Douglas student, pleaded guilty in 2021 and was sentenced to life in prison. 
RELATED: 'Stunned, devastated': Parents of Parkland victims react to shooter's life sentence
Florida Democratic Rep. Jared Moskowitz, who organized the tour with Republican Rep. Mario Diaz-Balart, said he expects the event to have "a profound impact" on the six Democrats and three Republicans who belong to the House School Safety and Security Caucus. They will be joined by Cruz's prosecutors and members of the victims' families. 
This will be the first time a congressional delegation has toured the site of a mass shooting, Moskowitz said. The tour was suggested by Max Schachter, whose 14-year-old son, Alex, died in the shooting. Schachter is now a full-time school safety advocate.
"When you watch something like this on TV, you're a thousand feet away - they show a picture of the building," said Moskowitz, who is a Stoneman Douglas graduate. "You don't see the impact that the shooting had on the families ... or the impact on a community when a school becomes a war zone."
RELATED: The victims of the 2018 Parkland high school massacre
After the tour ends, the caucus members and families will go to a nearby hotel to discuss school safety issues. Moskowitz said he thinks it will take time for the congressional members to take everything in emotionally and intellectually. 
"You're not going to walk through this and then get out a pen and paper and start writing down your policy ideas," he said. "But we have got to figure out how no other families become part of this exclusive club no one wants to belong to." 
After the members leave, ballistics experts will fire up to 139 shots of live ammunition during a reenactment. The experts will fire from the same spots as Cruz, with an identical AR-15-style semiautomatic rifle, and the bullets will be caught by a safety device. The test at the school, which is closed for summer break, is expected to take several hours. 
RELATED: Broward school district to pay $26 million to Parkland shooting victims
Technicians outside the building will record the sound of the gunfire, seeking to capture what the Broward County deputy assigned to the school, Scot Peterson, heard during the six-minute attack. 
The reenactment is part of a lawsuit by the victims' families and the wounded that accuses Peterson of failing in his duty to protect them and their loved ones. 
RELATED: Family of Parkland victim creates program for families impacted by gun violence
Peterson, who worked for the Broward County Sheriff's Office and is named in the lawsuit, said he didn't hear all the shots and could not pinpoint their origin because of echoes. He got within feet of the building's door and drew his gun, but backed away and stood next to an adjoining building for 40 minutes, making radio calls. He has said he would have charged into the building if he knew the shooter's location.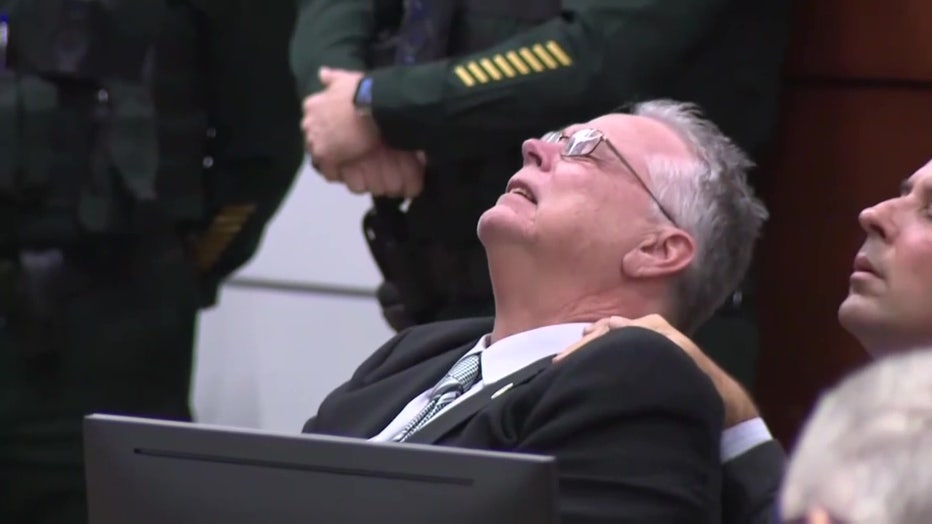 Deputy Scot Peterson was acquitted of criminal wrongdoing, but is being sued civilly by parents.
Families of the victims who filed the lawsuit contend Peterson knew Cruz's location but retreated out of cowardice and in violation of his duty to protect their loved ones.
Peterson, 60, was acquitted in June of felony child neglect and other criminal charges for failing to act, the first U.S. trial of a law enforcement officer for conduct during an on-campus shooting. 
The burden of proof is lower in the civil lawsuit. Circuit Judge Carol-Lisa Phillips allowed the reenactment but made clear she was not ruling on whether the recording will be played at trial. That will have to be argued later, she said. It is likely Peterson's attorneys will oppose the attempt.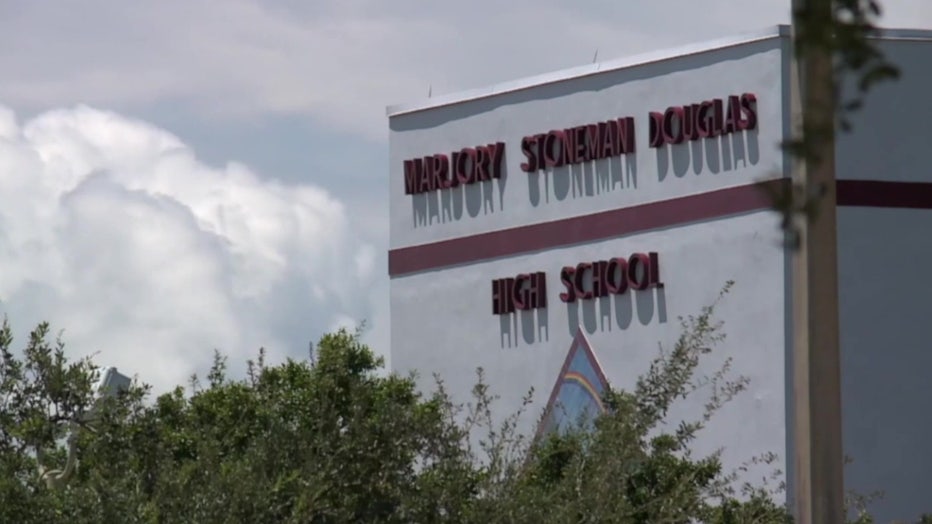 File: Marjorie Stoneman Douglas High School 
No trial date has been set. The families and wounded are seeking unspecified damages.
After Friday, the Broward school district says it will begin demolishing the building.