Patrol agents testify at border crisis hearing, as House Republicans push to impeach DHS Sec Mayorkas
WASHINGTON - The House Oversight Committee held a hearing on Tuesday to learn about the situation on the ground at the southern border, directly from chief patrol agents who deal with the crisis every day.
The hearing comes as Republicans, who control the committee, are ramping up pressure on Homeland Security Secretary Alejandro Mayorkas – with some calling for his impeachment.
"We'll be bringing in Chief Patrol Agents to better learn how Mayorkas has left them behind," committee member Rep. Andy Biggs, R-Ariz., tweeted Monday morning, adding that the secretary "must be impeached."
Biggs announced last week that he was introducing an article of impeachment against Mayorkas, claiming that the secretary's refusal to complete the construction of a border wall as well as insufficient staffing have contributed to massive amounts of fentanyl flowing into the United States.
Testifying at Tuesday's hearing will be Chief Patrol Agents Gloria Chavez and John Modlin of the Rio Grande Valley Sector and Tucson Sector, respectively. Originally, the committee had called Chavez and Chief Patrol Agents Jason Owens, Gregory Bovino, and Patricia McGurk-Daniel, but DHS initially tried to keep chief patrol agents from testifying.
"I am pleased that the DHS is no longer taking such a position," Oversight Committee Chairman Rep. James Comer, R-Ky., said in a letter to Mayorkas last week.
The hearing comes as migrants continue to come to the border in staggering numbers. According to statistics from U.S. Customs and Border Patrol, December 2022 saw 251,487 southwest land border encounters, up from 179,253 in December 2021, 73,994 in December 2020, and 40,565 in December 2019.
Get updates on this story at FOXNews.com
More Arizona border security headlines
LiveNOW from FOX: Streaming live events, breaking news, and stories from around Arizona and the world: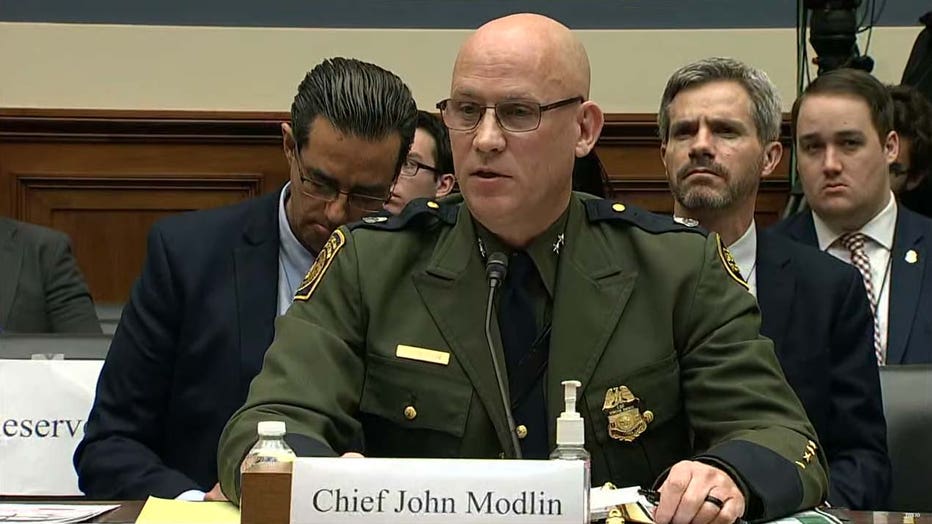 Chief Patrol Agent John Modlin testifies at a border crisis hearing on Feb 7.