Peoria man accused of kidnapping son, killing child's mother has charges dismissed
FEB. 22 UPDATE: According to the Maricopa County Coroner's Office, Eric Maes died on Feb. 19. "Pending" is listed for the manner of death and primary cause of death. Our original story is below.
___
PEORIA, Ariz. -- A man accused of kidnapping his infant son in a custodial dispute that led to the death of the boy's mother has had his charges dismissed, court documents confirmed on Feb. 18.
According to prosecutors, the suspect, 30-year-old Eric Maes, is now in critical condition and unable to make his own medical decisions. Officials with MCSO tell FOX 10 Maes attempted to commit suicide while in jail on Feb. 13, and is not expected to survive.
Maes was taken into custody after a 24-hour manhunt, after police say he kidnapped his infant son and ran over the boy's mother. 30-year-old Brittany Walker. Police in Peoria said on Feb. 11. that Maes admitted to intentionally striking the woman with her stolen van
"The defendant is medically incapacitated, and we decided in an act of mercy, really, to allow this family to be able to not only be with the defendant and to make medical decisions on his behalf," said Jennifer Liewer with the Maricopa County Attorney's Office. "I want to be clear we did not do this for the defendant. We did this for his family."
Officials with MCSO say Maes' family reached out to prosecutors on the night of Feb. 17, asking for criminal charges to be dismissed so they could make medical decisions on Maes' behalf, which they could not do since Maes was incarcerated.
A judge has since dismissed criminal charges against Maes without prejudice.
"We've made it very clear if there's any type of recovery by Mr. Maes, that these charges will be filed again," said Liewer.
A judge had ordered last week that Eric Maes, 30, remain jailed in lieu of $2 million bail on suspicion of premeditated first-degree murder, kidnapping in apprehension of injury, endangerment and theft of means of transportation.
Maes was arrested last week in Phoenix in a wash area after he was spotted in Phoenix and tried to run from officers, police said. He was caught after evading police for nearly 24 hours.
Police say the public was key in his capture.
"It was a citizen in Phoenix who believed they saw him in the area," said Sgt. Amanda Gaines with Peoria Police. "Phoenix police responded, they got into a short foot pursuit with him, and he was taken into custody."
The 10-month-old boy named Abel was found in good health, but police said his 30-year-old mother, Brittany Martie of Phoenix, died from injuries suffered Tuesday after her van was driven off with her son inside.
Police initially said while Maes was still at large that Martie was injured after she grabbed and held onto the van.
However, a police probable-cause statement released Thursday said Maes was interviewed by police Wednesday evening and admitted stealing the van and fighting with the boy and Martie inside the vehicle.
Maes said Martie jumped out of the moving van and that he turned it around and intentionally struck Martie as she stood on a sidewalk, the statement said.
The van was stolen from outside a home where Maes' adult sister had been babysitting the boy, the statement said.
Police said a resident in the neighborhood called 911, reporting hearing a woman yelling "stop, stop, help, help" from inside the van and, after the van did a U-turn, that the person walked down the street and "found a woman wrapped around a fire hydrant."
Possible blood and possible handprints were found on the front of the van after it was found abandoned early Wednesday, the statement said.
Brittany's cousin, Juliann Davis, said she was "absolutely disgusted" by the details surrounding her death.
Police say Maes abandoned 10-month old Abel at a friend's house in north Phoenix, who called 911 after finding the infant. The baby was released to Mae's side of the family, but Brittany's relatives say Abel should be with them.
"Abel is separated from the only home that he knew, separated from the family he lived with, separated from his sister," said Davis.
Police initially said Maes lived in Sun City but the probable-caused statement released Thursday said he was a transient who "has no place to live."
The statement also said Maes said told police he was a methamphetamine user and had smoked it earlier in the week.
Victim's sister reacts
Walker's family says authorities told them that Maes attempted suicide while in custody over the weekend, and the incident left him in a vegetative state.
"We are very devastated that it came down to this, because we want justice for my sister. My sister deserves justice," said Walker's sister, Trish Faras.
Faras says her family feels as if they've been robbed.
"My sister didn't get that comfort of having her family around her when she passed away. We're sickened from it, but we do feel for his family. They're losing somebody too, but us, as a family, we didn't get that closure for my sister," said Faras.
Officials with the Maricopa County Sheriff's Office have not released any information so far on the incident that led to Maes' medical emergency.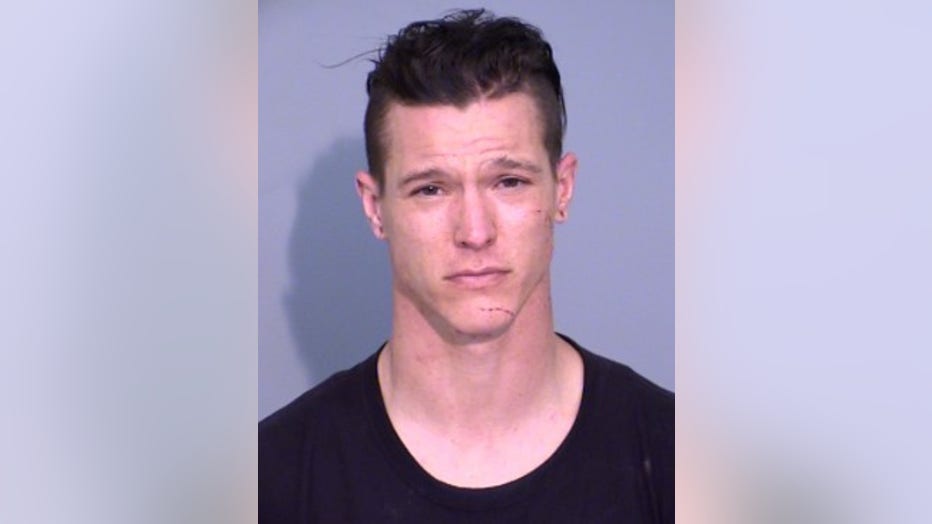 Get breaking news alerts in the FREE FOX 10 News app. Download for Apple iOS or Android.