Pfizer's RSV vaccine 82% effective against severe infection in infants, data shows
The first-of-its-kind vaccine designed to protect infants from the common but scary respiratory virus called RSV was found to be 82% effective at preventing severe cases when given to pregnant mothers, according to data published this week.
The RSV vaccine candidate, referred to as RSVpreF, was developed by Pfizer. Final data was published on Wednesday in the New England Journal of Medicine, confirming preliminary findings shared by the drug company last year.
Pfizer's vaccine candidate is administered to pregnant women, who then pass the protective antibodies to the baby. The vaccine is designed to help protect against the complications of RSV in infants at birth through 6 months, the company said.
Pfizer found that vaccinating moms-to-be was 81.8% effective at preventing severe cases of RSV in their babies' most vulnerable first 90 days of life. At age 6 months, the vaccine still was proving 69.4% effective against serious illness.
However, the RSV vaccine did not meet its goal of reducing non-severe illness in infants, according to the data. The company also said there were no safety concerns identified.
More than 3,570 infants were evaluated as part of the study.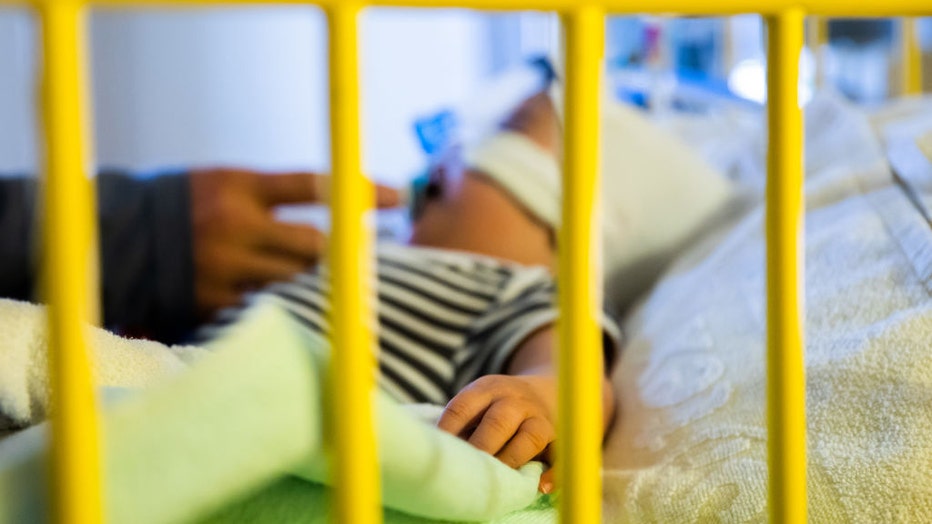 FILE - A baby is pictured in the intensive care unit at a hospital with a respiratory infection. (Photo by Christoph Soeder/picture alliance via Getty Images)
RSV, which stands for respiratory syncytial virus, is a common cause of mild cold-like symptoms such as runny nose, cough and fever. Nearly all U.S. children normally catch an RSV infection by age 2. 
While everyone can get RSV, it causes the most threat to infants, older adults, and other vulnerable people, who can get serious airway and lung infections, according to the U.S. Center for Disease Control and Prevention. Among U.S. kids under age 5, RSV typically leads to 58,000 hospitalizations and up to 500 deaths in a year.
Worldwide, RSV kills about 100,000 children a year, mostly in poor countries.
To date, there has been no approved vaccine for it, though several candidates have been in the testing stages.
The U.S. Food and Drug Administration is expected to decide on Pfizer's RSV vaccine candidate by August. If the FDA approves the vaccine, the decision will then go to the CDC for final approval.
RELATED: Infants exposed to pet dogs or cats may develop fewer food allergies, study finds
This story was reported from Cincinnati. The Associated Press contributed.