Gas line fire near 7th Street, University Drive closes Phoenix bridge indefinitely
PHOENIX - Phoenix city officials say the 7th Street bridge south of University Drive will be closed indefinitely following a massive gas line fir.
Firefighters say the flames and smoke came from underneath the bridge, which overlooks the Salt River.
"The pipeline that ruptured was a 10-inch, and it ran underneath the bridge," said City of Phoenix Director of Street Transportation Kini Knusdon.
Southwest Gas has secured the gas line, which has stopped the source of the fire, and no other nearby buildings were exposed to the flames.
No injuries have been reported, but the bridge has been left structurally unsafe, as the bridge's underside sustained most of the damages caused by the blaze.
The fiery explosion blew out chunks of concrete from underneath the bridge, while the intense heat melted metal, causing a light pole to melt and droop above the roadway.
"We're assuming there was nobody on the bridge or under the bridge, but that's something Phoenix Fire will continue to investigate," said Knusdon. "We're trying to get in there as quickly as possible to assess what the damage is, how we're going to repair it, and that will let us know how long it will take to get it back open."
Fire investigators are still looking into what caused the gas line to rupture.
In a press conference on Sunday, Phoenix city officials said the bridge will likely be closed for months as its structural integrity was compromised.
"We are still getting a final assessment but it appears that it will be not operable for several months," said Phoenix Mayor Kate Gallego. "The City of Phoenix will do everything in its power to improve traffic flow and transit options, especially for those who live and work south of the river."
Bridge closure affecting those nearby
The explosion happened in an industrial area, and the bridge closure is making it tricky for one transportation company to navigate trucks.
"It's really just a matter of trying to play a good game of Tetris to keep track of everything," said Chris Accomando with Dedicated Delivery Professionals.
The bridge closure is also affecting bikers and walkers, as paths in the area, like the Rio Salado Habitat Restoration Trailhead, are also closed.
"Who knows if that line goes under the riverbed or under the street, but we're very fortunate. If that were around houses, there would be a lot more damage," said Accomando.
The city recommends the following detours:
East: 16th Street or 24th Street

West: 7th Avenue or even 19th Avenue
Central Avenue is not recommended due to light rail construction.
Residents with questions can call 602-262-3111 during regular business hours, Monday to Friday, 8 a.m. to 5 p.m.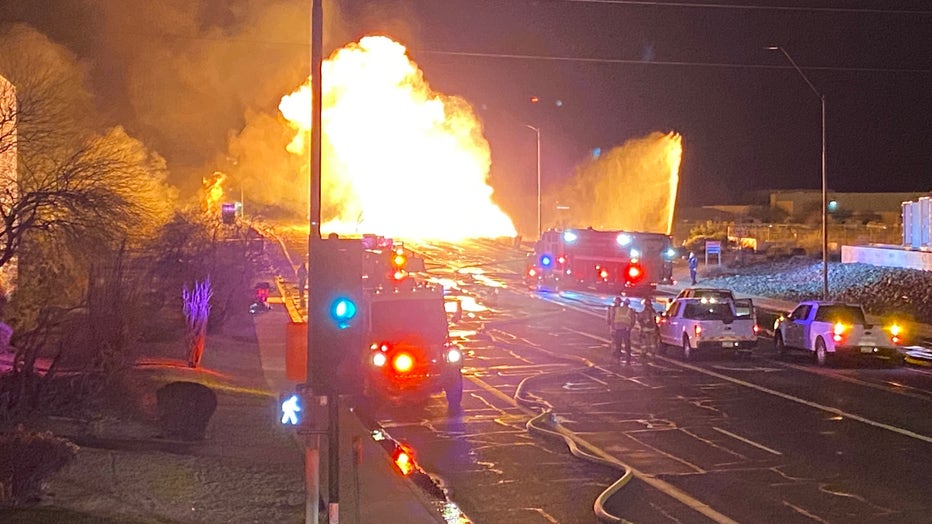 7th Street fire over the Salt River (Phoenix Fire)
Get breaking news alerts in the FREE FOX 10 News app. Download for Apple iOS or Android.