Prescott Valley woman gets call saying her son was kidnapped, is nearly scammed out of $15K: Chandler PD
CHANDLER, Ariz. - A Prescott Valley woman was nearly scammed out of $15,000 after she received a call claiming that her son was kidnapped, demanding money for ransom.
Chandler police say Julio Paulino Rosario, 21, and Raul Roque Reyes, 22, were arrested for the crime. They allegedly defrauded multiple victims and stole tens of thousands of dollars from them.
The investigation began after officers were called to a Chapman BMW near I-10 and Ray Road on Aug. 22. The woman said the unknown callers had demanded she bring the money to the dealership and to bring it to a man named "Paul."
"A ride-share driver was hired to deliver the envelope to the dealership, but upon arrival, employees informed him that "Paul" worked at a different location," police said in a statement.
Police say the two suspects followed the ride-share driver. One of them claimed they were "Paul" and tried to get the envelope, but the driver had already left it behind at the dealership.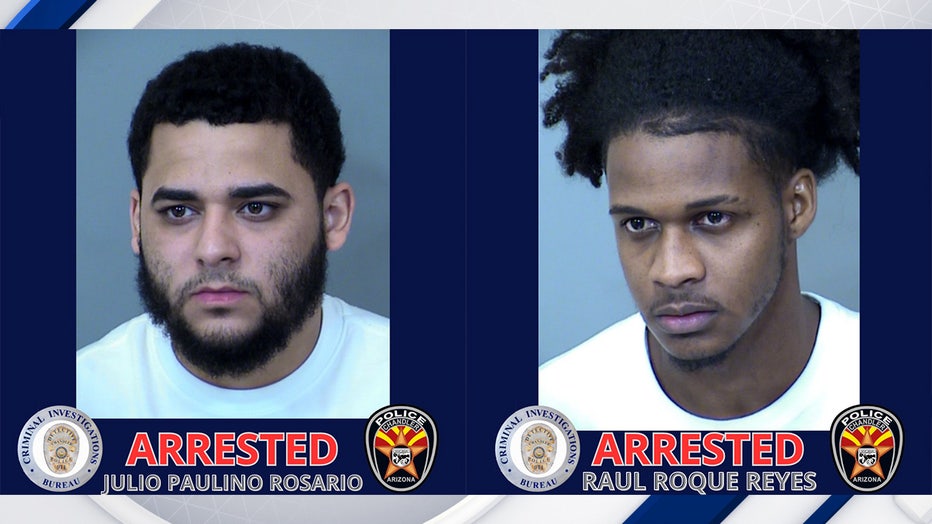 Julio Rosario (left), Raul Reyes (right)
Meanwhile, the BMW employees discovered the envelope contained thousands of dollars and called police.
An officer eventually pulled over Rosario and Reyes in a sports car near Priest and Ray Road, and the pair was taken into custody.
A search of the vehicle revealed large amounts of cash inside and ripped up envelopes containing the names of three other victims.
Both of them are accused of multiple counts of theft, fraud, and participating in or assisting a criminal syndicate. Police say they live in New York City but are undocumented, and they are originally from the Dominican Republic.
In total, detectives identified four victims and recovered $50,000 during their investigation.
Anyone who believes they were a victim of these crimes is asked to contact their local police department. Anyone with information about the suspects can contact Chandler PD at 480-782-4130.
Where it happened: