Pretty in pink: Hudson, Wis. short-term rental owner creates real-life Barbie dreamhouse
HUDSON, Wis. (FOX 9) - Hudson, Wisconsin is filled with vintage homes.
But few of them are colorful enough to make Barbie turn green with envy.
"People want to stay in a house that's different. It's not the normal beige. It's pink," said Barbiecore Castle owner Brooke Fleetwood.
You could say Fleetwood thinks everything looks pretty in pink.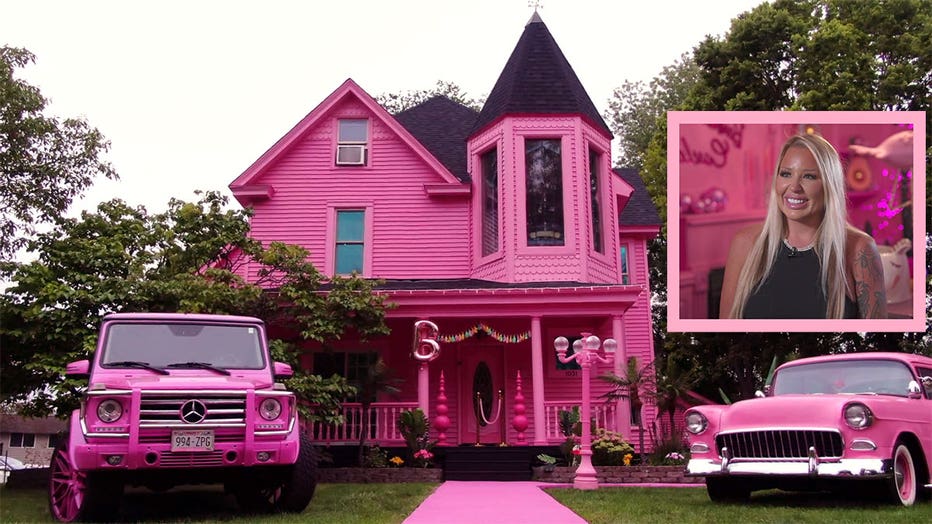 She owns a handful of properties in town that are all decked out in her favorite color, including one she named the Pink Castle, which is often booked a year out for bachelorette parties, birthdays and family gatherings.
But a week before the Barbie movie opened last month, Fleetwood decided to paint another short-term rental, a 100-year-old Victorian home formerly known as the Goth Castle, pink as well to take advantage of Barbie mania.
"People wanted more pink. Barbie was the inspiration so I needed to hurry up and paint this pink very quickly to keep up with the Barbie movie and to keep up with the demand of the pink," said Fleetwood.
Not only is the outside of the Barbiecore Castle painted the eye-catching color, there is plenty of pink on the inside as well, from the place settings to the staircase to the neon signs hung around the house.
But so far Fleetwood hasn't seen the cause of the current craze herself.
"Yeah, I like Barbie. I haven't seen the movie yet but I will. I am waiting for all the hype to die down so I can go in peace but I will see it," said Fleetwood.
Fleetwood says the seven bedroom shrine to the popular doll is still a work in progress.
But she believes her version of Barbie's dreamhouse will be heaven for her guests as well.
"I want them to experience an over-the-top experience for them and their guests. Experience something they have never seen or experienced before. I'm loving it. It's great. The more pink, the better for sure."