Rosalynn Carter remembered as champion for mental health advocacy
ATLANTA - Former first lady Rosalynn Carter was as much a towering figure of global advocacy as her husband, former President Jimmy Carter. A big part of that legacy will be her five decades of championing the education, understanding, and normalizing of mental health and substance abuse treatment.
Carter began her advocacy in 1971 while her husband was the Georgia governor, serving as a member of the Governor's Commission to Improve Services for Mentally and Emotionally Handicapped Georgians.
In May 1979, Rosalynn Carter gave her first address to the World Health Organization, stating that health is a human right and calling attention to mental health as a crucial component of a person's overall well-being.
During her time in the White House, Carter continued her fight, spearheading the passage of landmark legislation on mental health care policy. She testified before Congress, pushing for the passage of the Mental Health Systems Act, which her husband signed into law in October 1980. The law outlined rights for mental health patients to receive the protection and services they require and placed emphasis on the mental health needs of minority communities.
While in the national spotlight, Carter served as a lifelong champion for those suffering from mental illness, breaking down stigmas that keep many from getting help.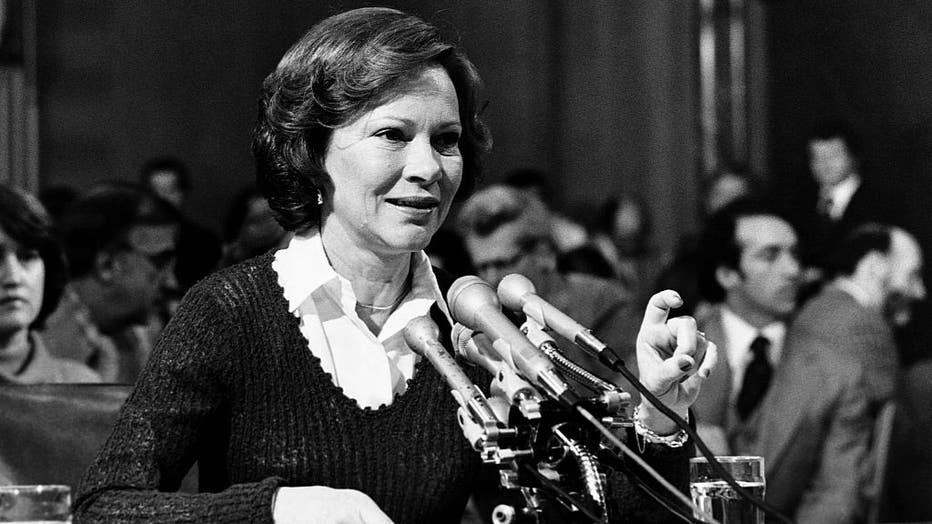 First Lady Rosalynn Carter testifies before Congress about increasing the funding for certain mental health programs. Washington DC , February 7, 1979. (Photo by © CORBIS/Corbis via Getty Images)
"I wanted to take mental illness and emotional disorders out of the closet to let people know that it is all right to admit having a problem without fear of being called crazy," she said. "If only we could consider mental illnesses as straightforwardly as we do physical illnesses, those affected could seek help and be treated in an open and effective way." 
Carter spent decades fighting to get people with mental illness the same health insurance coverage as those with other conditions.
"It can be diagnosed, it can be treated, and almost everyone suffering from mental illness can be helped," she said.
She said she developed her interest in mental health during her husband's campaign for Georgia governor.
"I used to come home and say to Jimmy, 'Why are people telling me their problems?' And he said, 'Because you may be the only person they'll ever see who may be close to someone who can help them,'" she explained.
She established the Carter Center Mental Health Program in 1991 and later launched the Rosalynn Carter Georgia Mental Health Forum, which addresses mental health policy issues in Georgia. In 2018, Rosalynn Carter led the program to launch a school-based initiative to increase access to mental health services in schools. 
In May 2021, she was honored by WHO Director-General Dr. Tedros, recognizing "lifetime achievement with an Award for Global Health. Carter was one of three people honored during the ceremony. 
Her grandson, Jason J. Carter, who is the Carter Center Board of Trustees Chairperson, received the award on her behalf, reading a letter his grandmother wrote:
"The Director-General's award for global health is especially meaningful to me in light of the Carter Center's long partnership with WHO to eradicate debilitating neglected tropical diseases and to promote the inclusion of mental health as an integral part of overall well-being," Jason Carter read. "My hope is that this is the moment when all nations will make behavioral health a priority and create quality systems of care that are equitably delivered. I've been waiting a long time to see this happen. I urge all of you attending to use your influence and talent to ensure that it does."
ALL ROSALYNN CARTER STORIES
Rosalynn Carter died in Plains, Georgia at the age of 96, surrounded by her family. She will forever be remembered as one of the loudest voices in mental health advocacy.
The Associated Press contributed to this report.