Severe flooding in parts of the Valley as storm rolls through
PHOENIX - Stormy weather is wreaking havoc in metro Phoenix, flooding roads and leaving residents awaiting rescue.
As much as 5 inches of rain deluged suburbs east of Phoenix Monday including Apache Junction, Tempe, Gilbert and Mesa.
The National Weather Service issued flash flood warnings for those areas through this morning.
RADAR: Latest weather conditions across Arizona
In parts of the East Valley like Apache Junction and Mesa, residents woke up to major flooding Monday morning. Cleanup efforts were still underway as of Monday afternoon.
"It came through here and looked like a river and I have never seen water move that fast it just washed everything out." said Bill Cornwell, who woke up to the pouring rain, thunder and lightning early Monday morning, and quickly sprang into action when he saw people in need outside of an RV park.
"There were cars that had stalled out, and they were trying to go to work," said Cornwell. "My truck was tall enough so I could get them through here and got them out."
Meanwhile, Jeff Serdy with AJI Guns and Gunsmiths is dealing with wet carpet and damaged gods after water flowed through his store. Serdy says all the firearms are OK, but the boxes are soaked.
"As we sell these as new firearms, it is going to be hard to convince the people that they are because the water damage it is probably going to cost me thousands of dollars plus the carpet," said Serdy.
In other parts of the East Valley, such as the area of Crismon and Southern, about 200 feet of a concrete cinder block wall was toppled. Officials say a retention basin north of Southern overflowed, sending water downstream into a nearby church. The water collected along a wall, and the wall acted like a dam until the water level rose up to about four feet.
"Some people in their cars were stranded in our parking lot," said Roy Gallegos. "We took our truck around and rescued some of them get them out of the car and into the building."
The Superstition Fire Medical District reported on its Twitter account that crews tended to five water rescue calls Monday, including a mother and her child stuck in a flooded wash near McKellips and Main Drive in Apache Junction.
The storms are from the remnants of Hurricane Lorena, which was downgraded to a tropical storm over the weekend.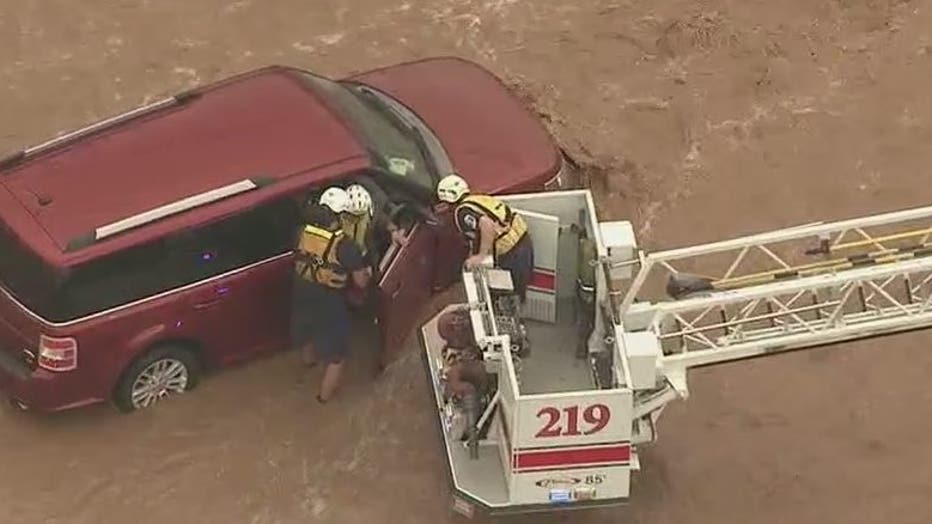 In the New River area, some required rescue as a result of flooding.
In the Black Canyon area, near I-17 and Jomax, two teenage boys also required rescue, after they were trapped on an island created by rising floodwaters. The teens were pulled to safety by Phoenix Fire rescue crews.
Due to flooding, several roads are closed throughout the Valley.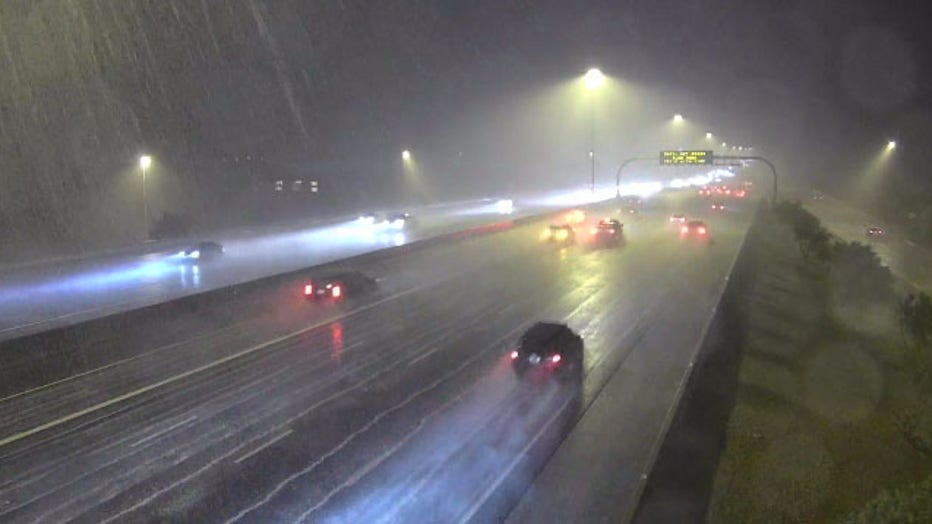 APS is reporting thousands of customers are without power. Meanwhile, officials with the Tonto National Forest say recreation sites along the Lower Salt River, from Saguaro Lake to the Forest boundary at Granite Reef are closed for public safety, and State Route 88 is temporarily closed.
The Associated Press contributed to this report