Video shows 2 women shot at Guaranteed Rate Field during White Sox game
CHICAGO - Two women were wounded by gunfire inside Guaranteed Rate Field Friday night during the Chicago White Sox-A's game.
Chicago police say a 42-year-old woman was shot in the leg and a 26-year-old woman sustained a graze wound to the abdomen. 
According to the White Sox, the women were sitting in the bleachers when they were struck. 
The incident occurred in Sections 161 and 162.
The White Sox released a video showing the exact moment when two women were struck by gunfire. Commotion can be seen then someone flagging down security.
The 42-year-old was transported to University of Chicago Medical Center. The other victim refused medical attention. 
Police released a statement late Friday night saying, "at no time was it believed there was an active threat."
As police continue to investigate, White Sox security confirms that this incident did not involve an altercation of any kind.
SUBSCRIBE TO FOX 32 CHICAGO ON YOUTUBE
Attendees at the South Side field must pass through metal detectors, so it's not known how a firearm would have gotten inside the park, or if possibly the gunfire was a stray bullet.
The White Sox released a statement saying it remains unclear whether the shots were fired from outside or inside the park. 
Additionally, a post-game concert featuring Vanilla Ice was canceled. White Sox officials blamed "technical difficulties."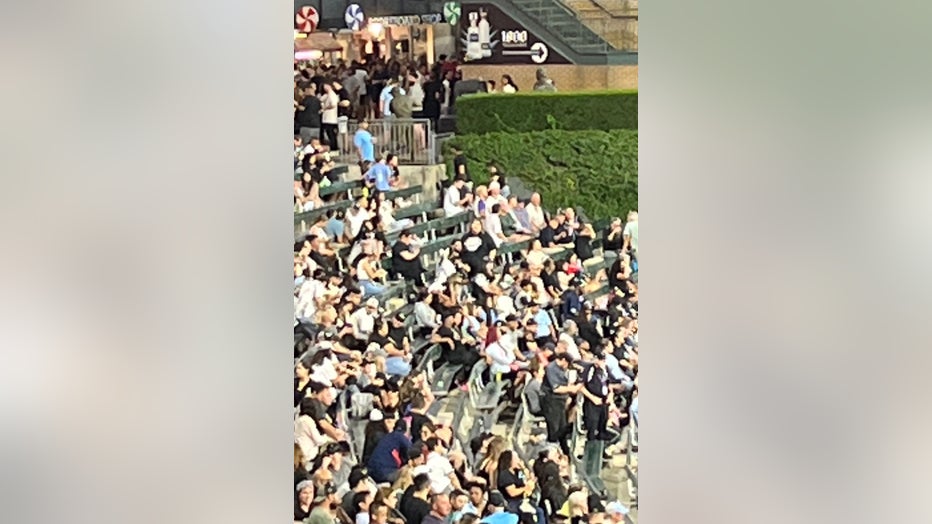 Where the "shooting incident" occurred during the White Sox game, in the bleachers | Provided
Vanilla Ice took to TikTok Saturday morning to address the shooting. He called the White Sox facilities first-class and said that no one deserved to have their night end like that. 
He also said the police and security did a great job handling the situation.
The game continued even though the shooting incident occurred, and finished 12-4 with an A's win.
The alderperson of the 11th Ward Nicole Lee released a statement about Friday night's events. 
"As Alderman of this ward and as a fan who has attended many Sox games, I am shocked and sickened by what happened this evening, and my heart goes out to the gunshot victims. I am in ongoing communication with both the Chicago Police Department and the White Sox organization, and it is my promise to our community and our city that we will get to the bottom of this."
The investigation remains ongoing.