Tampa police trap a nearly 10-foot alligator on Howard Avenue
TAMPA, Fla. - An alligator trapper is warning people to be careful after a 9'4" alligator was caught roaming around Howard Avenue early Wednesday morning. 
Tampa police captured the large reptile on Howard Avenue near Kathleen Street, which is just north of Columbus Drive. 
Captain Phil Walters, a contracted alligator trapper, who hauled the animal away, believes it came from the Hillsborough River because there is a creek that leads from the river to Howard Avenue. 
READ: So Florida: Massive alligator crushes through metal fence at Florida golf course
He says alligator mating season is right around the corner and he expects them to be very active over the next couple of months. Captain Walters added that over the past week he's had 10 gators in the back of his truck.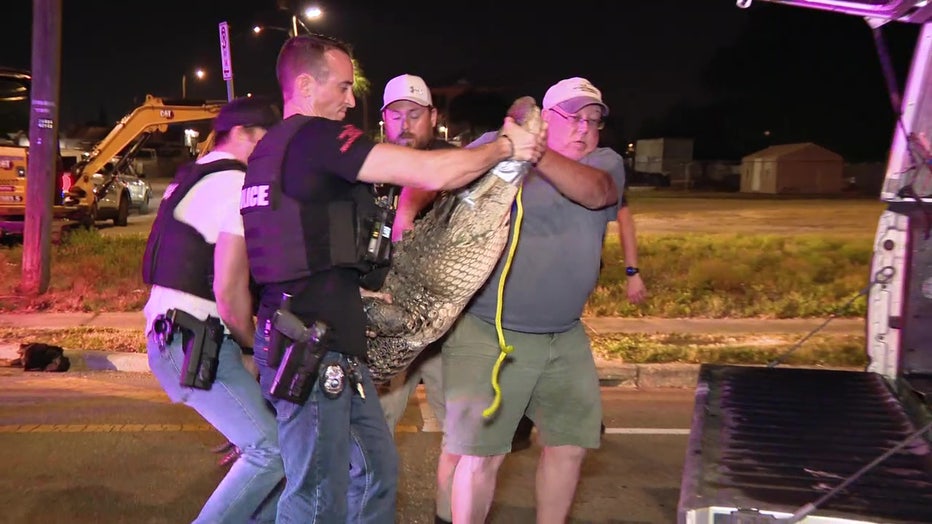 A contracted alligator trapper helps officers put the reptile in his truck.
"This time of year for whatever reason they start walking around, looking for love, looking for new places to eat – they're hungry," Walters stated. "This is the time of year to be really aware of your surroundings. Look where you put your feet and hands. Look before you jump in the pool. I take them out of pools this time of year. Look before you walk out the door. If you have a doggy door, look before you step out of bed."
READ: Florida alligator trappers receive first stipend increase in nearly 20 years in hopes of alleviating shortage
Walters says it is important for residents to be aware of their surroundings this time of year. He explained that if a motorist hit the alligator with their car on Howard Avenue, their vehicle would have been totaled.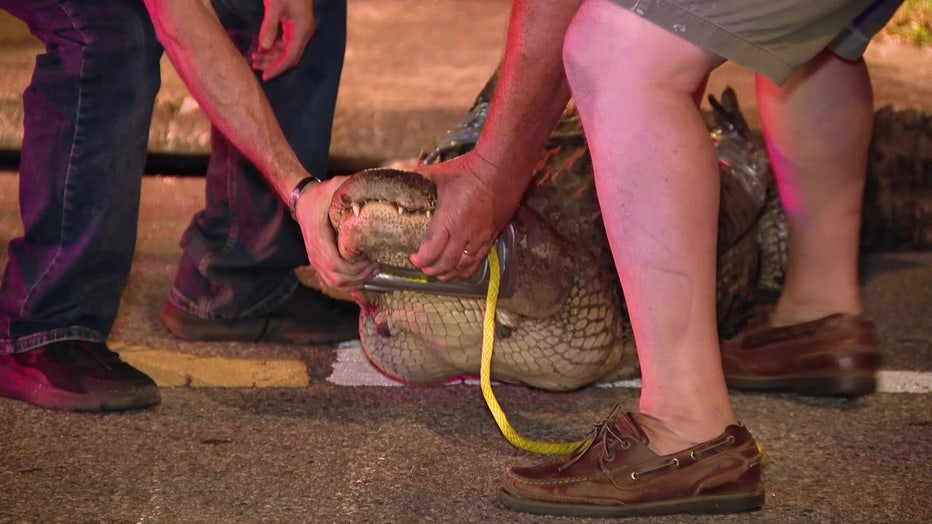 Tampa police wrangled the gator after it was seen wandering in the street. 
An alligator is deemed a nuisance if it is at least four feet long and the caller believes it poses a threat to people, pets or property. If a trapper catches a gator that is smaller than four feet, they can release it but if it is larger, like the one caught on Howard Avenue, the trapper can either kill the gator or sell it to an alligator farm, alligator exhibit, or zoo. 
READ: Thousands of 'nuisance alligators' killed each year
Wildlife officials said you should only swim in designated areas during daylight hours without your pet. Alligators can tend to be more active between dusk and dawn.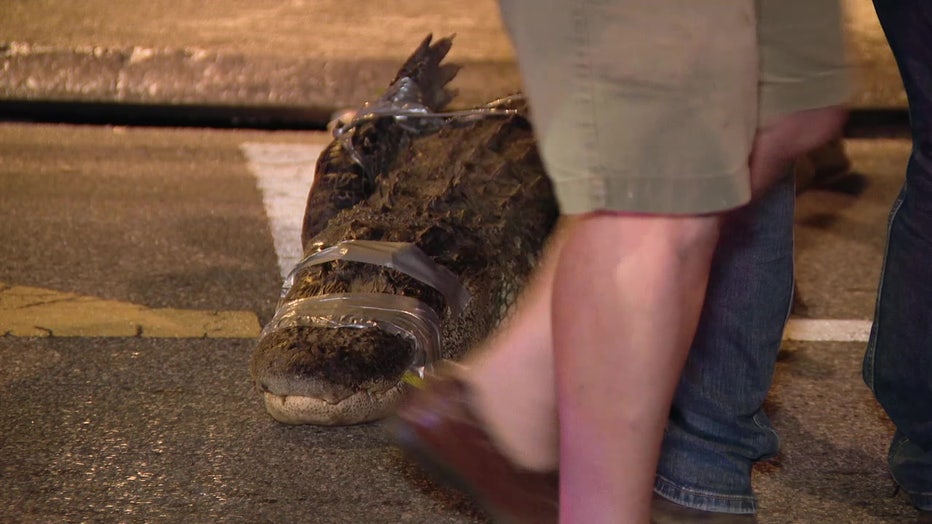 Tampa officers captured a 9'4" alligator on Howard Avenue. 
FWC also warned against feeding an alligator. It's not only illegal and dangerous, but officials said it can cause alligators to lose their natural weariness towards people, which can lead them to associate people with food availability. 
Anyone who sees an alligator that is out of place is asked to contact Florida Fish and Wildlife at 866- 492-4288.