Unfathomable cold from polar vortex: New Hampshire sets coldest US wind chill record at -108 degrees
A national wind chill record was broken Saturday morning as feel-like temperatures bottomed out well below zero at what is considered the highest peak in Northeast United States.
Mount Washington recorded a national wind chill record of 108 degrees below 0 on Saturday, while the actual temperatures were negative 47 degrees with a wind speed of 89 mph.
In nextdoor Frenchville, Maine, wind chill values also reached a dangerous negative 61 degrees.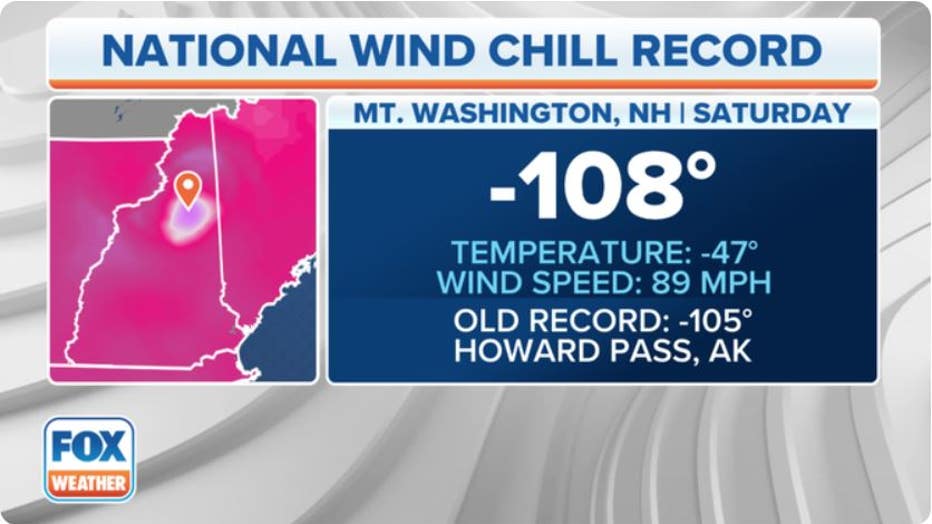 A national wind chill record was set Saturday morning. (FOX Weather)
"We are nearing wind chills values that most have not seen in their lifetime," the National Weather Service said in a recent forecast discussion for the lower elevations of northern New England.
The NWS in Portland/Gray, Maine, said an unusual phenomenon for its area of responsibility occurred Friday night as the tropopause – the boundary between the troposphere, where our weather occurs, and the stratosphere, the layer of the atmosphere above the troposphere – dipped below the peak of Mount Washington. 
"We recorded the lowest 850mb temperature observed at GYX tonight of -35.5 °C," the agency tweeted. "While we can't definitively say whether or not Mt. Washington was in the stratosphere, the tropopause started just below the summit."
PRESIDENTIAL TRAVERSE: SEE WHAT IT TAKES TO CONQUER ONE OF THE GREATEST HIKES IN THE EASTERN US
According to Francis Tarasiewicz, meteorologist at the Mt. Washington Observatory, he and his team at Mt. Washington will literally be able to sniff out the different layer of atmosphere.
"We'll be able to actually detect the smell of ozone, since that's where the highest concentrations of ozone are in the atmosphere, the lower stratosphere in particular," he said. "So, we'll look out for a sort of a bleach-y type of smell."
POLAR VORTEX PROMPTS WIND CHILL WARNINGS ACROSS NORTHEAST AS COLDEST AIR IN OVER 5 YEARS ARRIVES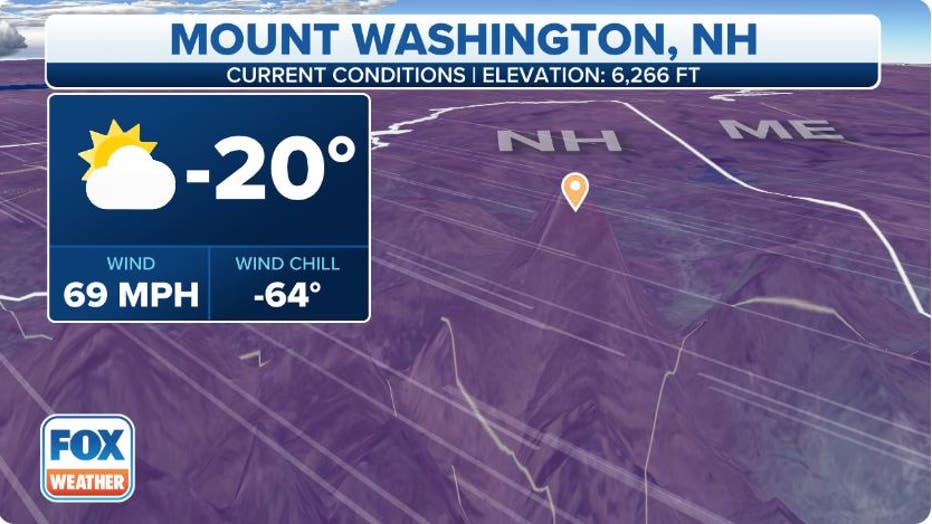 The current conditions at Mount Washington, New Hampshire.(FOX Weather)
The Mount Washington Observatory said the dangerously cold wind chills will create life-threatening conditions for those hoping to travel to the higher summits. Due to the harsh cold conditions, a Wind Chill Warning will remain in effect until 1 a.m. EST Sunday.