What is 'chroming'? The deadly social media trend on TikTok
LOS ANGELES - Another dangerous social media trend is once again claiming young lives across the world as health officials sound the alarm. 
Several people have lost their lives due to "chroming," but yet it is becoming more popular. 
What is chroming?
According to The Royal Children's Hospital Melbourne, "'chroming' is a general term to describe the inhalation of volatile substances/solvents as recreational drugs."
The term came from the sniffing of chrome-based paint. However, it now more broadly refers to the inhalation of volatile substances as recreational drugs.
RELATED: TikTok challenge leads to damaged fence in East Northport, police say
"You're literally inhaling paints and solvents to get a high … the problem is you have acetone in there, formaldehyde is in there," Fox News contributor Dr. Marc Siegel said during an appearance on "America's Newsroom." "It's called volatile organic compounds for a reason: It irritates your skin, it can get into your lungs, you can have seizures, you can have coma, and, again, we're occasionally seeing people die from this." 
Additional side effects include slurred speech, dizziness, hallucination, nausea and vomiting. Effects can last for a short amount of time — mere hours after exposure — but chroming can also lead to heart attack, seizure, suffocation, coma or permanent damage to organs such as the brain, heart, lungs, liver and kidneys.
"The biggest problem is the long-term cognitive problems — that it actually causes problems with concentration if you use it over time," Siegel stressed. "Really dangerous idea to put organically active compounds — to sniff them in." 
RELATED: Emory Healthcare responds to 'disrespectful' TikTok about maternity patients
Siegel blamed platforms like TikTok for allowing the trend to grow, saying, "It's one of the problems I have with social media and the impact it has."
The trend can have deadly effects 
In March, a 13-year-old Australian girl died after engaging in "chroming."
Esra Haynes died after she inhaled fumes from a deodorant can, causing her to go into cardiac arrest March 31. She remained on life support eight days, at which point doctors determined her brain was "damaged beyond repair" and her family decided to turn off the machines.  
Her parents are now fighting so no other lives are lost.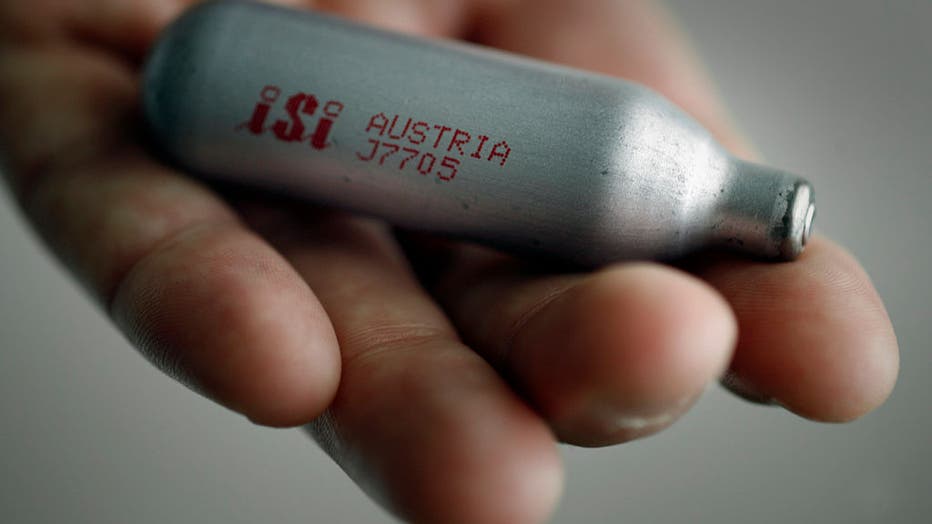 Los Angeles Deputy City Attorney Veronica DeAlba holds one of the tiny silver canisters called a "Whipet" that contains nitrous oxide. Los Angeles Unified School District health advisor Antonio Roque and DeAlba are getting the word into the communiti
"We want to help other children not fall into the silly trap of doing this silly thing. It's unquestionable that this will be our crusade," Paul Haynes, the girl's father, told Australian outlet the Herald Sun. "No matter how much you lead a horse to water, anyone can drag them away. It's not something she would have done on her own.
"The ripple effect is that this is absolutely devastating. We've got no child to bring home."
What is being done to reverse the trend?
According to FOX News, the Victoria Education Department in Australia said it would increase efforts to provide children with more information about chroming and its deadly effects following Haynes's death.
The U.S. Centers for Disease Control and Prevention doesn't directly address chroming specifically, but has addressed substance abuse among teenagers. 
The CDC said it is conducting surveillance and surveys to explore the risk and factors that go into youth substance abuse. The agency is also looking to lobbying for more local and state policies to prevent substance abuse. 
The CDC has also launched "Teens Linked to Care," a pilot program in high-risk rural communities to address the issue. 
FOX News contributed to this report. This story has been reported from Los Angeles.