Woman shot and killed in south Phoenix, investigation underway
PHOENIX - A woman died after she was shot on Sept. 24 in south Phoenix.
According to police, the shooting happened just after 10:30 a.m. near 16th Street and Baseline Road. When officers got to the scene, they found 35-year-old Ashley Smith with a gunshot wound. She was taken to a hospital. She died not long after.
Police have not released any suspect information.
Detectives are investigating what led up to the shooting as clothing and personal items were strewn across the street.
Anyone with information on the shooting is asked to call police at 602-262-6151 or Silent Witness at 480-WITNESS, or 480-TESTIGO for Spanish.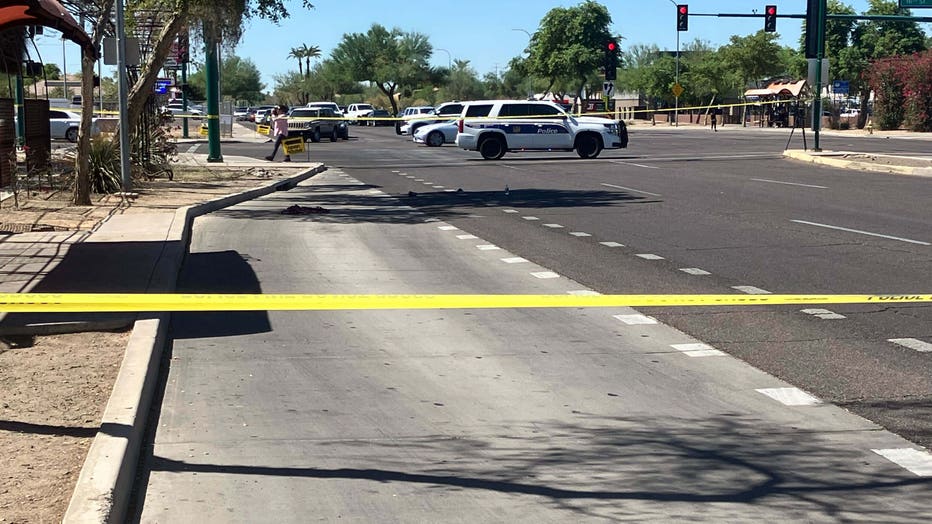 A woman has serious injuries after she was shot on Sept. 24 in south Phoenix. (KSAZ-TV)
'It's a little worrying'
Ali Shamo says he was at work at one of the stores in the strip mall when Phoenix Police said the shooting happened, but he didn't hear any shots fired outside the strip mall.
"I just came into work at 9 in the morning and there was nothing on 16th Street. Later, the cops came in, and they asked me if I saw any guys in white T-shirts or something like that," he said.
track
Another person near the scene said, "Cops were walking over here, they asked us if we saw someone run over here. We asked them a few questions, and they said some guy shot a lady and then ran over here and that was it."
He adds, "A little scary. We've got kids that are up here at the barber shop, so it's a little worrying."
It's unclear why the shooting happened at this point, but for the businesses surrounding it and their employees, it's a bit unnerving.
Where the shooting happened: