YCSO K9 helps find 18 pounds of meth hidden in vehicle on I-17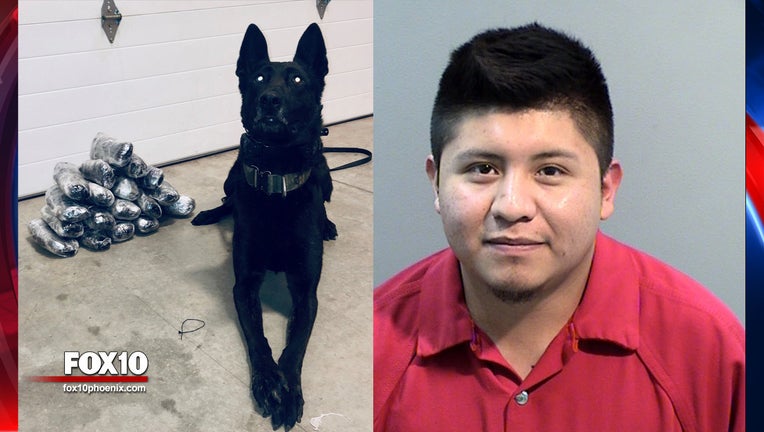 article
YAVAPAI Co., Ariz. (FOX 10) -- A Georgia man is in jail after officials say a K9 helped sheriff's deputies find 18 pounds of meth hidden in the vehicle he was driving.
On April 3 around 10:30 p.m., Yavapai County Sheriff's deputies stopped a silver Nissan Altima for an equipment violation on northbound Interstate 17 at the Orme/Dugas off-ramp, not far from the town of Mayer.
"The driver, David Tienda-Calixtro from Georgia, was contacted and provided an identification card from Mexico. He was extremely nervous throughout the initial contact with the K9 deputy and not licensed to drive," stated YCSO's Dwight D'Evelyn.
After talking to Tienda-Calixtro about why he was stopped and his travel plans, the deputy detected deception and suspected drugs were inside the vehicle.
D'Evelyn says no contraband was found during an initial search of the car's interior. The deputy then deployed his certified K9 partner, Maximus, who alerted to the car's rear passenger door area.
"The deputy then used a special video scope camera in that area and located a hidden compartment containing 18 one pound packages of methamphetamine. The secret compartment was in the rear
passenger side fender well," he added.
Tienda-Calixtro was booked into jail for possession of a controlled substance for sale. His bond was set at $400,000.