Arizona State imposes 1-year bowl ban for potential violations under Herm Edwards
TEMPE, Ariz. (AP) - Arizona State issued a self-imposed one-year bowl ban amid an NCAA investigation for possible infractions incurred under former football coach Herm Edwards.
The ban announced Sunday is a preemptive step as the NCAA investigates the Sun Devils for alleged recruiting violations during the COVID-19 pandemic.
"Arizona State University has informed the NCAA and Pac-12 conference that it will self-impose a one-year postseason ban on its football program for the upcoming season," Arizona State athletic director Ray Anderson said. "In light of the ongoing investigation and our membership obligation to maintain the confidentiality of the matter, we will not be commenting further at this time."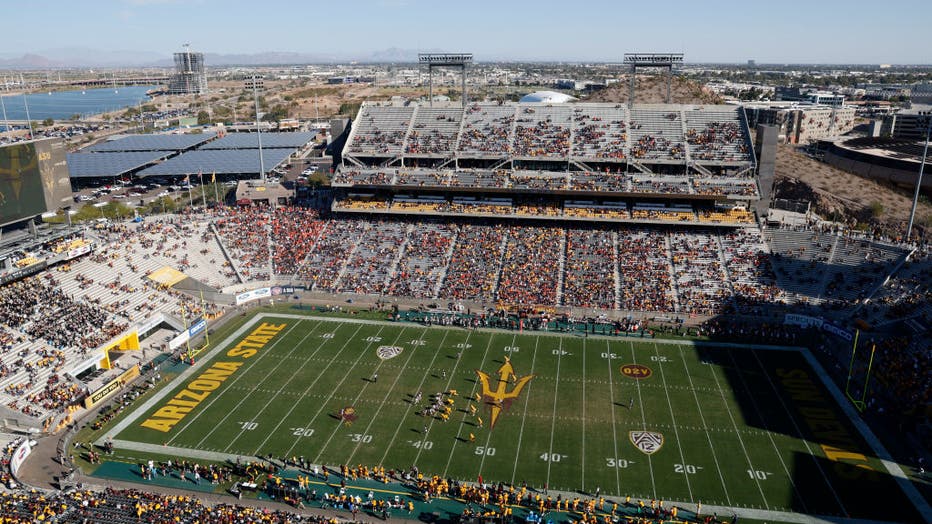 TEMPE, ARIZONA - NOVEMBER 19: A general overview of the action between the Arizona State Sun Devils and the Oregon State Beavers at Sun Devil Stadium on November 19, 2022 in Tempe, Arizona. (Photo by Chris Coduto/Getty Images)
The NCAA has been investigating the program since 2021, looking into allegations that the Sun Devils hosted recruits during the NCAA-imposed ban on in-person recruiting during the pandemic. 
The NCAA shut down official visits to campus by high school prospects in all sports and banned coaches from taking recruiting trips for more than a year because of COVID-19.
Several assistants resigned or were fired due to the investigation.
Arizona State fired Edwards three games into last season, his fifth with the program, and gave him a $4.4 million buyout over firing him for cause. Former Oregon offensive coordinator Kenny Dillingham was hired as his replacement.
'I almost fainted'
Reaction is pouring in from Sun Devil fans after the university's decision, and one of Arizona State's biggest boosters is hoping the university reverses course.
Sun Devil fans know Nap Lawrence, and when ASU announced Dillingham as their new head coach, Nap stood up and pledged a million dollars on the spot to the NIL Sun Angel Collective.
He couldn't believe the news, and many season ticket holders agreed.
Jarod Payne has been working on the domain named "firerayanderson.com."
"Tax money should not be paying for a guy who is so bad at his job that he shouldn't continue being employed," Payne said.
ASU's athletic director Ray Anderson has received mixed reactions from fans for years, especially with how the department handled the NCAA investigation into possible infractions during the previous head coach's tenure.
Waiting to institute a bowl ban on the team just as a new season with a new coach began drew ire from many fans.
"I almost fainted. I couldn't believe that we did that," Lawrence said.
He's one of ASU's largest financial supporters. By his count, he's given the school $9 million.
"I think it's so unfair to all those kids that came, and there's a lot of them, that could have gone to any school," Lawrence said.
Where he differs from some fans, is that he doesn't want anyone fired, but he wants ASU to rethink its choice.
"It doesn't seem fair, especially isn't fair to the fans that live and die for ASU football," he said.
"We can't survive as a community of fans and as a program of the same things that happened the last five years continue over the next five," Payne said, who has had season tickets since the '90s.
He just bought several "Fire Ray Anderson" shirts and is now looking to install a billboard with other Sun Devils near the stadium calling for Anderson's job.
"It puts pressure from thousands and thousands of us little guys, maybe some of the bigger guys, not just donors, but politicians and people who care about ASU, it puts pressure and gets their attention," Payne said.
FOX 10 reached out to the athletic department and didn't receive a response from Ray Anderson on this.
There's a lot of frustration out there, notably from head coach Dillingham, who had a more measured take asking fans to move on.