Kevin Durant: Tickets for Phoenix Suns star's home debut surge in price
PHOENIX - Phoenix Suns star Kevin Durant is making his home debut tonight at the Footprint Center in downtown Phoenix, and as you can imagine, it's a hot ticket.
According to ticketing technology company Logitix, resale ticket prices for Wednesday night's game against the Oklahoma City Thunder are up about $240 since the Suns acquired the NBA superstar from the Brooklyn Nets.
Tickets for the game are still available on Ticketmaster.com, with the cheapest being around $80, not including fees, for upper-level seats. Lower-level seats are still available and are going for over $300 apiece. Some courtside seats are being sold for as much as $6,000!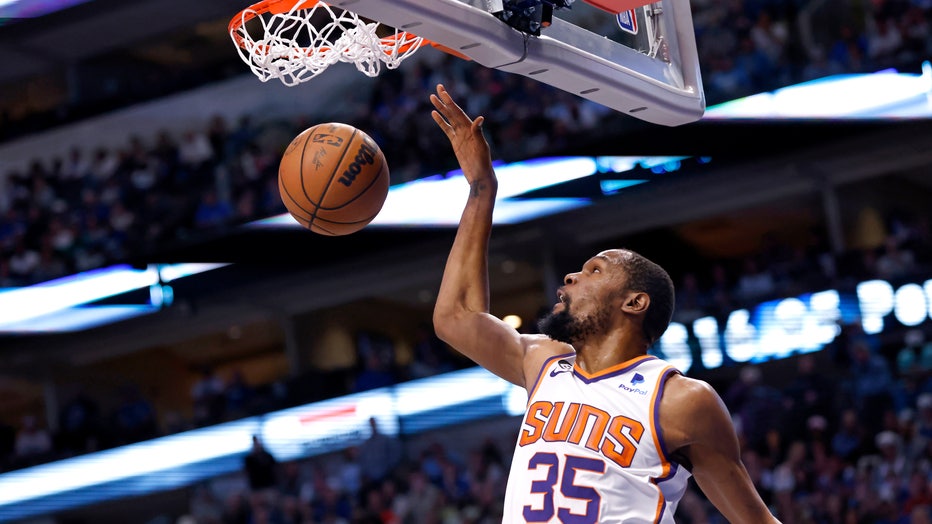 Kevin Durant #35 of the Phoenix Suns slam dunks in the second half of the game against the Dallas Mavericks at American Airlines Center on March 5, 2023 in Dallas, Texas. The Suns won 130-126. (Photo by Ron Jenkins/Getty Images)
According to StubHub, the cheapest tickets still available cost around $76, and the most expensive tickets – courtside seats – are going for thousands of dollars.
The Suns have won all three games with Durant in the lineup, with their latest victory coming last weekend on the road against the Dallas Mavericks.
Wednesday's game between the Suns and Thunder will be the second meeting of the season between the two teams. The Suns won the first matchup, 124-115.
The Associated Press (AP) contributed to this report.