NASCAR expert talks driving career; Richmond's FOX Bet Super 6 Stage 2 Contest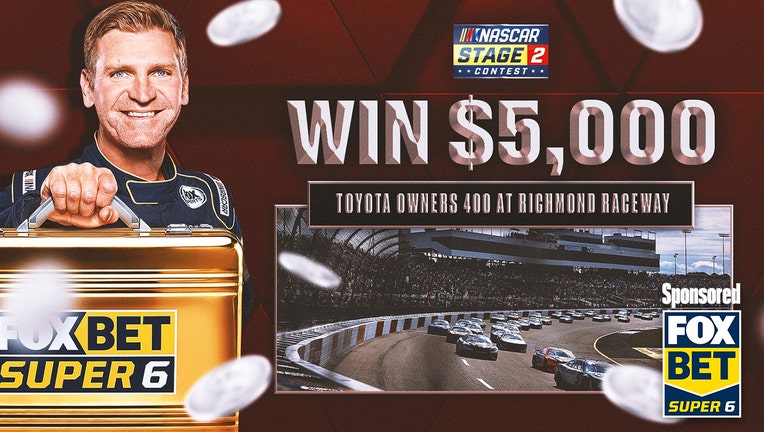 article
What happens when you delve into the mind of a FOX Sports NASCAR analyst and pit reporter who's also technically still an active driver ahead of race weekend in Richmond?
You get an exclusive glimpse into how a pro navigates the racing industry — in and outside the driver's seat. And that pro-turned-host personality is Regan Smith.
"There are a lot of drivers who are like Dr. Jekyll and Mr. Hyde. They have split personalities," the veteran broadcaster explained. "They strap on that helmet, get behind the wheel, and they say, 'hey, I'm out here battling these other 36 cars, and I don't care what I have to do, but I'm going to beat them.'
"And when I'm driving, and my engine is fired up, that's always the moment for me where it doesn't matter what else was going in life. I'm zoned in on just that."
According to Regan, those thrilling moments keep him and all his driving cohorts tethered to the track.
"We're all adrenaline junkies," he laughed. "Any driver who tells you they're not is lying to you. It's a part of the job description!"  
The 2011 winner of the Darlington Southern 500 started driving when he was four years old but, because of age limits, started competing at age five. "I had a lot of early success in racing," he divulged. "It was just my thing."
And indeed, it was — and still is — his thing. In addition to winning at Darlington in 2011, Smith was named the NASCAR Cup Series Rookie of the Year in 2008 and famously subbed for the likes of Kyle Busch and Kyle Larson in 2015. From spending countless weekends at tracks as a kid to winning Xfinity races as he got older, this Davey Allison disciple admits his colorful experiences give him an edge as a broadcaster. 
"As a reporter, even when I'm not actively in a car, I still mentally look at as if I am. I think, 'wow, what would I be doing if I was getting ready to climb in for practice?' And I try to put myself in the driver's shoes, and I try not to ask them questions that will irritate them.
"But my broad knowledge definitely puts me in a great position to help the drivers tell their stories."
When it comes to Regan's own story, he's still writing those proverbial chapters that place him behind the wheel.
"I haven't driven competitively in about two years," he admits, "and though I have a couple of races circled on my calendar that I'd like to do this year, since we're talking FOX Bet, I'll tell you that there's about a 15% chance that it will happen."
But what about YOUR chances of racing and winning? We're talking, of course, about this week's FOX Bet Super 6 NASCAR Stage 2 Contest.
FOX Bet Super 6 is a free-to-play contest where you can pick six different outcomes in the NASCAR Stage 2 Contest featuring the Toyota Owners 400 at Richmond Raceway to win Clint Bowyer's $5,000. Just download the FOX Bet Super 6 app on your phone or mobile device, make your picks and submit your selections before the race gets underway this Sunday.
Trying your luck at this cool five-grand prize is free, easy and fun. And people really do win!
But before you drive off to make your FOX Bet Super 6 picks featuring this week's NASCAR race on FOX, check out Regan's expert insight.
Regan Smith's predictions
Which of these drivers will have the better finish at the end of the race?
Denny Hamlin, Joey Logano, Martin Truex Jr., Kyle Busch, Kyle Larson, Kevin Harvick
"Kevin Harvick. He had tons of speed at Phoenix a couple of weeks ago. Expect a lot of tire fall-off at Richmond. Whenever there's tire fall-off, he's the master at managing that and being good at the end of a run. 
"Oh, and he won there last fall."
Prediction: Kevin Harvick
Which position will the pole sitter finish at the end of Stage 2?
1-2, 3, 4, 5-8, 9-14, 15+
"I feel like the car that's going to win this race is going to quality maybe 10th or 11th. And they're gonna have that long run speed that it takes to get up to the front."
Prediction: 4
Which of these drivers — Kyle Busch or Ryan Blaney — will have the fastest lap by the end of Stage 2 and how many yellow laps will there be?
0-9, 10-11, 12-13, 14-15, 16-17, 18-19, 20-21, 22-23, 24-25, 26+
"Ryan Blaney does not race great at Richmond. However, he is blistering fast there usually. He's got raw speed. Now Kyle Busch is very fast there, too. But those Penske cars — they seem to have a lot of speed."
Prediction: Ryan Blaney, 12-13
Which team — Hendrick Motorsports or Joe Gibbs Racing — will have the most laps led by the end of Stage 2 and how many laps will they lead?
1-13, 14-20, 21-26, 27-33, 34-40, 41-47, 48-54, 55-61, 62-66, 67+
"Hendrick could lead every lap because they're so good right now. But exactly how many they'll lead? Let's just say that one's still TBD for me! But it'll certainly be Hendrick.
Prediction: Hendrick Motorsports
Which manufacturer — Chevrolet or Ford — will have the most cars on the lead lap at the end of Stage 2 and how many will they have?
1-5, 6, 7, 8, 9, 10-11, 12-13, 14-15, 16-17, 18+
"I'm running through the list of cars in mind, and I think I'm going Chevy. I feel more confident in the Chevrolets right now than I do in the Fords."
Prediction: Chevrolet, 6
Which driver — Christopher Bell or Martin Truex Jr — will have the better finish at the end of stage 2 and by how many positions?
1, 2, 3, 4, 5, 6, 7, 8-10, 11-14, 15+
"Well, that is a really good question because Christopher Bell has been the one carrying the flag at Joe Gibbs Racing right now. Truex is always good at Richmond, but they've been struggling this year. He was also very good at the Clash this year — obviously, he won it. But let's go with Bell.
"I'm going with him because of the speed he showed the last time we were there."
What to watch for – and how to play
Regan imparted a final piece of wisdom for spectators as they watch the rest of the NASCAR season unfold.
"I have a bold prediction that we will see a rookie win a race this year."
So are you ready to fire up your ignition and get in on the action for the FOX Bet Super 6 NASCAR Stage Contest featuring Richmond Raceway?
Download the FOX Bet Super 6 app and submit your selections for the NASCAR Stage 2 Contest now. Then be sure to share your picks with us by tagging @FOXSuper6 and @EricaReneeD and using the #EricaSuper6 hashtag across all social media platforms.
Good luck!
Download the FOX Bet Super 6 app for your chance to win thousands of dollars on the biggest sporting events each and every week! Just make your picks and you could win the grand prize. Download and play today!
No purchase necessary. Open to legal residents of the US, excluding WA. 18 and older. See terms and conditions at foxsuper6.com. Sponsored by TSG Interactive US Services Limited.