Pac-12 leaders receive details of media deal, but no vote to accept terms as future remains murky
Pac-12 leaders were presented details, including potential payouts, of a long-awaited media rights deal Tuesday by Commissioner George Kliavkoff and concluded the meeting without voting on whether to accept the terms, a person familiar with the situation told The Associated Press.
The person spoke on the condition of anonymity because the Pac-12 was not making its internal discussion public, and gave no further details about prospective network or streaming partners nor the value.
The meeting comes just days after Colorado decided not to wait and see what Kliavkoff could deliver and announced it would re-join the Big 12 in 2024. With nine members still committed to trying to stick it out, the media rights deal could make or break the Pac-12.
Two people familiar with Tuesday's Pac-12 meeting who also spoke on the condition of anonymity because of the privacy of discussions called it a "positive and productive" session.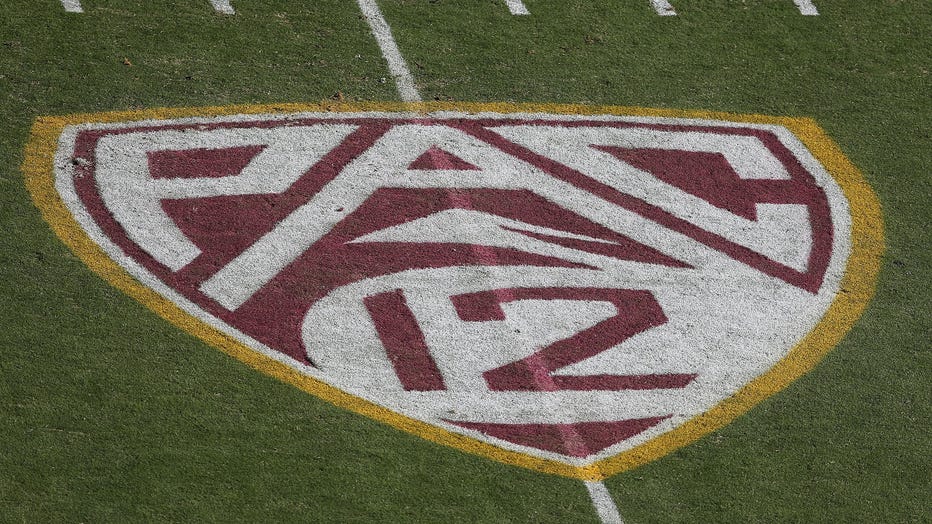 TEMPE, AZ - OCTOBER 19: The "Pac 12" logo is displayed on the filed during the college football game between the Washington Huskies and the Arizona State Sun Devils at Sun Devil Stadium on October 19, 2013, in Tempe, Arizona. The Sun Devils defeated (Photo by Christian Petersen/Getty Images)
Another meeting with Pac-12 presidents and chancellors, along with athletic directors, was not immediately scheduled.
Big 12 Commissioner Brett Yormark has been blunt about the conference's desire to expand West, with Pac-12 schools as obvious expansion targets. Arizona has been considered the most likely to jump.
Arizona President Robert C. Robbins has multiple times stated his desire to have Arizona stay in the Pac-12, while making it clear that staying put also needs to make financial sense.
At a news conference to open preseason football practice Tuesday, Wildcats coach Jedd Fisch told reporters that he has been meeting with the parents of players to assure them Arizona's future will be secure.
"We're in a position where people want us," Fisch said, adding he expects a decision on conference affiliation soon.
The Arizona Board of Regents, which controls both Arizona and fellow Pac-12 school Arizona State, had a meeting scheduled for later today, though it was unclear whether conference affiliation and the media rights deal would be on the agenda.