North Carolina lottery winner had family pick numbers: 'I started hyperventilating'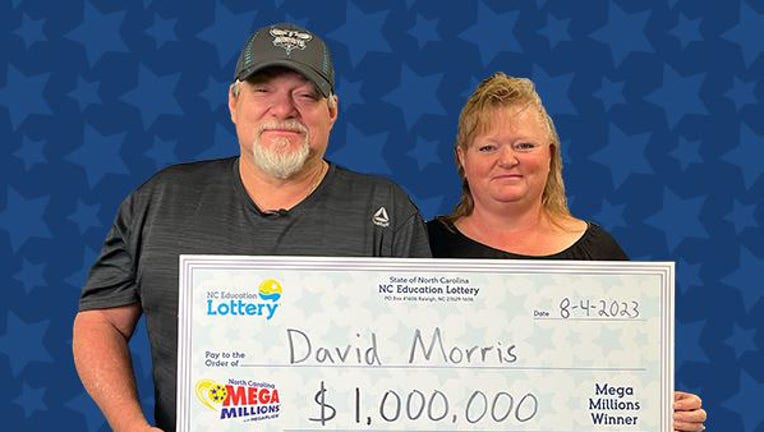 article
RALEIGH, N.C. - A North Carolina father came up with an idea that turned out to be a winning strategy for the lottery: asking his family to pick the numbers. 
David Morris of Pineville ended up winning a $1 million Mega Millions prize in Tuesday's drawing after asking one of his sons to pick the numbers. 
It was the fourth-largest Mega Millions jackpot ever, but no one took home the grand prize, and now the jackpot stands at $1.55 billion with the next drawing set for Tuesday night.
RELATED: Mega Millions jackpot soars again after 31 drawings with no winner
Morris said he only played the lottery after seeing the big jackpot. He will try again for Tuesday's drawing. 
He had matched numbers on all five white balls to win $1 million. He bought the ticket from the 7-Eleven on South Park Street in Pineville. 
"I started hyperventilating," he said in a news release. "I called my wife at work and told her to come home right away."
After state and federal tax withholdings, he took home $712,501.
"We want to buy some land up in the Smoky Mountains where my wife is from," he continued. 
"It's great to see a $1 million Mega Millions winner like David here in North Carolina," Mark Michalko, executive director of the N.C. Education Lottery, said. "Of course, we would love to see a new billionaire in the state tonight. Check your tickets carefully and good luck to everyone going for the jackpot tonight."
The $1.55 billion prize would be for a sole winner who chooses the annuity option with payment stretched over 30 years. Most winners opt for a lump-sum payment, which would be an estimated $757.2 million on Tuesday.
A big slice of those winnings would go toward federal taxes, while many states also tax lottery payouts.
The jackpot is so hard to win because of the 1 in 302.6 million odds of matching the numbers on five white balls and a separate mega ball. The odds are better to win smaller prizes, which start at $2.
Mega Millions is played in 45 states, Washington, D.C., and the U.S. Virgin Islands.
The Associated Press contributed to this report. This story was reported from Los Angeles.