Man accused of shooting, killing his stepfather in Mesa
MESA, Ariz. - Police say a man who shot and killed his stepfather in Mesa following an argument over rent has been arrested.
According to police, officers responded at around 4:30 a.m. on Sept. 7 to a home near Val Vista Drive and Broadway Road, after a woman said she heard two loud bangs coming from the living room. When the woman walked into the living room, she found her husband, 61-year-old Darryl Hynek, dead in a recliner.
"Officers arrived and found Darryl deceased with gunshot wounds to his head," Det. Richard Encinas said.
Investigators say Hynek's stepson, 43-year-old Alexander Solano, lived at the home and was missing.
"Darryl and Alexander had a rocky relationship and had recently argued over Alexander paying rent," Det. Encinas said.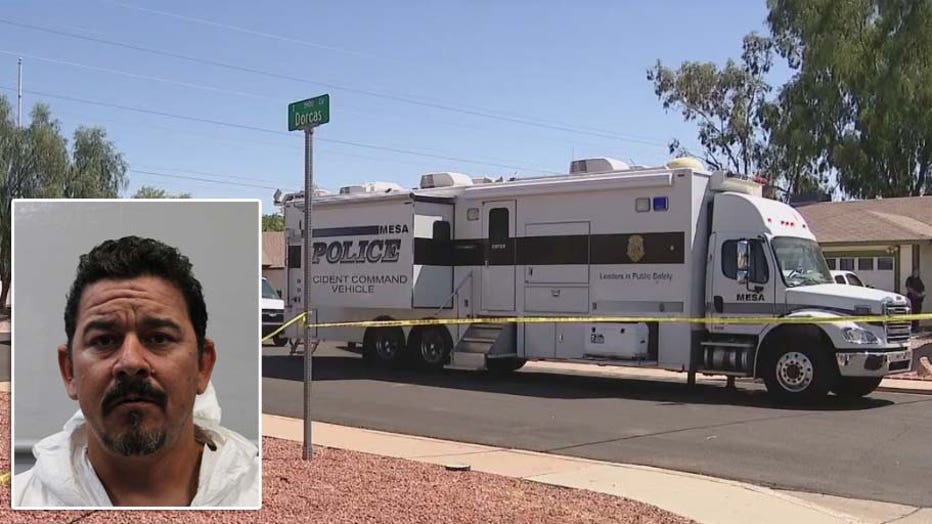 Police say Alexander Solano, 43, shot and killed his stepfather inside a Mesa home on Sept. 7.
Police say after the shooting, Solano "made some vague statements" to a family member about being possibly involved in his stepfather's death.
Solano was found in his car at 2:30 p.m. and taken into custody. According to court documents, Solano admitted to shooting his stepfather and said he threw the gun into a nearby canal.
"Alexander stated he was willing to accept responsibility for his actions and advised that sometimes people just reach a breaking point," court documents read.
Solano was booked into jail and is accused of second-degree murder, misconduct involving weapons, and tampering with evidence.
Area where the shooting happened: