Love triangle may have caused deadly double shooting in Mesa neighborhood, police say
MESA, Ariz. - Two people were shot and killed after a fight broke out between two couples in a Mesa neighborhood Thursday night, police said.
Officers responded to a shooting call near Southern Avenue and Signal Butte Road on Sept. 30 and discovered two dead bodies on the sidewalk with "obvious gunshot wounds."
According to police officials, two couples who were living in two separate houses on the same street were arguing with each other.
"Both couples produced a firearm during the argument resulting in the shooting," Mesa police said in a statement.
The dead victims were identified as a 54-year-old Shawn Conner and 39-year-old Ivana Liversedge, who lived together.
Meanwhile, the other two involved were identified as a 41-year-old Justin Peterson and an unidentified 38-year-old white woman.
Peterson reportedly used an AK-47-style weapon and fired nearly three dozen shots, killing the two victims in the middle of the street. One of the victims was armed with a revolver, but did not fire it.
Peterson's wife told officers that her husband opened fire to defend her.
Mesa police say Peterson is being charged for the murder of Ivana Liversedge, and criminal charges are pending for Shawn Conner's death. Investigators are still looking into the claim that the shooting may have been in self-defense.
"Liversedge and Conner were acquaintances that got into an argument with Peterson and his spouse prior to this shooting occurring," police said in a statement.
Police say that Peterson's wife had been involved in a relationship with the female victim, but that recently ended. Investigators believe that may have prompted the argument and shooting.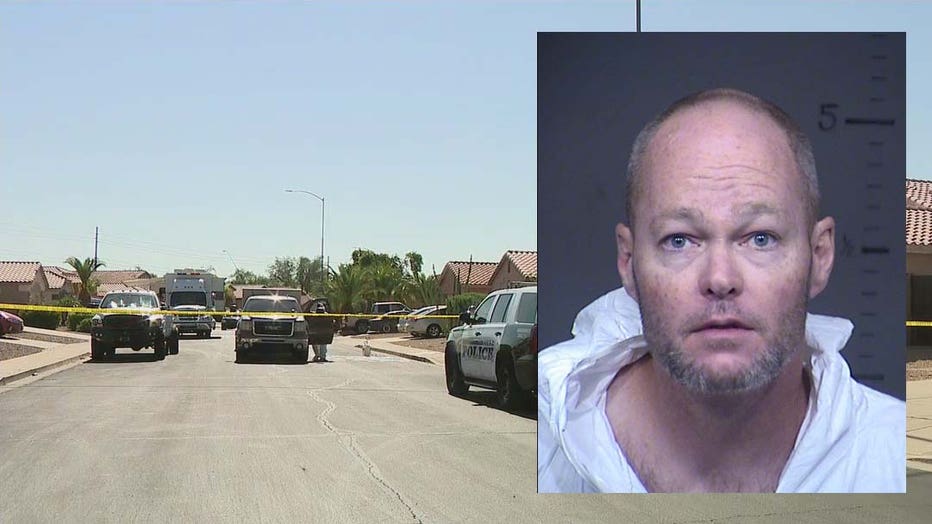 Neighbors describe scene
Neighbors say they heard an estimated two dozen gunshots go off that night at around 11:50 p.m. 
"Sounded like, about 24 shots," said one neighbor.
"Just like a barrage of boom, boom, boom, boom," said DeAngelo Muldre.
The shooting was followed by panicked screams.
"So, someone saying 'get in the car,'" said Muldre. "A lady was screaming, 'He was just trying to protect me! He was trying to protect me!'"
"Sounded like she was calling a name, and 'What do we do now? What do we do now?'" said Jim Thompson.
A history of domestic violence calls 
Officials say they've been called to the home several times in the past for domestic violence. Neighbors told FOX 10 that they are used to hearing fighting and screaming from the residence that housed the couple that fired the fatal shots.
"They had a situation here not too long ago in the summer where he was barricaded with a weapon," said one neighbor.
According to records with Maricopa County, the home was owned by Justin and Lori Peterson. The couple was previously arrested in 2006 on assault and endangerment charges. Neighbors describe the husband as "unstable."
"A very angry, out-of-control person," said one neighbor. "I mean, anybody that walks around screaming 'F-you' at the top of their lungs in the middle of the day's obviously has some problems."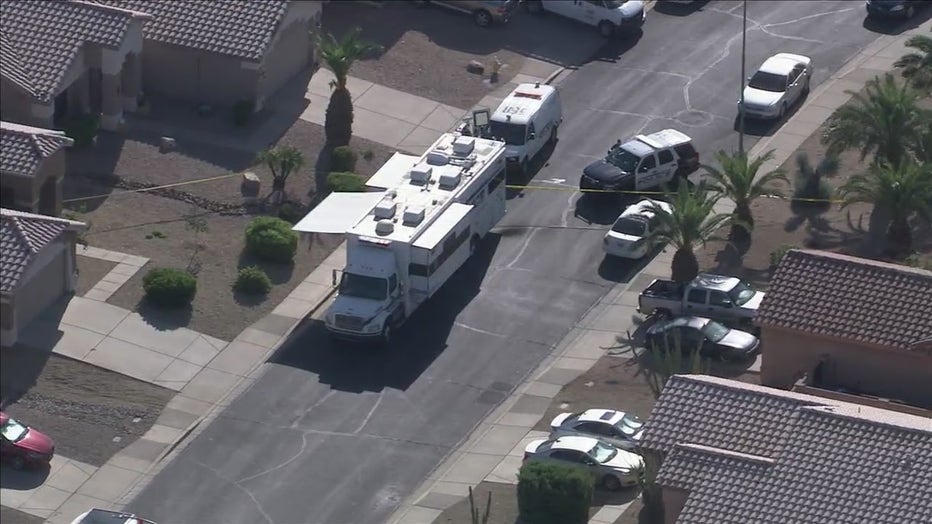 The scene of a deadly shooting near Signal Butte and Southern in Mesa.
More Arizona headlines
For the latest local news, download the FOX 10 News app.
Tune in to FOX 10 Phoenix for the latest news: