4th presumptive positive case of COVID-19 announced in Pima County
PIMA COUNTY, Ariz. - The Pima County Health Department announced a fourth presumptive positive case of the novel coronavirus on Monday.
Health officials say the patient has been receiving care at a local hospital since symptoms began.
On Sunday, a third presumptive positive case was announced.
Officials say the patient is an older adult currently recovering in a hospital.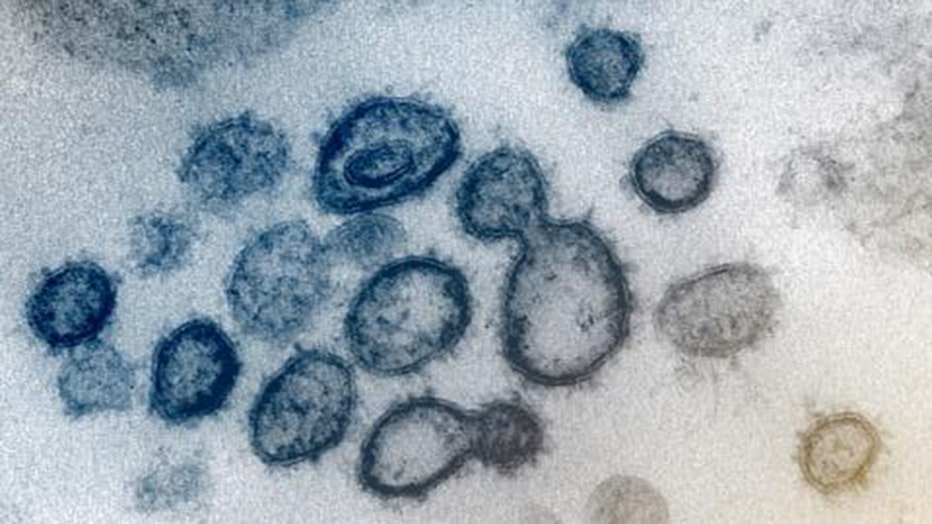 A transmission electron microscope image shows SARS-CoV-2, also known as the 2019 novel coronavirus, which causes COVID-19, isolated from a patient in the United States. Note the crown-like spikes on the outer edge of the virus, hence the term "coron (NIAID-RML)
There are 18 confirmed cases of COVID-19 in Arizona.
In order to protect yourself from a possible infection, the CDC recommends:
Avoid close contact with people who are sick.

Avoid touching your eyes, nose, and mouth.

Stay home when you are sick.

Cover your cough or sneeze with a tissue, then throw the tissue in the trash.

Clean and disinfect frequently touched objects and surfaces using a regular household cleaning spray or wipe.

Wash your hands often with soap and water for at least 20 seconds, especially after going to the bathroom; before eating; and after blowing your nose, coughing, or sneezing.
LIVE MAP: This is where there are confirmed coronavirus cases in the US and around the world
FULL COVERAGE: fox10phoenix.com/coronavirus
Coronavirus (COVID-19)
How it spreads, symptoms, prevention, treatment, FAQ
https://www.cdc.gov/coronavirus
Arizona COVID-19 Response
Public resources, FAQ, webinars
https://www.azdhs.gov/coronavirus
RELATED:
Coronavirus vaccine testing begins in Seattle as healthy volunteer gets 1st shot
Arizona governor says schools, mass gatherings, events of 50 or more canceled amid COVID-19 spread
Valley Boys & Girls Clubs to remain open to lessen impact of school closures
City of Tempe closes all public facilites through March 27 due to COVID-19 outbreak