Adidas makes $437 million from first Yeezy sale with portion going to anti-hate groups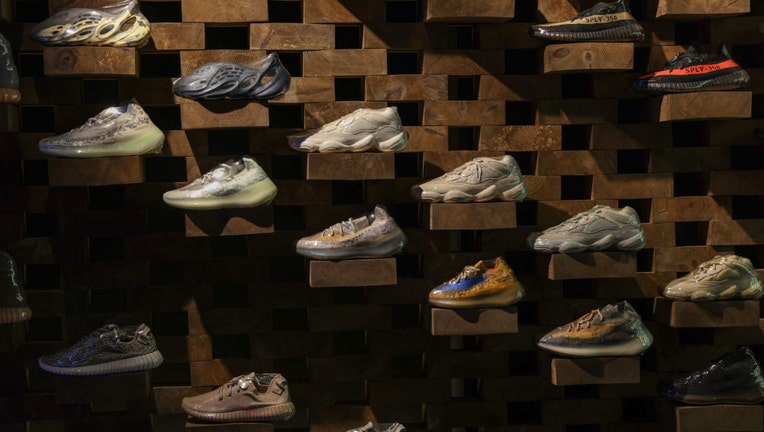 article
FRANKFURT, Germany - Adidas brought in 400 million euros ($437 million) from the first release of Yeezy sneakers left over after breaking ties with Ye, the rapper formerly known as Kanye West, as the German sportswear maker tries to offload the unsold shoes and donate part of the proceeds to groups fighting antisemitism and other forms of hate.
The first batch of shoes released in June, which sold out, helped the company reach an operating profit of 176 million euros in the second quarter, better than it originally planned, Adidas said Thursday. A second sale started Wednesday.
After Ye's antisemitic and other offensive comments led the company to end its partnership with the rapper in October, Adidas said it had sought a way to dispose of 1.2 billion euros worth of the high-end shoes in a responsible way.
RELATED: Yeezy shoes still piled up in warehouses after split with Adidas
"We will continue to carefully sell off more of the existing Yeezy inventory," said CEO Bjørn Gulden, who took over in January.
"This is much better than destroying and writing off the inventory and allows us to make substantial donations to organizations like the Anti-Defamation League, the Philonise & Keeta Floyd Institute for Social Change and Robert Kraft's Foundation to Combat Antisemitism," Gulden said.
Adidas has already handed over 10 million euros to the groups and expected to give an additional 100 million euros, with further donations possible depending on how future sales go, Chief Financial Officer Harm Ohlmeyer said.
RELATED: Adidas to sell Yeezy line, donate proceeds to charity following split with Kanye
Several Jewish civic leaders contacted by The Associated Press said they weren't planning to buy a pair of Yeezys themselves but generally welcomed the plan to support anti-hate organizations, saying the company is trying to make the best of a bad situation.
The Adidas CEO said the Yeezy sales are "of course also helping both our cash flow and general financial strength."
The first sale unloaded roughly 20% to 25% of the Yeezy sneakers that were left stacked up in warehouses, contributing 150 million euros of Adidas' 176 million euros in operating earnings in the April-to-June quarter.
Ohlmeyer, however, cautioned that the Yeezy contribution was smaller than the number made it seem because it did not include many of the company's costs.
RELATED: Adidas figuring out what to do with all their Yeezy shoes after split with Ye
Adidas also warned that the first sale included the highest-priced shoes and sold out completely but that it wasn't clear whether the remaining releases would see similar price levels and demand.
The blow-up of the Ye partnership put Adidas in a precarious position because of the popularity of the Yeezy line, and it faced growing pressure to end ties last year as other companies cut off the rapper.
The torn-up contract was now in arbitration, "a process that is being taken care of by legal people" for both sides and was surrounded "by a lot of uncertainty," said Gulden, the Adidas CEO.
Asked whether it must pay Ye royalties on the shoes, the company has said only that it will observe all its contractual obligations.
Yeezy revenue from June was "largely in line" with sales seen in the second quarter of last year, Adidas said. The boost has allowed the company to cut its expectations for this year's operating loss to 450 million euros from 700 million euros predicted previously.
On the amount of money given to anti-hate groups, Adidas said the donations were not a fixed percentage of sales but that it had discussed with the recipients what an appropriate amount would be.