Poem written for Biden's inauguration banned by Florida school
A poem written for President Joe Biden's inauguration has been placed on a restricted list at a South Florida elementary school after one parent's complaint.
In a Facebook post on Tuesday, poet Amanda Gorman vowed to fight back. Her poem, "The Hill We Climb" was challenged by the parent of two students at Bob Graham Education Center in Miami Lakes, along with several books.
"I'm gutted," she wrote. "Robbing children of the chance to find their voices in literature is a violation of their right to free thought and free speech."
READ MORE: 2 books on Holocaust rejected by Florida Department of Education
While book bans are not new, they are happening much more frequently, especially in Florida — where Republican Gov. Ron DeSantis has championed policies that allow the censorship of books some have deemed inappropriate for children in schools, causing national uproar.
DeSantis, who is expected to announce his presidential candidacy Wednesday, has leaned heavily into cultural divides on race, sexual orientation and gender as he gains support from conservative voters who decide Republican primary elections.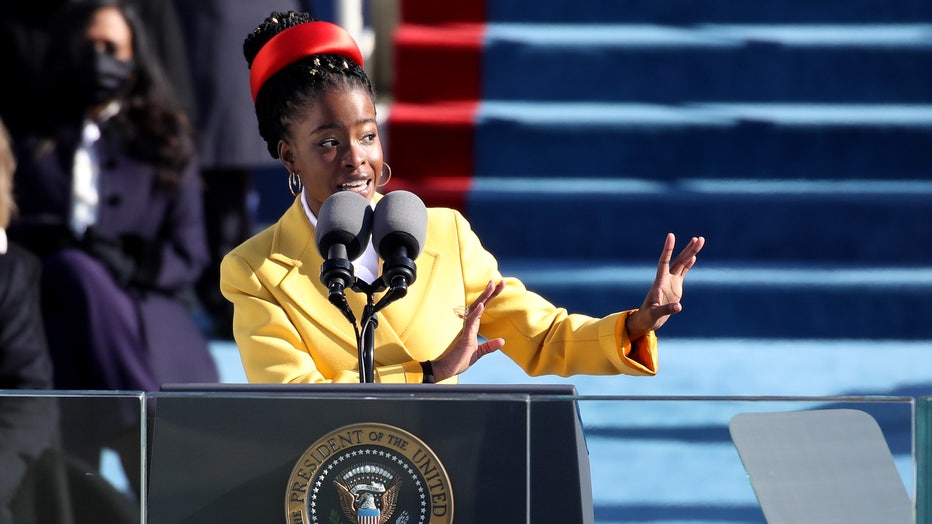 Youth Poet Laureate Amanda Gorman speaks during the inauguration of U.S. President-elect Joe Biden on the West Front of the U.S. Capitol on January 20, 2021 in Washington, DC. (Photo by Rob Carr/Getty Images)
Yecenia Martinez, principal of the K-8 school, which is part of the Miami-Dade public school system, did not immediately respond to an email seeking comment about the poem's ban. The school is named after Bob Graham, a former Democratic governor and U.S. senator from Florida.
Daily Salinas, the parent who objected to the poem and books, told the Miami Herald she's not "for eliminating or censoring any books." Salinas said she wants materials to be appropriate and for students "to know the truth" about Cuba. It was not immediately clear what she objected to in Gorman's poem.
READ MORE: Bible ban? The Bible is latest under review by Florida school district
After her complaint, a materials review committee made up of three teachers, a library media specialist, a guidance counselor and the principal, determined one of the books in question was balanced and age appropriate, and would remain available for all students, the newspaper reported.
The other four were deemed "better suited" or "more appropriate" for middle school students. The books were to remain in the middle school section of the media center, the review concluded.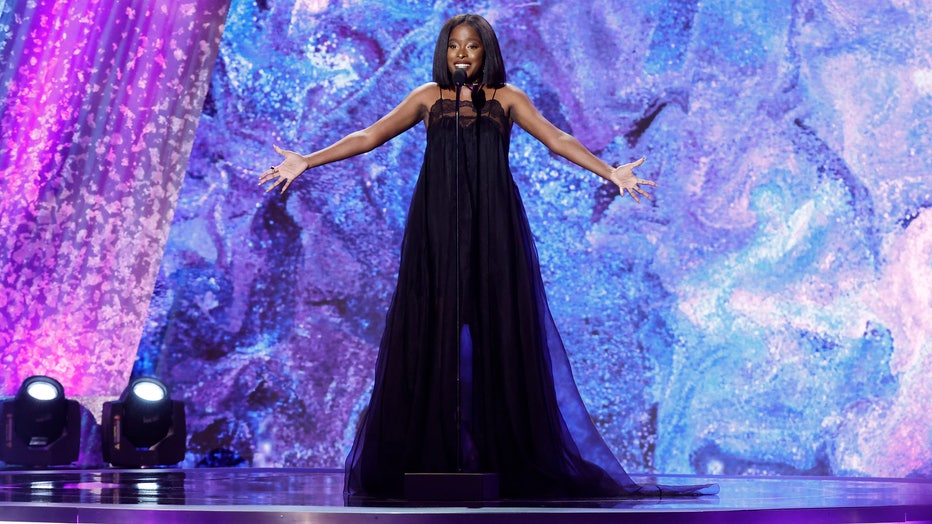 Amanda Gorman speaks onstage during the 65th GRAMMY Awards Premiere Ceremony at Microsoft Theater on February 05, 2023 in Los Angeles, California. (Photo by Frazer Harrison/Getty Images)
Gorman, who at 17 became the country's National Youth Poet Laureate, said she wrote the poem so "all young people could see themselves in a historical moment," and that she's received countless letters and videos from children who were inspired to write their own poems.
In the poem, called "The Hill We Climb," Gorman references everything from Biblical scripture to "Hamilton," and at times echoes the oratory of John F. Kennedy and the Rev. Martin Luther King Jr. With urgency and assertion she begins by asking, "Where can we find light/In this never-ending shade?" and used her own poetry and life story as an answer.
READ MORE: LA native Amanda Gorman makes history as youngest inaugural poet
Her appearance was a highlight of the inauguration ceremony marking President Joe Biden's assuming office. She is by far the youngest of the poets to read at presidential inaugurations since Robert Frost was invited to John F. Kennedy's in 1961.
"And let's be clear: most of the forbidden works are by authors who have struggled for generations to get on the bookshelves," Gorman's post said. "The majority of these censored works are by queer and non-white voices."