California teen dies during social media stunt on 6th Street Bridge: Police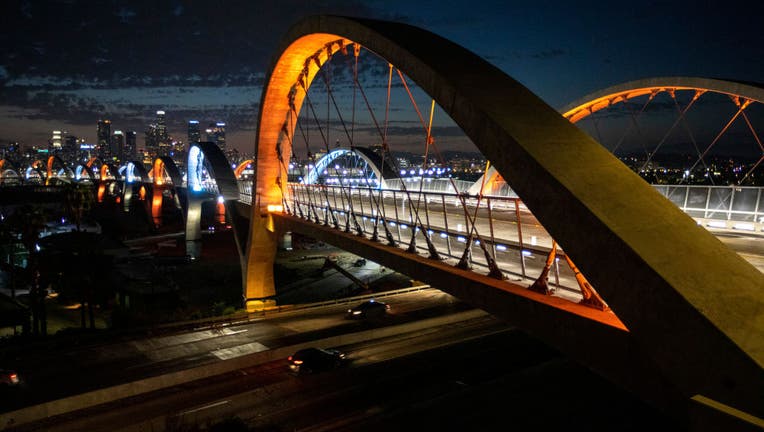 article
LOS ANGELES - A 17-year-old boy died last weekend after falling from an iconic bridge in Los Angeles and police are saying that the teen was attempting to share his climb up the 6th Street Bridge via social media.
The teen fell "when climbing upon one of the arches, in order to post, apparently, a social media broadcast," Los Angeles Police Chief Michel Moore said at a Tuesday's meeting of the Los Angeles Board of Police Commissioners. "He slipped and fell to his death. 
Moore said that police responded to the fall at the 6th Street Viaduct around 2 a.m. Saturday, May 20 and found the boy, who was pronounced dead at a hospital. 
His name has not been released by police and police did not share what social media platform he was using prior to his fatal fall. 
"Tragically we see that location, while it has spawned a great deal of pride in Los Angeles, it has also unfortunately served as a backdrop now for tragedies such as this," Moore said. "Our added patrols will continue at that location … to counter such reckless actions."
The bridge first opened in July 2022. The $588-million span, which replaced an 84-year-old Art Deco span, runs 3,500 feet (1,066.80 meters) over the concrete-lined Los Angeles River and connects downtown to the historic Eastside.
RELATED: Car plunges off 6th Street Bridge; driver killed
The bridge, referred to as the "Ribbon of Light," due to it undulating arches that will be lit with LED lights at night features sidewalks on each side of the viaduct, varying from 8 feet to 14 feet in width and 10-foot wide Class IV protected bike lanes on each side.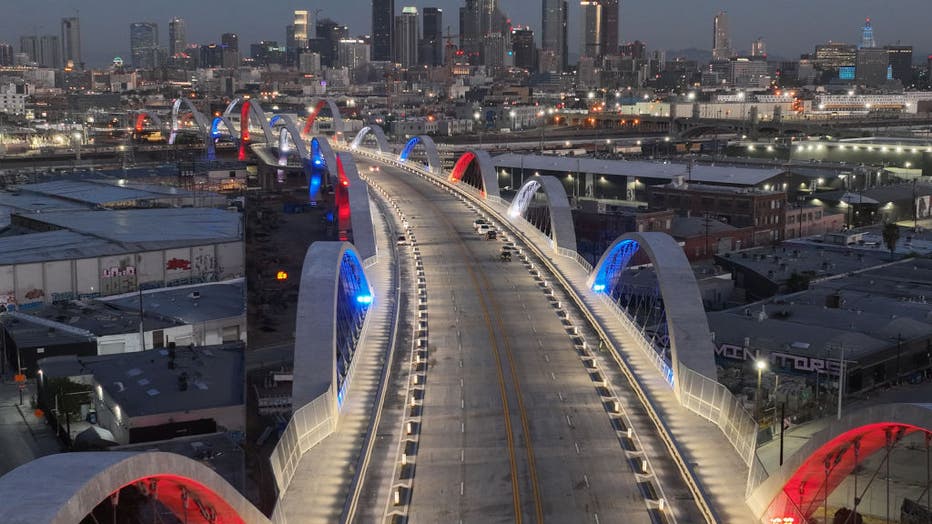 A drone view at dawn of the downtown skyline. (Photo by Gary Leonard/Getty Images)
The bridge features expansive views of LA's skyline and is the largest and most expensive span ever built in the city. It was designed to become a city landmark which "will rival the Hollywood Sign and Griffith Park as iconic images of our city," Council member Kevin de León said at its opening in July 2022. 
However, since its opening police have been forced to close the bridge several times after it quickly became a hotspot for street racing, graffiti and illegal takeovers that drew hundreds of spectators to watch drivers perform dangerous stunts in their vehicles.
Social media stunts abounded as well — in one case, a man sat in a barber's chair for a haircut in the middle of the lanes.
RELATED: VIDEO: Man gets a haircut on LA's 6th Street bridge
A man was also fatally shot on the bridge in January during unauthorized filming of a music video.