12 horses, 24 dogs found dead on Collin County property, woman arrested
COLLIN COUNTY, Texas - A North Texas woman is facing animal cruelty charges after law enforcement officials found the remains of 12 horses and 24 dogs near her home.
The Collin County Sheriff's Office said they got a tip about dead horses at 22-year-old Rachel Sword's home in Westminster, which is about 50 miles northeast of Dallas.
Deputies went to the property and discovered it is owned by Sword's elderly grandparents. She was living in an RV parked on the side of their house. 
According to an arrest warrant affidavit, Sword's grandparents said they have trouble getting around and assumed she was caring for all of her animals.
But the deputies immediately smelled a foul odor and noticed the decaying remains of a dog in a cage near the house. There was no food or water near the cage.
The deputies continued searching the property and found more dead dogs in various stages of decomposition, including some dead dogs in cages inside the RV and some in pens that had no shade from the sun.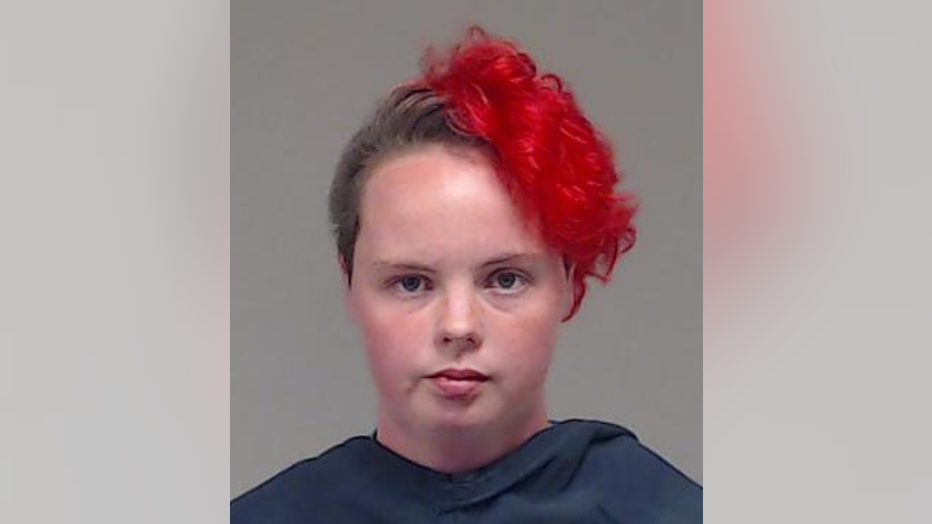 Rachel Sword (Collin County jail)
"Investigators located several deceased horses on the property. The decay on the horses ranged from completely skeletonized to partially skeletonized with skin and fur, generally indicating the deaths were not recent," the affidavit states.
According to the affidavit, Sword claimed the animals belonged to her husband, who passed away three weeks ago. She told deputies she knew she was responsible for them following his death but blamed depression for not being able to give them food or water.
Investigators later found a record of 16 calls related to animal cruelty or animal complaints for the property dating back to 2019.
Sword was arrested and charged with cruelty to non-livestock animals, which is a third-degree felony. 
She was booked into the Collin County jail and her bond was set at $85,000.
"Collin County is committed to ensuring the safety and welfare of all animals throughout the county, and incidents such as this are taken very seriously. The Collin County Sheriff's Office has a zero-tolerance policy regarding the abandonment or cruelty to animals," the Collin County Sheriff's Office said in a news release.
Deanne Murillo is affiliated with many North Texas animal rescue organizations and is a former volunteer cruelty investigator. She lives just down the road from the property. She found out about the arrest through her neighborhood Facebook group and says she was shocked. 
"It's horrific. It's unnecessary, and I'm so pissed," she said. "I would like to see her slapped as hard as possible through the law."
All the animals found alive on the property – two dogs, two horses, a cow, a bearded dragon, a snake, and two frogs – are now being cared for by animal services workers.