'Armed and dangerous' fugitive apprehended in Coolidge
COOLIDGE, Ariz. - An "armed and dangerous" fugitive who sent Coolidge schools into lockdown earlier this week has been caught, according to the Pinal County Sheriff's Office.
Donald Hill, 45, was reportedly arrested late Friday night. Both U.S. Marshals and Pinal County deputies worked to apprehend him after receiving information that he was making his way back to Coolidge.
The 45-year-old was taken into custody while leaving an apartment near California and Vah Ki Inn Road, officials said,
Hill was wanted on five counts of kidnapping and five counts of aggravated assault by the Pinal County Sheriff's Office.
'We have you surrounded'
"Keep your hands on top of your head."
"Keep coming, keep coming. Let's go, Donald. Keep your hands on top of your head."
Hill's arrest was captured on cell phone video.
A neighbor named Tony was inside his apartment when he heard blaring messages.
"We have you surrounded. Come out with your hands up, for the safety of you and everyone around."
For a good five to maybe ten minutes, it was just that on repeat.
Tony says he watched it unfold from his balcony.
"He put his hands behind his back and he walked toward the cop car, and they had him arrested," he said. "I heard him screaming to the cops, 'I have a girl. She's pregnant.' She starts screaming 'I'm pregnant,'" Tony said.
The complete circumstances of Hill's crimes and why there was such a flux of resources dedicated to his capture is unclear.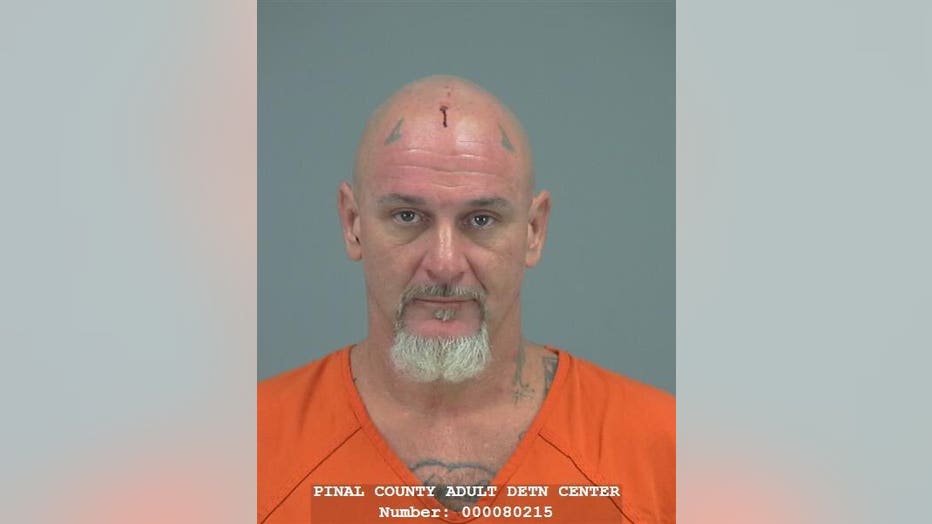 "The U.S. Marshals Task Force is dedicated to bringing together the resources of our federal, state and local partners to collectively work the most dangerous fugitive cases," said Acting United States Marshal Van Bayless in a statement. "Donald Hall terrorized a neighborhood but was safely apprehended and won't be doing it anytime soon".
The manhunt for Hill had triggered a lockdown of all schools in the city on Sept. 14 after he was spotted in a neighborhood close to the campuses.
"The focus of Coolidge Police Department continues to be the safety of our schools and the safe and normal release of the students," police said. "CPD would like to thank the school administration for their prompt response and communication during this incident."
Area residents react to manhunt
As the search for Hill continued in the Coolidge area, residents reacted to the latest developments.
"We came home about 2:00 p.m., and we couldn't even get into the neighborhood, said Don Allen. "Didn't really know what was going on. Just a bunch of police presence, and a helicopter flying over."
Some were concerned about their children's safety.
"I was concerned, like other parents around here, waiting, what we can do to get our children safe," said a man, identified only as 'Logan,' Logan's stepdaughter was in class at an area school.
One area resident even said officers searched their backyard and cars.
"I came to the door and realized there was a bunch of men with guns at my door," said Summer Knife Chief.
"It's going to be a night to sleep with one eye open kind of thing," said Allen.
Area where the incident was happening: