DPS: Scottsdale police motorcycle officer involved in crash on Loop 101
SCOTTSDALE, Ariz. - A crash involving a Scottsdale police motorcycle officer closed the northbound lanes of the Loop 101 at Chaparral Road in Scottsdale on Wednesday.
"The Scottsdale officer was conducting a traffic stop on a black Infinity passenger car when the driver of a green Ford pickup truck drove left into the median and struck the patrol motorcycle; pinning it and the Scottsdale Police officer against the concrete median wall. The Ford pickup truck also struck the black Infinity," stated Raul Garcia of the Arizona Department of Public Safety.
The pickup driver apparently did not stop in time to avoid crashing into the officer and the stopped vehicle. With the brake marks that visible on the freeway, it appears the driver slammed on the brakes too late. 
DPS says the officer sustained non-life-threatening injuries. He was on his feet and alert before being transported to an area hospital.
DPS officials say based on preliminary results, impairment does not appear to be a factor. Officials say the driver of the SUV should not have stopped in the median.
"By statute, you're supposed to pull to the right by whatever means necessary," said Brian Hillenbran. "By turn signal, switching lanes, you have to go to the right."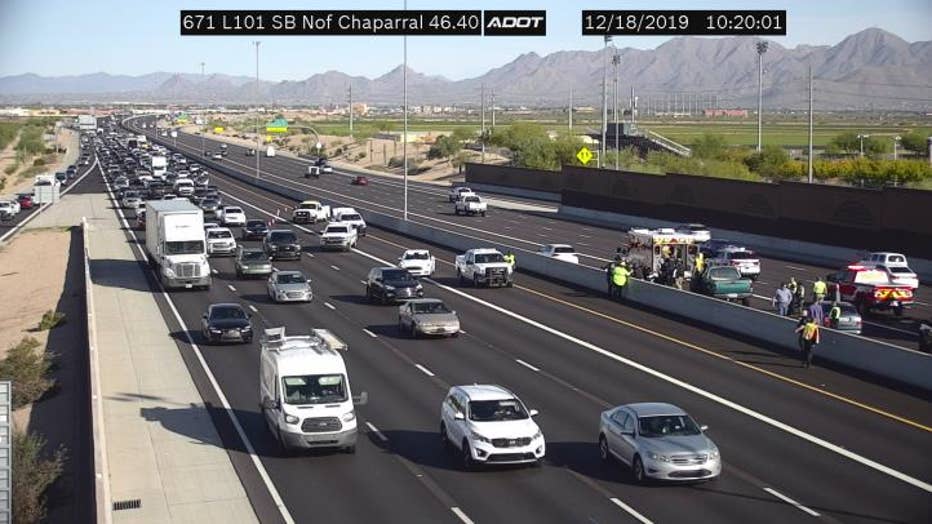 During DPS' investigation, all traffic was exiting at Chaparral. Northbound Loop 101 reopened at 1:20 p.m., according to the Arizona Department of Transportation.
As to why the driver was not aware of the traffic stop happening right in front of him, that is still under investigation.
"He could've at least seen the motorcycle officer's lights on the back of the motorcycle," said Hillenbran.