Phoenix friends killed by alleged impaired drivers just weeks apart while riding motorcycles
GOODYEAR, Ariz. - Carson Smith was 18 years old when an alleged impaired driver struck and killed him while he was riding his motorcycle down I-10 in Goodyear earlier this week.
Nearly two months ago, Smith's best friend was also killed by an alleged impaired driver while riding his motorcycle.
On Sept. 13 on I-10 near Pebble Creek Parkway, 40-year-old Christopher Clark was reportedly on drugs when he ran a red light, hitting and killing Carson.
"After a thorough investigation officers established probable cause that the driver was under the influence of drugs at the time he drove through a red light, causing the collision," police said.
Clark was booked into jail on suspicion of vehicular manslaughter, aggravated assault, DUI, DUI drugs and reckless driving.
Just weeks earlier, on July 31, 19-year-old Tucker Jon Colby was killed while riding his motorcycle. 
33-year-old Jaimie Arce was accused of driving under the influence after she reportedly crashed into a group of motorcycles in north Phoenix, killing Colby and injuring two others that morning.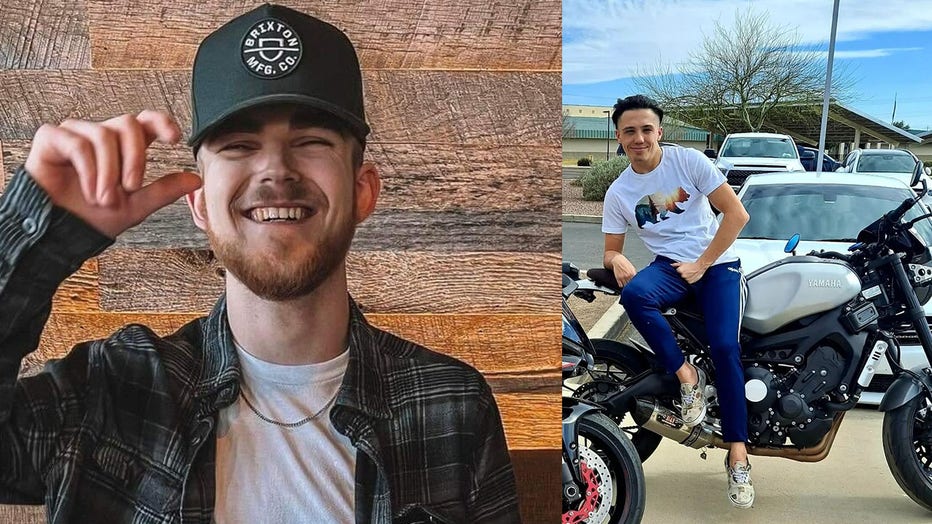 Tucker Colby and Carson Smith
'I will never see him'
This, of course, is a nightmare for an entire friend group and family. Carson's mother is speaking out because she wants justice.
"Somebody who was impaired, and rage-full to make that kind of senseless decision has killed my baby. I will never celebrate with him. I will never see him get married or have children," Julie said. "He was just the most loving person. He cared about his family. Family was everything. His friends were everything."
One of those friends was Tucker Colby who was just killed six weeks ago when he was also struck by an impaired driver on his motorcycle in Phoenix. In the picture for the Smith family's GoFundMe, Carson is wearing a shirt for Tucker.
"His best friend. He was actually holding his hand at the scene where Tucker died because there were four of them," Julie said.
She can't believe she's watching the exact same scene play out again six weeks later. Dozens of friends showed up for her son's candlelight vigil just as he had just done for his best friend.
"I remember saying to Tucker's mom like, 'I can't imagine what you're going through,' and now I'm going through it," Julie said.
She says the young men were doing nothing wrong, wearing the proper equipment and following the rules of the road, while the man accused of killing her son is out on bail.
"He was out on the day of. My son is in the morgue and this man is out," Julie said.
Julie says she wanted to speak because she wants changes made within the legal system so people accused of impaired driving are not getting out on bail.
Click here for Carson's GoFundMe.