Suspected DUI driver ran red light, caused deadly motorcycle crash in north Phoenix: police
PHOENIX - A woman has been accused of driving under the influence after she reportedly crashed into a group of motorcycles in north Phoenix during the early morning hours of July 31.
The crash happened at around 3:00 a.m. near 51st Avenue and Union Hills Drive. One motorcyclist, since identified as 19-year-old Tucker Jon Colby, died from his injuries at the hospital. In addition, a 24-year-old motorcycle rider sustained serious injuries, and an 18-year-old man suffered minor wounds.
Court documents detail what happened
Police say 33-year-old Jaimie Arce was driving a hatchback when she ran a red light at the intersection, turning left in front of a group of four motorcycles heading west down Union Hills Drive.
Only one of the motorcycles was able to avoid the vehicle. The other three crashed.
Tucker Colby, 19, died after he was hit by an alleged red-light runner while riding a motorcycle in north Phoenix. (Taylor Colby)
Arce was contacted by officers at the crash scene, who noticed she had "bloodshot watery eyes and an odor of alcohol," according to court documents.
"The suspect made admissions to drinking before driving and knowingly entering the intersection on a red traffic signal," read a portion of the court documents.
Officers conducted a field sobriety test on Arce, but she refused to take a preliminary breath test. After she was arrested and taken to a local precinct, police executed a search warrant for blood samples.
Arce got a lawyer and refused to be interviewed by police.
According to prosecutors, the deadly crash was captured by one of the victim's cameras.
"It was captured on a GoPro, judge, that I personally witnessed, and the victims in this case clearly had the green light. She went through the red light, and had signs and symptoms of impairment that she displayed at the time of the crash," said the prosecutor.
Arce was booked into jail on a $100,000 bond, which her attorney tried to lower.
"She is a full time student enrolled at [Grand Canyon University]," said Arce's attorney, during the court hearing. "She is studying sociology to become a social worker. She's been a full time student since 2020."
According to a judge during Arce's court appearance, this was not Arce's first DUI-related arrested.
"She has a 2008 DUI from perhaps the City of Phoenix," said the judge. "She also has another misdemeanor, but that's the only DUI that I can find."
Arce is accused of manslaughter, aggravated assault and endangerment.
Vigil held for Colby
On July 31, a vigil was held to remember Colby.
Colby's sister said he was studying to become an EMP helicopter pilot, and loved riding his bike.
Meanwhile, a GoFundMe has been established to help Colby's family with funeral expenses.
Editor's Note: Police originally reported that two motorcycles were in the crash, but later confirmed that a total of four motorcycles were involved in the incident.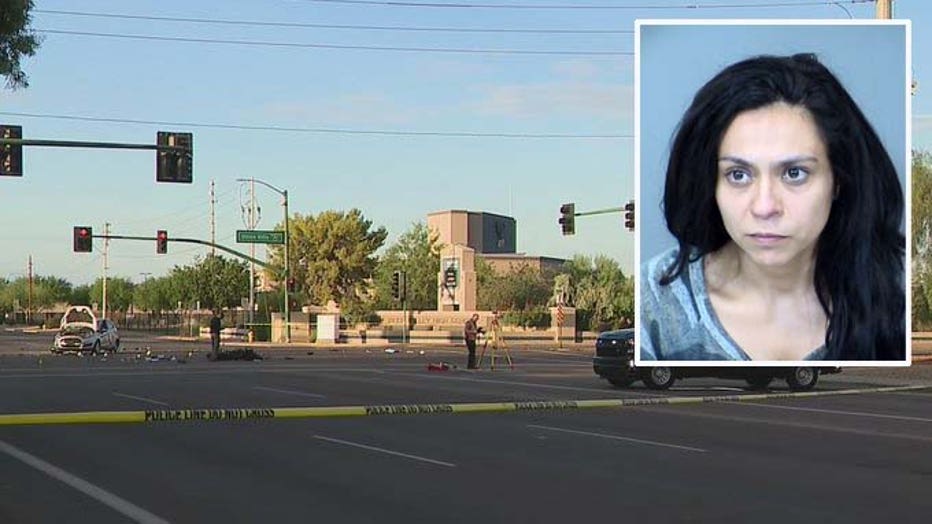 Jaimie Arce, 33, is accused of driving under the influence after she reportedly crashed into a group of motorcycles in north Phoenix on Jan. 31.
Tune in to FOX 10 Phoenix for the latest news
More Arizona headlines