Drivers report being stuck in traffic for hours after Northern Arizona snowstorm causes freeway closures
PHOENIX - A storm dropped snow across much of northern Arizona Saturday, prompting partial closures of several highways.
"Roads are slick, and drivers should delay travel if at all possible," the Arizona Department of Transportation said on Twitter.
The I-17 northbound and State Route 89A were closed on Saturday due to the severe weather conditions, but reopened early Sunday morning.
The I-40 reopened at 8:50 a.m. Sunday morning, but there were still extreme traffic delays.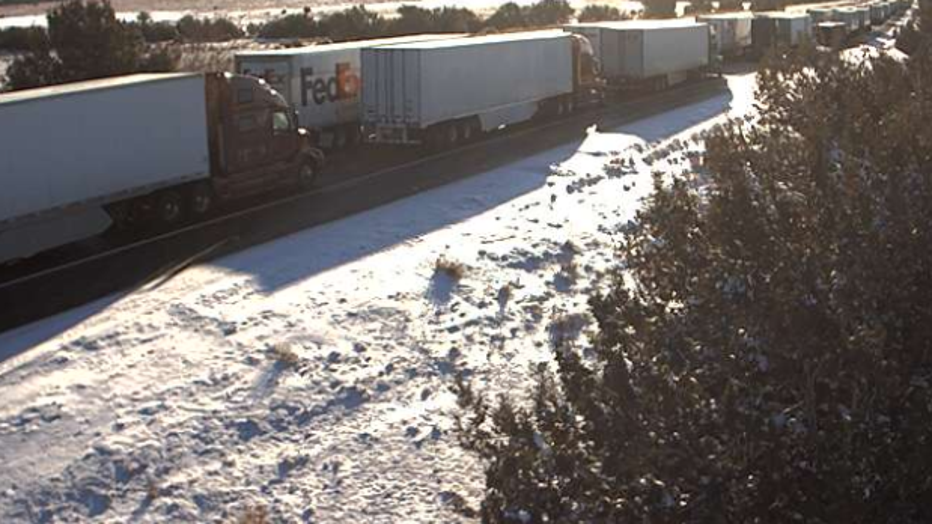 Extreme traffic delays on the I-40. (ADOT)
Drivers stuck in traffic for hours in freeway closure
The I-40 closed between Ash Fork and Williams on Saturday night, with some drivers reporting being stranded on the freeway for more than 12 hours waiting for roads to reopen.
ADOT reports that the closures were caused by multiple wrecks involving semi trucks. 
Although the freeway has reopened in both directions, the left lane is still closed on the I-40 westbound near MP 174.
The closures and delays caused a whirlwind of a night for Robyn Dabney. She was traveling up to the Grand Canyon in the middle of a snowstorm.
She and her friends decided to take what they deemed the safest route, which was I-40.
"Instead of cutting up through the mountains, but apparently that was a mistake ..." she said. A mistake that cost them about five hours of sitting in the car, as they, along with thousands of others, were stranded on the closed part of the interstate.
"We didn't know about cell service and we expected a long night in our cars," Dabney said.
Traffic was backed up at least six miles ahead of them and six miles behind them. Dabney and her group popped their trailer and camped for the night along the interstate, huddling in blankets and wrapping her 13-year-old dog in a down comforter for warmth.
"I was mostly worried about her, but again, we were mostly in good circumstances," she said, adding, "There were a lot of people who had kids or didn't have any food or water with them."
Dabney says they had a snow shovel with them, so coming up to a snow-covered turnaround for emergency vehicles, they managed to shovel their way out and make their way back to Flagstaff.
ADOT spokesperson, Laurie Merrill, says they have about 400 snowplows, most of which were out and about Saturday night.
However, when it comes to heavy winter weather, the department's best advice for drivers is to stay home.
Sarah and Maury, a couple traveling from Los Angeles to the Grand Canyon, said as they were stuck in delays, they saw their gas gauge get lower and lower with two hours left in their trip.
So they, along with the rest of those stuck on the interstate, slept in their cars or in campers trying to stay warm through the night.Sarah says they called highway patrol they were reportedly told to wait it out.
Some drivers who were stuck say they don't think there was enough communication or updates from ADOT throughout the snowstorm and that worried them.
ADOT says the best way to keep tabs on what's going on from them is by using their app or social media.
Drivers took to Twitter, describing extremely long wait times and fears of running out of food, fuel and warmth.
"AZ got a few inches of snow 10 hours ago, 50 miles away so we're just camping out on #I40 with thousands of others and hoping not to make friends with coyotes and hypothermia," wrote one user.
Another user said that their vehicle was stuck in traffic for 12 hours and are with family members that have medical conditions.
"Been stuck for 15 hours now and flight from Vegas leaves in 7 hours," another driver wrote.
Northbound Interstate 17 was also closed north of SR 179, the Sedona cutoff, because of "extreme winter weather," the department said.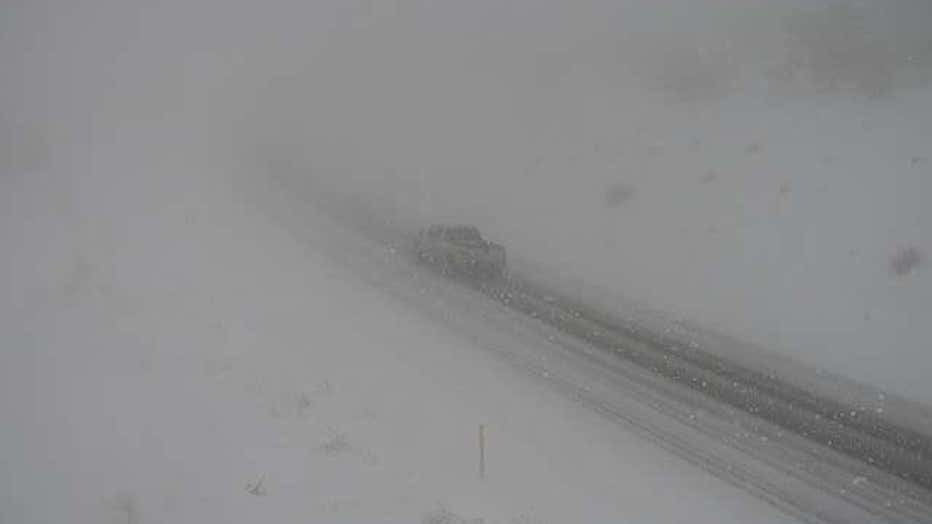 I-17 near Stoneman Lake. Courtesy of the Arizona Dept. of Transportation.
The National Weather Service earlier warned that snow squalls on I-17 between the Verde Valley and Flagstaff was causing whiteout and near-whiteout conditions.
The department also said State Route 89A was closed north of Sedona because slick conditions were making it difficult for vehicles to climb the switchbacks out of Oak Creek Canyon.
Leave prepared before heading north
After recent snowfall in the high country, the Arizona Department of Transportation is reminding drivers who are heading north to never park along highways to play in the snow. 
Use the highway shoulders for emergencies only. Parking on them to play in the snow is hazardous in the following ways:
Other drivers may be distracted by your vehicle.

Other drivers may pull over as well to play in the snow, compounding the problem.

Your vehicle may interfere with first responders who need to use the shoulder.

Plows can throw snow and ice far off highways.

It's much safer to re-enter highways from on-ramps and other designated entrances
"Also, it's not uncommon for lots of desert dwellers to take the opportunity to head north to play in the snow. So, remember to pack your patience and expect to spend extended time in your vehicle getting to and from snow play areas."
ADOT's suggestions for items to take along:
Warm clothing and blankets

A fully charged mobile phone and charger

Flashlight with extra batteries

Drinking water

Healthy snacks

First-aid kit and necessary medications

Ice scraper

Small bag of sand or kitty litter for wheel traction

Small folding shovel for snow removal

Travel tool kit and battery cables

Safety flares

Plastic bags or containers for sanitation

Road map(s)
ADOT says you and your vehicle must be prepared for driving in wintry conditions, including snow, ice and freezing temperatures.
Get plenty of rest

Plan your route in advance and notify someone about your route, destination and arrival time

Take frequent breaks from driving

Make sure your fuel tank is at least half to three-quarters full at all times

Use snow tires, chains or studded tires as recommended or required. Studded tires are permitted on Arizona highways from Oct. 1 to May 1.

Ensure your wipers, window defroster, headlights, taillights, brake lights and turn signals work

Change your motor oil to a winter grade

For electric or hybrid vehicles, be sure the battery has sufficient voltage and the connection cables are tight
Get more safety tips at https://azdot.gov/KnowSnow
For Flagstaff area snow-play locations, see FlagstaffArizona.org's Winter Recreation Map or call 844-256-SNOW.
You can check the latest weather conditions by visiting the FOX 10 Phoenix weather page, or download the Free FOX 10 Weather app, which is available on Apple iOS and Android.