Famed former wrestler 'Iron Sheik' dies at age 81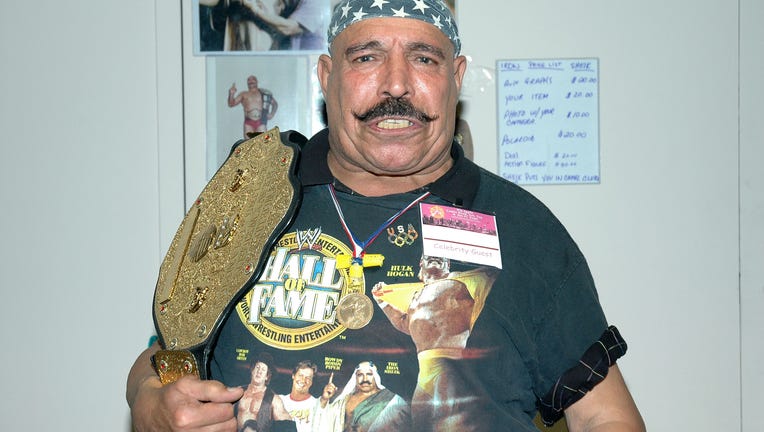 article
ATLANTA - The former professional wrestler known as the Iron Sheik has died at the age of 81, according to an announcement posted to his Twitter page.
The wrestler's real name was Hossein Khosrow Ali Vaziriand and he was born in Damghan, Iran. He was interested in wrestling at a young age and competed for a spot on Iran's Greco-Roman wrestling team for the 1968 Summer Olympics.
After moving to the United States, be became an assistant coach of two U.S. Olympic squads in the 1970s. In 1972, he was invited to become a professional wrestler. He adopted his signature look after it was suggested by a wrestling promoter and quickly became known as one a "heel" or a villain in the world of wrestling.
Sheik won the WWF (now WWE) championship in 1983 at Madison Square Garden. He lost it a month later to Hulk Hogan with whom he had a fierce rivalry.
In 1987, Sheik was arrested during a traffic stop in New Jersey. He was reportedly high on cocaine at the time and was placed on probation for a year. He left the WWF after his arrest but returned in 1988.
In 1989, the Iron Sheik made a surprise appearance at a World Championship Wrestling (WCW) taping Atlanta and challenged Ricky Steamboat to a match. After several matches, he left WCW in 1991 and returned to the WWF again on March 11, 1991. However, he only stuck around for a little over a year before leaving the promotion again in May 1992.
Between 1992 and 2010, the Sheik wrestled in Japan and Nigeria and various other locations. He also made sporadic appearances for WWF/WWE, including when he won the Gimmick Battle Royal at WrestleMania X-Seven in 2001.
In 2005, he was inducted into the WWE Hall of Fame before WrestleMania 21 in Los Angeles.
The Iron Sheik began to become known for his Twitter account in the late 2000s. His tweets were often violent and laden with profanity.
He is survived by his wife of 47 years, Caryl, and his children Tanya, Nikki and Marissa and several grandchildren. His cause of death was not revealed.