Last home designed by Frank Lloyd Wright sells for nearly $1.7 million
PHOENIX - An Arizona house that was the last home architect Frank Lloyd Wright-designed before his death has been sold.
Heritage Auctions said the Norman Lykes House sold at auction Wednesday for nearly $1.7 million. It only took 20 minutes to finalize the winning bid. 
The winning bidder did not wish to be identified.
"Bidding opened at 750,000, we had an active room of bidding that was kind of going back and forth between several bidders a lot of paddles going up in the room rapid succession of bidding all the way up to 1.7," said Nate Shar, Director of Luxury Real Estate for Heritage Auctions.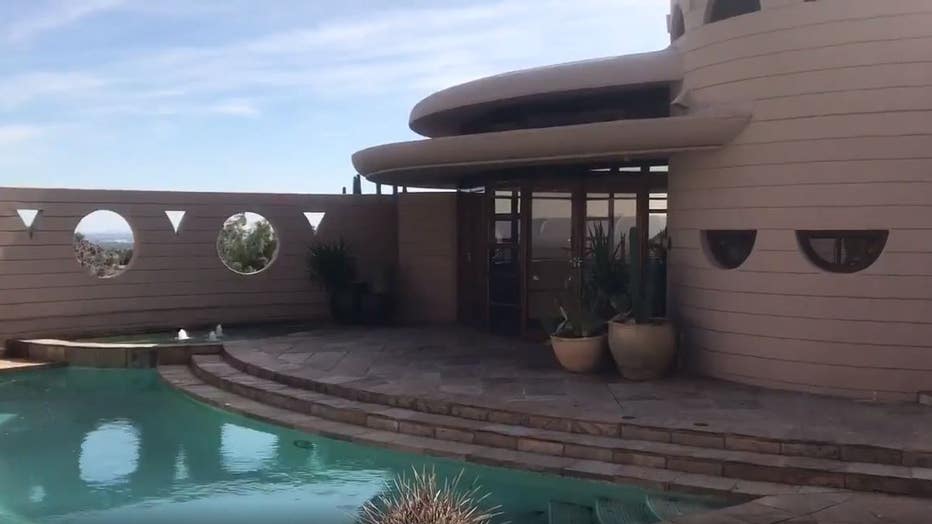 Nicknamed the "Circular Sun House," the Phoenix property has been on and off the market over the last few years.
Wright designed the home before his death in April 1959 at age 91. Construction was completed eight years later. 
"Then also it's a Frank Lloyd Wright with a view that's really kind of rare for a Frank Lloyd Wright because they're usually pretty secluded and tucked away," said Shar. 
The 3,095-square-foot (288-square-meter) property in the city's Biltmore neighborhood has three bedrooms, three baths and is nestled on the edge of a mountain preserve near 36th Street and Lincoln with a view of Palm Canyon. The most recent owners made some upgrades but kept most of the original features.
Officials with the auction house said they were looking for a bidder who would invest in maintaining the integrity of the home. Shar says both the buyer and seller are happy with the deal. 
"We really didn't know what to expect," said Shar. "This is a Frank Lloyd Wright property, homes in this area at this price point sell at about a million and up and so with homes at 3,000 square feet, three bedrooms remodeled in 1994 you're talking about a 25-year-old house that still sold above comps the neighborhood."
Many of the bidders came from out of state including the winner. FOX 10 was told the new owners plan to use the property as a vacation home. 
The Associated Press contributed to this report.