March to support Ukraine war efforts hits the streets of Phoenix: 'I am safe'
PHOENIX - The Valley showed its support for Ukraine and those seeking refuge in Arizona on Sunday as more than a hundred people gathered to mark the first anniversary of the war against Russia.
They marched down the streets of central Phoenix just a year after Russia invaded Ukraine. Since then, thousands of people have been killed and millions were forced to flee their homes.
A sea of blue and yellow flags were held by Ukrainians, Ukrainian Americans, and those supporting them, as they marched through the streets of uptown Phoenix, eventually gathering and speaking to a crowd at Colter Park.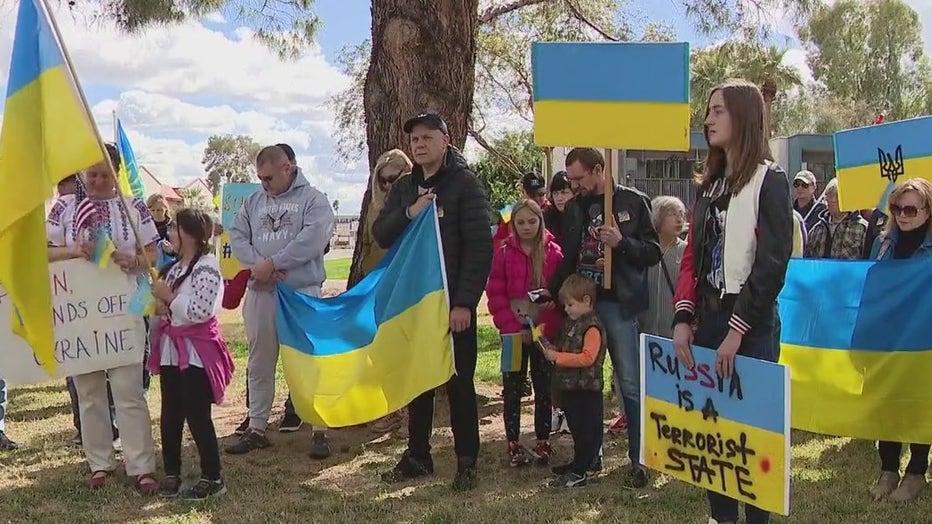 "I think what I'm thinking about is people who lost their lives mostly. I do still have extended family that is in Ukraine and I get to speak to them fairly regularly," Sergei Nosov said.
The passing of the first anniversary of the Russian invasion is, of course, emotional for many. Some of those impacted wanted to share their thoughts.
"The feeling when you wake up, and you don't know, and you heard that there was probably a bombing, or you read it in the news, and you don't know if all of your family is OK, is very draining," Nosov explained.
Others found more peace in the moment of silence for those who lost their lives.
Quite a few Ukrainian refugees are now living in Phoenix and joined in on the march.
"I never thought I would be in the U.S. in my 20s as a war refugee," Kristina Kuliieva said. "My family is still in Ukraine. My friend died. It's been quite awhile ago. He died in April because of Russians."
A question remains: will they ever return to their homeland?
"I wish I could go back. I want to go back to Ukraine. At first, I felt very patriotic. I thought I would go and fight for my country, but I feel like my family probably needs some financial support as well, so I think my family is happy that I am safe," Kuliieva said.
Russia invaded Ukraine on Feb. 24, 2022.
More reports:
Tune in to FOX 10 Phoenix for the latest news: