Multi-state fugitive shot by Mesa officers after crashing into pizzeria, police say
MESA, Ariz. - A shooting involving Mesa Police officers and an out-of-state man wanted for murder ended in a crash on Sunday, Aug. 21.
Police say the suspect drove into Jimmy & Joe's Pizzeria near Dobson and Baseline Roads when officers began opening fire.
The incident began when the Arizona Department of Public Safety called Mesa Police after suspecting a fugitive from Colorado with felony warrants was in the area. 
Mesa Police sent plain-clothed officers to investigate.
They sat for a few hours and watched. Officers found this car, a black SUV, and the man that DPS had said matched the description of the Colorado fugitive.
That's when the SWAT team was called.
Just before 5 p.m., the suspect left the store, got into his car, and the SWAT team tried to take him into custody.
"He refused all commands at that point. Put the car in drive and attempted to break out of the containment area by driving into the front of the retail business. That retail business did have not only employees, but it also had patrons inside," said Mesa Police Det. Richard Encinas.
Encinas said five-to-six people were inside the pizzeria at the time, and no one was injured.
Suspect identified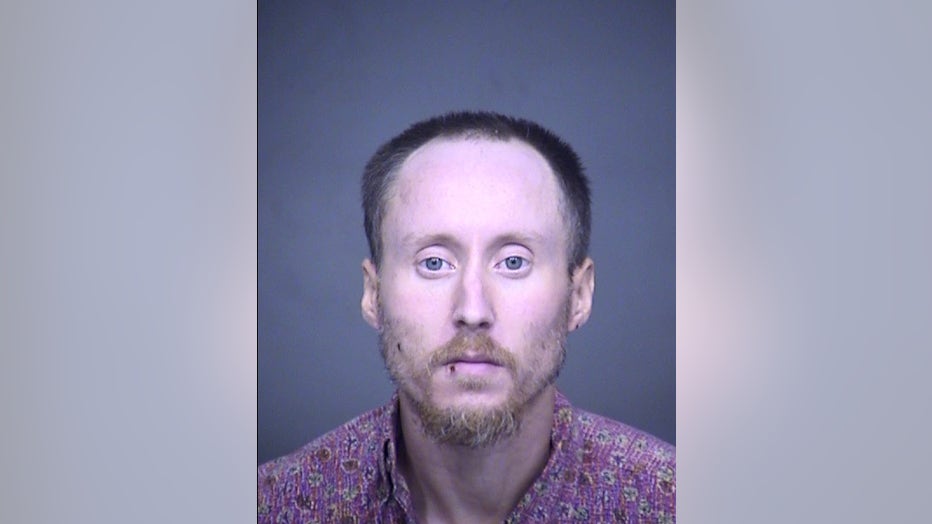 The suspect, identified as Kevin McKinney, was also wanted in connection to a deadly shooting in Albuquerque, New Mexico on Saturday, police said in a news release on Aug. 22.
McKinney underwent surgery and has been released from the hospital.
The Colorado man has been booked into jail and faces a number of charges, including aggravated assault, weapons misconduct, criminal damage, endangerment and fugitive-related crimes.
Witnesses speak out
A neighbor named Mercedes Taylor says she was nervous when she heard about what was happening.
"I was actually on the phone talking to one of my friends telling her, you know, about how safe Arizona was and how safe my area is, and then I saw the crime scene van and said, uh yeah, maybe no," she said.
Another person, Mark Lively, was working when the incident happened.
"I was in the kitchen making pizza," said Lively. "All of a sudden, we heard gunshots."
No one inside the restaurant was hurt, but the restaurant's front door was riddled with bullet holes.
"We heard the gunfire. We saw police drawing their guns and shooting at this car that drove in. Everyone was just trying to get out of there," said Lively.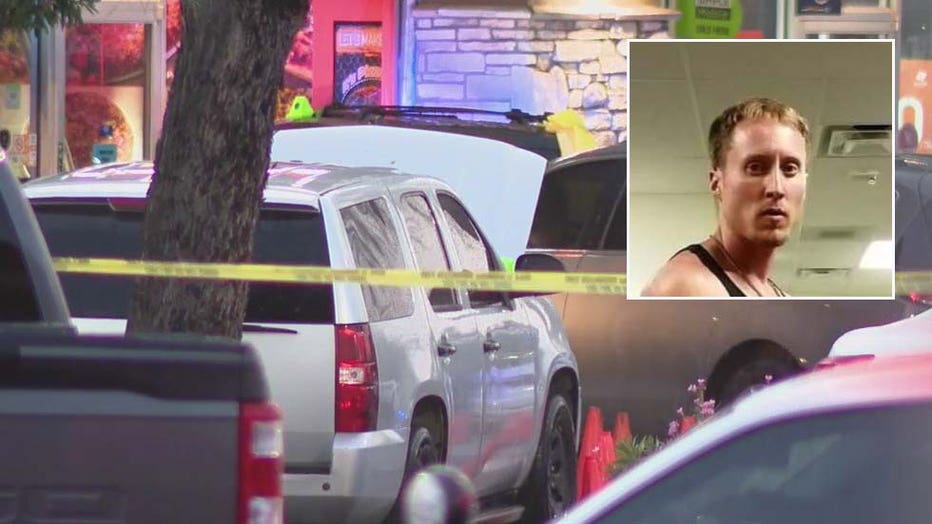 Kevin McKinney, a murder suspect out of Albuquerque, New Mexico, was shot by Mesa Police on Aug. 21.