Family mourns after 2-year-old girl, high school senior die in Tempe wrong-way crash
TEMPE, Ariz. - A family is in mourning after a 2-year-old girl and a McClintock High School senior died in a suspected wrong-way crash late Monday night in Tempe.
According to Tempe Police, the crash happened just before midnight on Oct. 25 on a frontage road near Price Road and Southern Avenue.
The 17-year-old driver of the wrong-way vehicle reportedly told police he believed he was going in the right direction prior to the crash. 
"We did talk to the driver that was traveling the wrong direction," said a Tempe Police spokesman. "He indicated that he saw headlights coming at him, but he believed he was traveling the correct way. He indicated to us that he noticed they both tried to change lanes a the last minute."
There were four people inside the vehicle at the time of the crash, including the unrestrained toddler, identified as Nianee Card, who was pronounced dead. Aldous Harris, a 17-year-old McClintock High School senior, was sitting in the front passenger seat and was also killed. Nianee's mother, Desiree Trevino-Valenzuela, was sitting in the backseat. She suffered non-life-threatening injuries.
The driver of the other vehicle, identified as 23-year-old Aneet Grewal, was hospitalized with serious injuries.
"The juvenile driver, the wrong-way driver, appears to be the uncle of the 2-year-old that is deceased," said Natalie Barela with the Tempe Police Department.
Impairment is believed to be a factor in the crash.
Toddler's family speaks out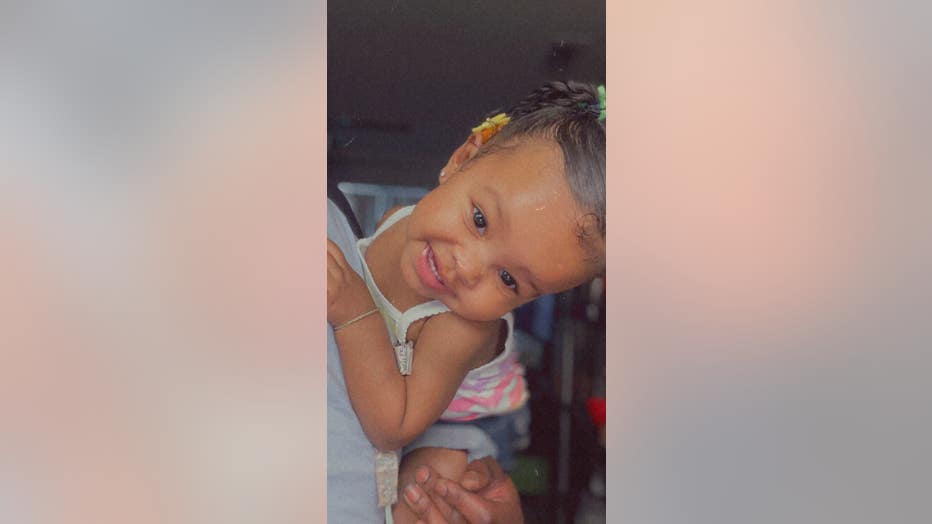 Nianee Card (Photo: Donnell Card)
"Being around her - her laughter, her smile. She could just be…waving at you, whatever the case was, you could have a bad day and all that erases everything."
For Donnell Card, being a girl dad meant the world to him. He remembers seeing 2-year-old Nianee Card one last time.
"She just wanted to come with me the whole time," Card said. "She kept coming back for hugs, trying to get in the drivers seat, tug on the steering wheel, and things like that."
Her mother, Desiree, was seriously injured but is expected to survive. The driver, Nianee's uncle, was also injured.
Card is devastated, but he says he won't place blame on his daughter's uncle.
"There's no grudges or anything like that at the end of the day, that's still family - that was still her uncle," he said.
Nianee's mother learned her daughter was gone when she regained consciousness.
"Her mother had to find out a day after," Card said. "She was in surgery the day of, so she didn't wake up and gain consciousness and everything until the day after."
The heartbroken parents are left with only memories of their little girl.
"She will always be here with our family," her father said. "Everyone's gonna remember her, man."
Support the family's GoFundMe here.
Teenager's family reeling from the loss
Aldous Harris picked up the hobby of playing the tuba when he moved from Indiana to Arizona four years ago.
"The noise in the house, even when he practiced, but I told him, 'Whatever you wanna do man, do it to the fullest,' and he did that," said his father, Dajuan Harris.
On Senior Night 2021, Aldous isn't in the stands playing after the crash. Instead, the band wore ribbons in his favorite color – yellow.
Keona Moore is not with her oldest child anymore, someone who she's misses terribly. She described him as, "Just loud, energetic, life of the party."
Aldous juggled school and work while applying to historically black colleges and universities. He was a young activist protesting racial and social injustice in the Valley.
His father says he always remained confident and optimistic.
"We'd get on 'em and he would reply, 'Let me be great,'" his father remembered. 
Loved ones of Aldous continue to follow his lead, especially his two younger brothers at McClintock High School.
"They just had a football game recently in honor of Al and they won big, so I know Aldous is gonna live forever," his mother said.
Support Aldous' GoFundMe here.
Wrong-way crashes plague Arizona roadways
The Arizona Dept. of Public Safety tracks wrong-way crashes on state highways, and so far this year, there have been a total of 37 wrong-way crashes on highways. Six of those were fatal.
The Arizona Dept. of Transportation has installed thermal detection cameras on several highways that alert law enforcement when a driver enters the freeway going the wrong direction.
Since 2018, the system has detected 250 wrong-way drivers, most of whom self-corrected.
"Many times we will think about wrong-way drivers only happening on the freeways, but unfortunately they're happening all over the roadways," Barela said.
Police are waiting on toxicology results for the wrong-way driver and said the case will be submitted to the Maricopa County Attorney's Office for review.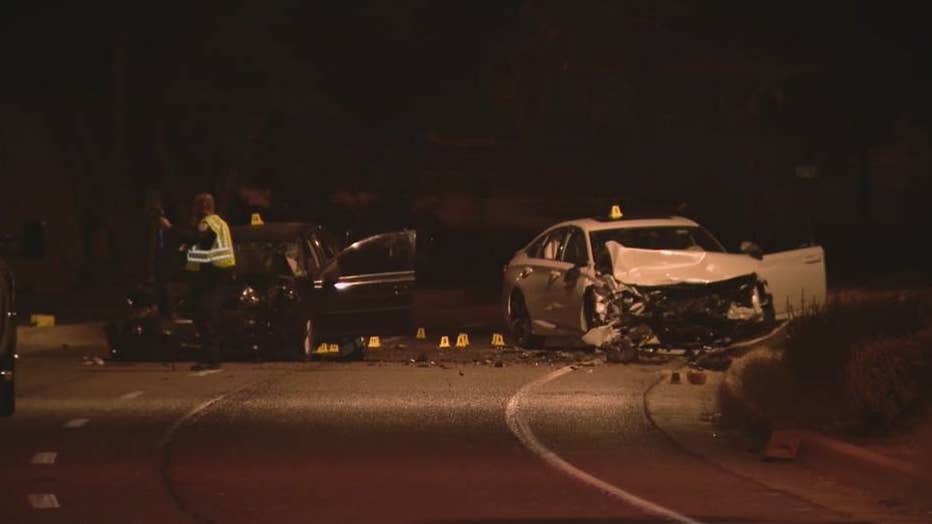 Two people are dead, including a 2-year-old girl, following a wrong-way crash on Oct. 25 in Tempe.
More Arizona crime news
Tune in to FOX 10 Phoenix for the latest news:
Get breaking news alerts in the FREE FOX 10 News app. Download for Apple iOS or Android.