Woman found dead in apartment fire with 10-foot flames in Phoenix
PHOENIX - A person was found dead in an apartment after it was engulfed in flames on the night of Saturday, April 10, says the fire department.
The fire happened near 83rd Avenue and Indian School Road around 6:45 p.m. Neighbors passing by called 911 after seeing flames coming out of the apartment.
Fire crews arrived to the fire on the second floor with 10-foot flames coming through the windows.
"Heavy fire and heat impingement forced firefighters to their knees as they made entry and searched the residence. Upon concluding their search unfortunately one person was found deceased in the apartment," the department said.
The victim has been identified as India Johnson, 35. Phoenix Police will be handling the death investigation.
Neighbors react to the deadly fire
Flowers were left near Johnson's home in honor of her memory. Many say she was a kind woman who loved her cats.
Witnesses say the fire was like something they have never seen before.
"So fast. I've never seen anything so fast. It was like a tinder completely," Linda Martinez said, recalling the horrifying moments as she watched her neighbor's home go up in flames.
"You could feel it all the way here. It was like a tinder, it was the windows broken off and then the roof started in flames and you see the wood starting to fly all over the place," she said.
When fire crews finally fought through the flames, they found Johnson dead inside.
"They did put a tarp over it but you could actually see them pulling the body out as they are taking it out of the apartment," said John Labban.
In that moment all he could think of was how hard this will be for all the family and friends that Johnson leaves behind.
"That's somebody's aunt, somebody's cousin, that's somebody's family member and you hear that they came home to see that. It's pretty disturbing," Labban said.
Neighbors say Johnson had several cats in her apartment. Martinez says she took in one of them that was found near the rubble.
Johnson's mother did not want to be interviewed but told FOX 10 over the phone that her daughter was a five-year Army veteran and she had just finished her first semester in college majoring in political science and criminal justice.
Johnson's mother says she lived with her and at the time of the fire. Before the fire broke out, she'd gone out to take their new puppy to the vet.
She says her daughter was sleeping when she left.
Fire officials have not yet released the cause of the fire but Johnson's mother says she was told it was electrical.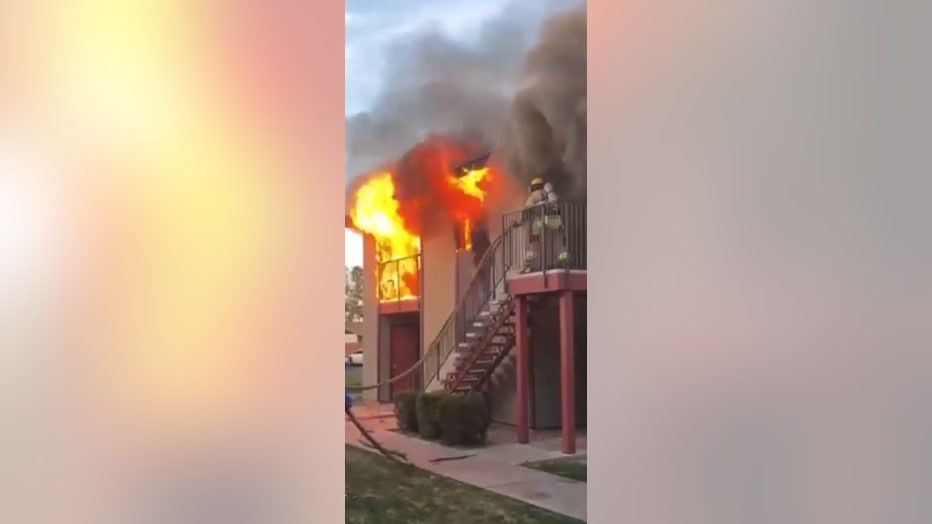 Photo courtesy of the Phoenix Fire Department
Tune in to FOX 10 Phoenix for the latest news: