Phoenix couple back cooking for community months after food truck explosion
PHOENIX - Robert Everson and his wife, Amber, were on the job one minute, serving barbecue, and the next, they were running for their lives in April when their food truck was involved in an explosion.
The Everson's new, custom-built food truck caught fire after a gas tank explosion in Phoenix. Robert remembers running for his life.
"My home chef jacket was on fire. My pants, my feet, my legs. I was just running and screaming, asking people to help me," Robert said.
Robert is a barber turned self-taught barbecue master chef, and he built a business with his wife. Their barbecue food truck would go around town until the COVID-19 pandemic put the brakes on everything.
"We just got back out there," said Robert. "COVID pretty much shut us down, and then unfortunately now, we're gonna be down a few months."
The Eversons spent several days in the Valleywise burn unit. Robert was burned over 30% of his body, while Amber was in rehab, re-learning how to walk.
"As I was running and screaming as I was on fire I thought to myself, 'this is how I die,'" Robert said.
Both are now recovered from their painful injuries.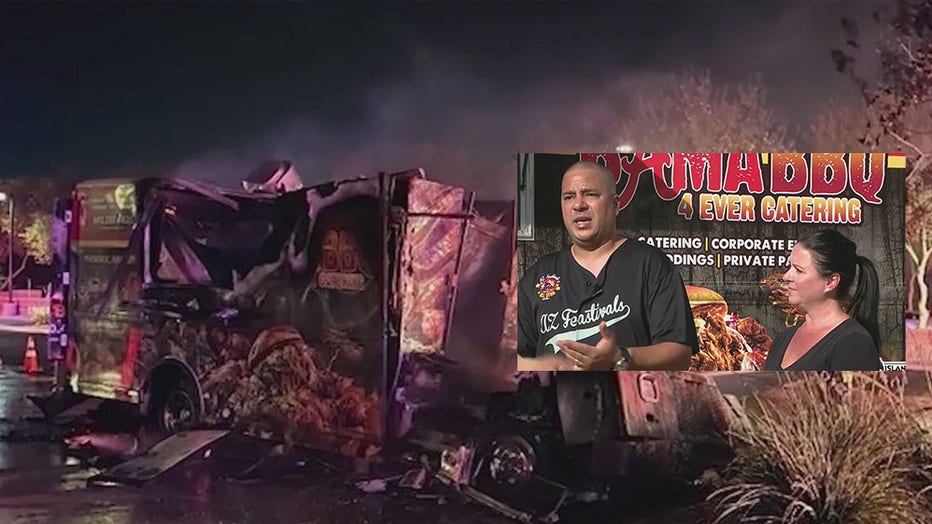 Months later, the couple is back in action
Robert and Amber are back in action after months of recovery by fall 2021, cooking up their famous brisket for Bama Barbeque. 
The couple is getting ready to serve the community that's given them so much support over the past several months.
"Everyone from all over the Valley, all over the country, reached out to us in some kind of way whether it was an email, whether it was a phone call, or helping with the fundraisers held at the festivals," Robert said on Oct. 22.
They are back in business at AZ Feastivals in Queen Creek. 
"At the time, I was so in shock about what happened to me. It really didn't affect me until like days later," he added.
After such a traumatic experience, one might move on to something else, but that's not what the Eversons wanted.
"I couldn't let something like that, that I knew was a total accident, a freak accident, put me down and make me go back in another direction … I don't work like that. I'm determined and I know what I have here," Robert said.
The couple got a new truck and are ready for business.
"I love to cook. I love to go out and show off my skills with cooking and see the smiles on people's faces when they try our food," he said.
Customers welcomed back the Everson with open arms.
"Knowing what happened, knowing what they endured, everything they had to go through to get back, to be back here doing what they love to do is absolutely amazing and I had to go come and show my support," a customer said.
"I got out early from work to come. It's that simple. I had to come out to see them," another customer said.
The first day back couldn't have gone any better.
"Seeing all these smiling faces standing in line to eat some Bama BBQ … it's awesome," Robert said.
Community steps up to help family
Out of the fire, however, came something sweet, as Robert and Amber's competitors have turned into coworkers of sorts. They are working to donate proceeds from sales made during the fundraiser at the Quen Creek Festival to help the Eversons get back on their feet.
One of the businesses taking part is Woodbarn BBQ.
"The whole thing about food trucks and small businesses is we're a family, so our first conversation after we heard what happened to Robert was how can we help," said Skylar Hittle with Woodbarn BBQ. "100% of our sales is going right to Robert tonight, so hopefully, they can get back on their feet."
"For these guys to step up and donate part of the money that could be going to pay their bills and take care of their families, they're actually looking out for us as well. That means a lot to us," said Robert.
Tune in to FOX 10 Phoenix for the latest news
For the latest local news, download the FOX 10 News app