Phoenix Mercury fans wear orange for National Gun Violence Awareness Day
PHOENIX - At Friday night's Phoenix Mercury game, there was a sea of orange among fans.
"Today is National Gun Violence Awareness Day all across the country, and we are wearing orange to lift up and remember those survivors and those impacted by gun violence," said Kenneth Gonzales of Everytown for Gun Safety.
A national day, along with several organizations, cities and politicians, the Mercury marked it with an evening at their home court.
"We're not trying to preach to anyone and tell them how to feel about this," Mercury President Vince Kozar said. "What we're saying is there are ways to get involved."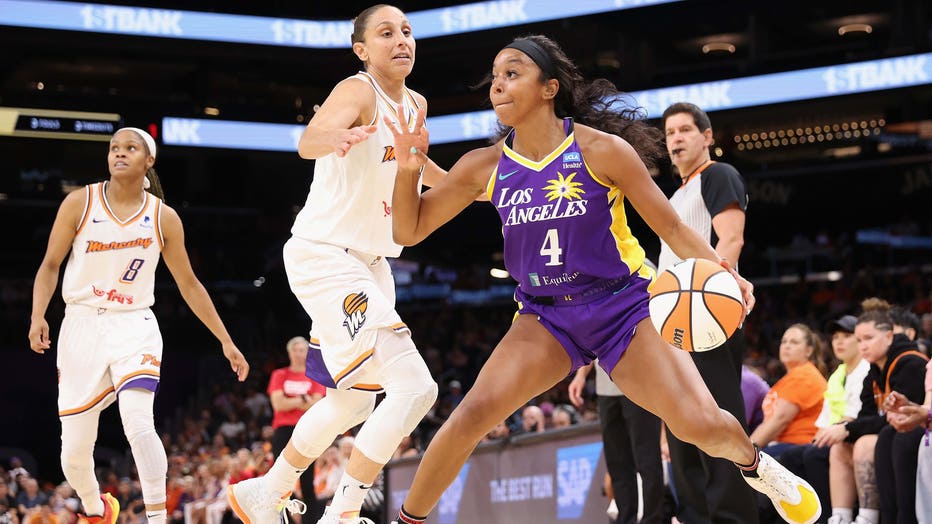 PHOENIX, ARIZONA - JUNE 02: Lexie Brown #4 of the Los Angeles Sparks handles the ball against Diana Taurasi #3 of the Phoenix Mercury during the first half of WNBA game at Footprint Center on June 02, 2023 in Phoenix, Arizona.  (Photo by Christian Petersen/Getty Images )
Kozar says they started it last year after the devastating shooting in Uvalde, Texas.
"We didn't know what the solution was, but we knew doing nothing wasn't an option," he said.
Dozens of fans from groups like Moms Demand Action and Everytown for Gun Safety filled fan sections holding signs, and the jumbo screen projected facts about gun violence during timeouts.
"We need everyone apart of this movement, and it will take important influencers like the Phoenix Mercury to join us in our fight to end gun violence," Gonzales said. "Tonight, we are joined by over 50 professional sport athletes, not just here in Arizona, but across the country to raise awareness about this important issue."