Police: Man arrested after firing shots in Chandler neighborhood
CHANDLER, Ariz. - Police say they've arrested a man after he fired several shots overnight in a Chandler neighborhood.
According to the Chandler Police Department, officers responded to several 911 calls just before midnight of a man who was firing shots in the parking lot of an apartment complex near McQueen Road and Chandler Boulevard.
"I was sitting in my car and I heard the gunshots, and it was like someone was tappng on my car. That's the noise that it was making," said David Legerstrom, who lives in the area.
When the first officer arrived at the scene, he took on gunfire and took cover behind his patrol car, as multiple rounds struck the windshield.
Shortly after, more officers arrived at the scene and a Mesa police helicopter was dispatched to locate the suspect, identified as 26-year-old Zachary Rhodes.
"He was always quiet. Kept [to] himself. We just waved 'hi' and 'bye.' I never expected him to do this," said Legerstrom.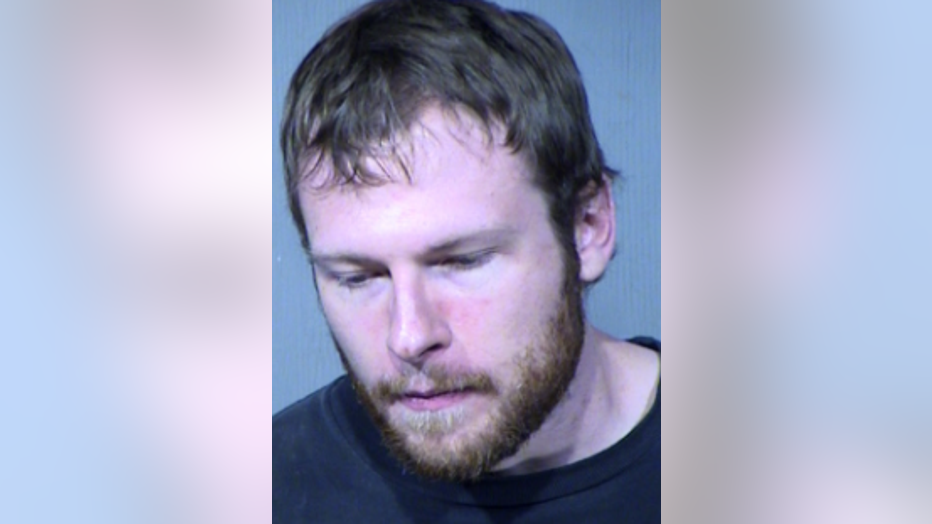 Rhodes continued to fire shots and was eventually found in a nearby dirt lot and arrested. Along with an AR-15, police say Rhodes had at least one handgun, which he used to fire at officers. According to police, one officer was injured by what is believed to be shrapnel.
"Normal people don't shoot at officers," said Legerstrom.
Police estimate Rhodes fired about 100 rounds from the AR-15 and handgun.
A search of Rhodes' apartment resulted in the discovery of loaded rifle magazines.
Police say there were no serious injuries and there is no threat to the public. Rhodes is accused of second degree murder and aggravated asssault, and is being held on a $2 million cash bond.