Police shooting of unarmed black teen spurs more protests, appeals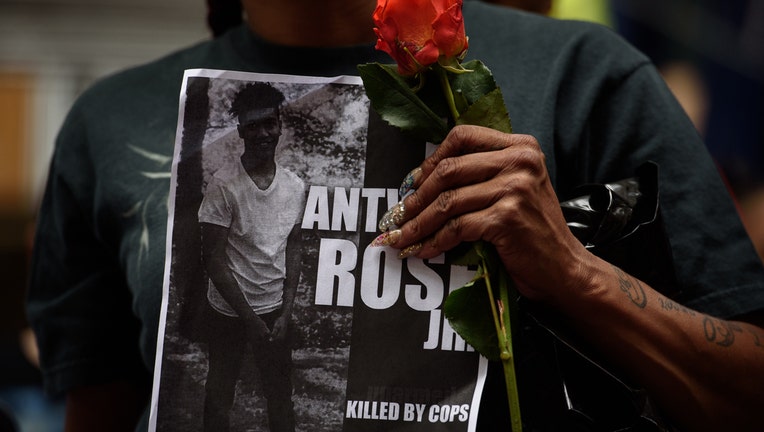 article
Protesters demonstrated Friday for a third day over the fatal police shooting in Pennsylvania of an unarmed black teen fleeing a traffic stop as they sought to get the attention of a nation engrossed by the immigration debate, and to pressure officials to charge the officer.
Hundreds of marchers chanting "Who did this? The police did this" shut down a Pittsburgh area highway in the early morning hours, and a small group staged a sit-in outside the district attorney's office later in the day.
Demands for answers to why a police officer shot 17-year-old Antwon Rose Jr. seconds after he bolted from a car grew with an emotional speech by state Rep. Jake Wheatley at the state Capitol, and a videotaped appeal by the legislator and two other black Pittsburgh area lawmakers for a "thorough and transparent investigation that builds community."
"My heart is heavy right now," Wheatley said , decrying both Rose's death and the street violence that earlier in the week left a young rapper dead. "We cannot casually keep closing our eyes and ears to the fact there's a group of people whose lives seemingly don't matter."
Rose was shot Tuesday night in East Pittsburgh, a suburb of Pittsburgh, after the car he was riding in was pulled over by Officer Michael Rosfeld because it matched the description of a car wanted in a shooting in a nearby town, police said. The car had bullet damage to a back window.
As Rosfeld was taking the driver into custody, a video taken from a nearby house shows Rose and a second passenger running from the car. Three gunshots can be heard, and the passengers can be seen either falling or crouching as they pass between houses. It is unclear from the video if Rosfeld yelled for them to stop.
Interviewed briefly by television station WTAE, Rosfeld, who is 30, said he could not discuss the shooting but that he was getting a lot of support from law enforcement. He is on administrative leave during the investigation.
Authorities said two handguns were retrieved from the car, and District Attorney Stephen Zappala said an empty gun clip was found in Rose's pocket.
Lawyers for Rose's family have said no evidence has been produced that shows the teen posed a threat to police.
Attorney Fred Rabner said the empty clip and the guns found in the car have no bearing on whether the shooting was justified.
"The analysis required of a fact finder in a case alleging police wrongdoing only looks at the officer's state of mind at the time that an action was taken; it's not done in hindsight after facts are learned," he said. "Using that analysis, there's almost no imaginable set of circumstances that would make this shooting anything but a murder."
Prosecutors met Thursday and again Friday with county investigators to review evidence, Zappala said.
"There's obviously things that need to be done. The community has made it clear, I think, that they want a conclusion brought to this matter as rapidly as possible, but you have to keep in mind that justice is a process, so you've got to take this through the steps," he said.
The medical examiner did not say where or how many times Rose was shot, but confirmed that he died of a gunshot wound to the torso.
Rose's friends and family said the teen volunteered at a charity, took honors classes and would show up at job interviews wearing a three-piece suit. School administrators said teachers saw a lot of potential in the teen and said he had a "million-dollar smile."
Rosfeld had been sworn in just hours before the shooting, but had been working at the police department for two to three weeks. He had worked at several other police departments, including the University of Pittsburgh, over the last seven years.
The driver of the car was released without charges after questioning. Police said he had been operating as a jitney, or unlicensed cab.
It was not clear whether other passengers had been in the car between the time of the first shooting 15 minutes earlier and when the car was pulled over. But police said they were confident the vehicle was the one described by the witness in the first shooting, which wounded a 22-year-old man.
Rose's lawyers said no evidence had been presented yet showing the teen had been part of the earlier shooting.
__
Associated Press writer Mark Scolforo in Harrisburg contributed to this report.