Q-Collar: New equipment helps protect the brain of high contact sports players
PHOENIX - If you've been watching the National Football League lately, you may have seen a new piece of equipment being worn around a players neck. Right now just a handful of players in the NFL are wearing the Q-Collar. Turns out, it may be the solution many have been looking for to protect the brain during high contact sports.
Football is a violent game. High contact. Hit after hit.
The NFL just acknowledged that concussions rose significantly during the 2022 regular season. The league reporting 149 concussions. An 18 percent jump from the year before.We know more today.
We know about the risks and how repetitive hits can lead to Chronic Traumatic Encephalopathy, or CTE.  However, millions watch the game, mllions of dollars are made, and the next stars of the NFL are on the field right now.
For decades, helmets have been worn for protection in high contact sports, and the equipment has gotten more advanced. But the helmet protects the skull.
A team of doctors got together to come up with a solution to protect the brain.
Dr. David Smith thought studying the biology of a woodpecker could help reduce brain injury in humans.
"This is a completely novel and new way of looking at protecting our athletes and our soldiers," said Dr. David Smith, inventor of the Q-Collar.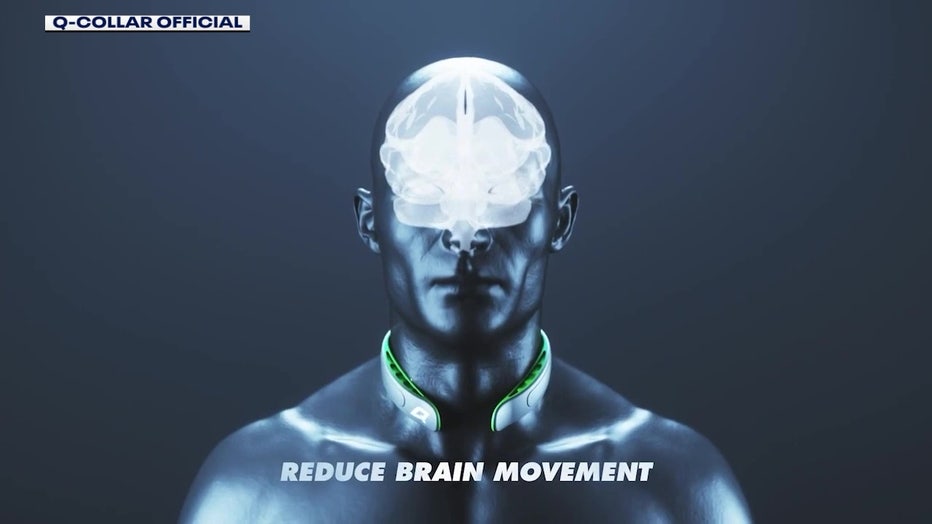 A screenshot of a video made by the manufacturer of Q Collar, showing how the device helps protect the brain.
The Q-Collar is a device that is worn around the neck during high contact sports. The collar puts a small amount of pressure on an athlete's jugular veins. The small amount of pressure causes more blood to remain in the head which provides more of a cushion for the brain.
In February 2021 the Food and Drug Administration authorized the marketing of the Q-Collar, saying that "the device may reduce the occurrence of specific changes in the brain that are associated with brain injury."
Now, about 40 guys in the NFL are wearing one.
Arizona Cardinals safety Budda Baker, who had to be carted off the field after a big hit during the playoffs about a year ago, returned in the fall wearing a Q-Collar. It blends in with his white helmet. Dallas Cowboys running back Tony Pollard, along with a few of his teammates, also wear one.
From professional sports to college and even high school, more athletes ages 13 and older are wearing them.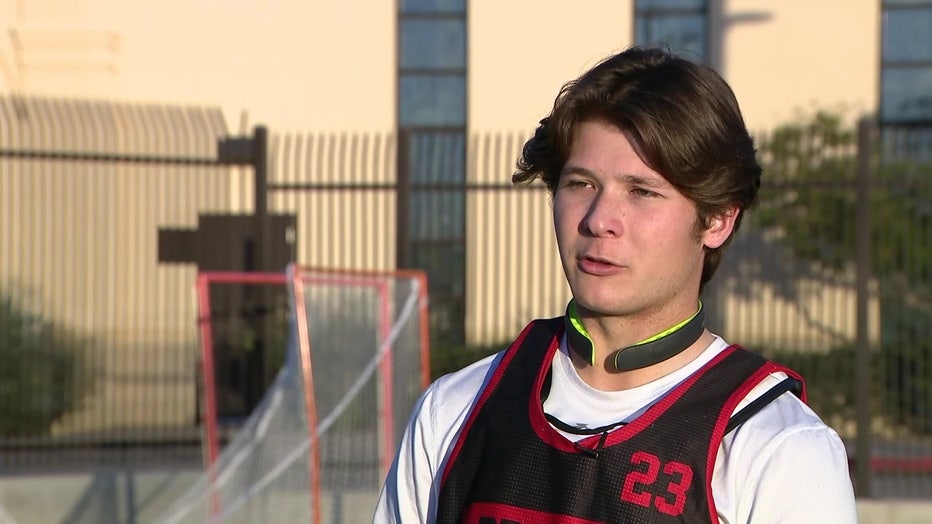 Like football, lacrosse is a high contact sport. Junior Noah Burdick plays for Brophy College Preparatory in Phoenix.
"I got hit and was out of it," Burdick said. "I was like I don't feel too good. I was getting bloody noses. I was like something is up, so I went to the trainer, and they diagnosed me with a concussion."
After that concussion, Burdick started looking into the Q-Collar.
"To be honest, I don't really feel anything when I'm playing," Burdick said. "It's just when I'm sitting down and focusing on it that I feel something. It just feels like I'm playing a normal game when I wear it."
The long stick midfielder says his parents are happy he is wearing it.
"Right now, I'm verbally committed to play division one lacrosse, so hopefully this helps keep me safe and continue the process of playing lacrosse," Burdick said.
Broncos Head Coach Patrick Harbeson suffered a few concussions throughout his playing career.
"Anytime you can have protective gear to protect your brain, and your head, I think it's kind of a no brainer," Harbeson said.
Still though, some have their doubts."There's always naysayers," Dr. Smith said. "I would have you look at those naysayers and background and credentials and match them up against Cincinnati Children's Medical Center, Harvard, Mayo Clinic and Toronto General. This is 25 publications.
"The collar is light, and it is easy to put on. Football, lacrosse, soccer, hockey, rugby, field hockey and even bobsled athletes are wearing them.  Dr. Smith hopes one day it will be standard safety equipment.
"I don't necessarily fear breaking a foot or elbow," Dr. Smith said. "Those will all heal. Bones tend to heal to 110 percent. But your brain doesn't tend to heal over time, and that's the scary part."
You can buy a Q-Collar online for about $200. The company says they do not believe anyone will be wearing one during Super Bowl 57, but we saw a number of players wearing one during the divisional round of the playoffs. It can also be worn by military members on the battlefield to help protect the brain.
Read More Health Stories
Read More Technology Stories