Rare super blue moon spectacle treats stargazers worldwide to stunning scenes
Stargazers from around the world witnessed a rare cosmic event Wednesday evening, and the captured imagery is mesmerizing.
The second full moon of the month, also known as a blue moon, coincided with a supermoon, when the moon reaches its closest point to Earth during its fullest phase.
The stunning astronomical phenomenon created an awe-inspiring setting that took center stage from the Pyramids of Giza in Egypt, towering skyscrapers in Madrid and serene open fields of America's heartland.
WATCH OUT FOR THESE ASTRONOMICAL EVENTS IN 2023
A plane passes the super blue moon in London. (Victoria Jones/PA Images via Getty Images)
Shreenivasan Manievannan, was one of the lucky to capture video of the moon rising above the Golden Gate Bridge in California.
"The hazy sky in San Francisco was the perfect background, making the moon look red due to the smoke from wildfires up in Northern California," he said.
MOON SHOT: TIPS ON HOW TO SHOOT THE MOON WITH A CAMERA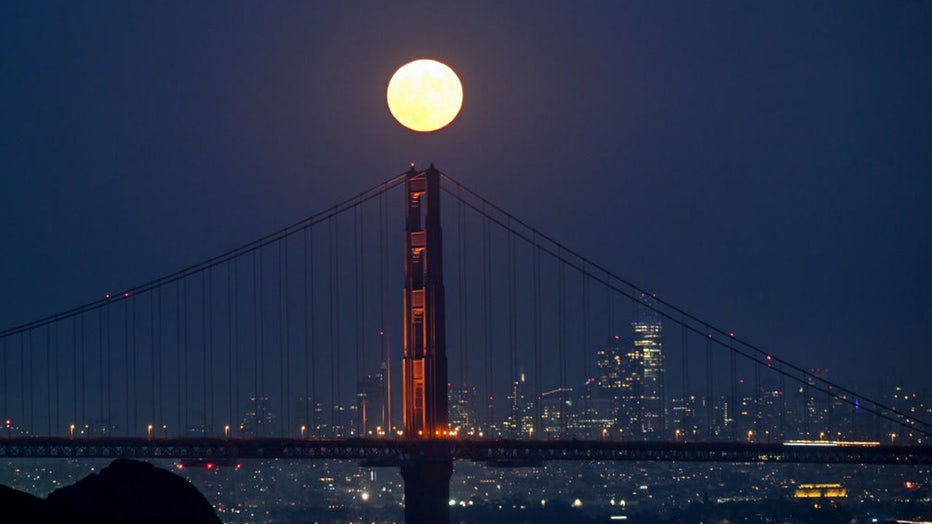 Super moon known as 'Blue Moon' rises over the Golden Gate Bridge in San Francisco, California, United States on August 30, 2023.
The supermoon's gravitational pull caused higher tides across the Eastern Seaboard of the U.S., which is currently feeling effects from Hurricane Franklin and Tropical Storm Idalia.
Coastal areas from Florida to Maine are under a warning due to high seas and rip currents for multiple days. Visitors are advised to be cautious of potential flooding, erosion, and high surf.
If the weather was bad Wednesday night and Thursday morning to see the moon, it will appear nearly full into Friday morning, NASA said.
The space agency defines a blue moon as the second full moon in a single month. The phrase "once in a blue moon" happens on average every two-and-a-half years.
According to NASA scientists, about 25% of all full moons are supermoons, while only 3% of full moons are blue moons. The occurrence of super blue moons is irregular and can span up to 20 years, with an average of 10 years.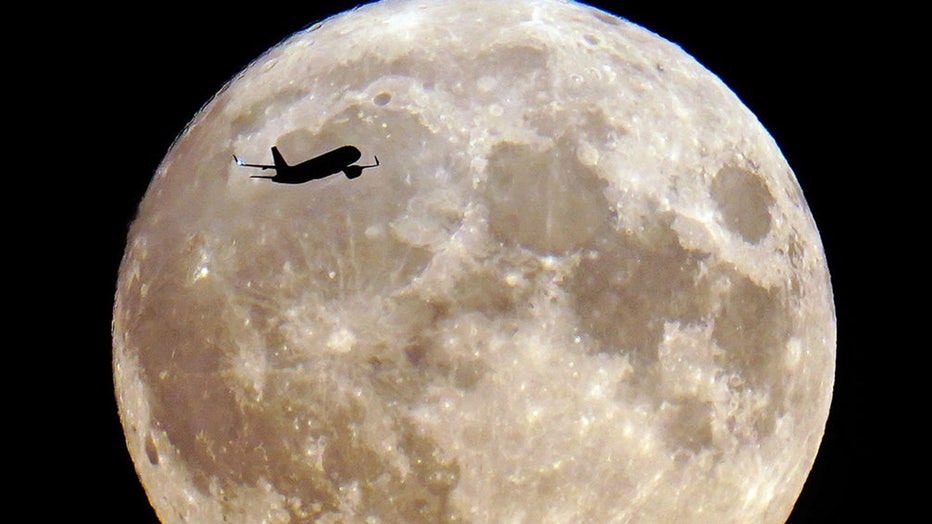 A plane passes the super blue moon in London. (Victoria Jones/PA Images via Getty Images)
From now until 2024, there will be four supermoons every year. The closest one to the century will occur in December 2052. Additionally, there will be a pair of super blue moons in January and March 2037.
It's unclear where the term "blue moon" came from, but it was first used in a 1937 Farmers' Almanac to describe specific full moons. True blue moons can occur but are rare and caused by atmospheric events.