Giuliani surrenders at Fulton County Jail, judge sets bond
ATLANTA - Rudy Giuliani, the former mayor of New York, presidential candidate, and personal attorney to former President Donald Trump, surrendered at the Fulton County Jail Wednesday on charges related to efforts to overturn Trump's loss in the 2020 presidential election in Georgia, according to his attorney.
"I talked to the president today, I have every confidence in him. What they're doing to him is an assault on the American constitution," Giuliani said to a crowd of reporters after being booked. When asked if had any regrets, he confidently said he had none.
Giuliani was indicted last week along with Trump and 17 others. Fulton County District Attorney Fani Willis said they participated in a wide-ranging conspiracy to subvert the will of the voters after the Republican president lost to Democrat Joe Biden in November 2020. Giuliani faces charges related to his work as a lawyer for Trump after the general election.
"Fani Willis will go down in American history as having conducted one of the worst attacks on the American Constitution ever when this case is dismissed," he said.
"I'm feeling very, very good about it because I feel like I am defending the rights of all Americans, as I did so many times as a United States attorney," Giuliani told reporters earlier in the day as he left his apartment in New York on Wednesday, adding that he is "fighting for justice" and has been since he first started representing Trump.
The Fulton County Superior Court Judge Scott McAfee agreed to set Giuliani's bond at $150,000, according to his attorney.
WHAT'S NEXT FOR FORMER PRESIDENT DONALD TRUMP, CO-DEFENDANTS IN FULTON COUNTY AFTER INDICTMENT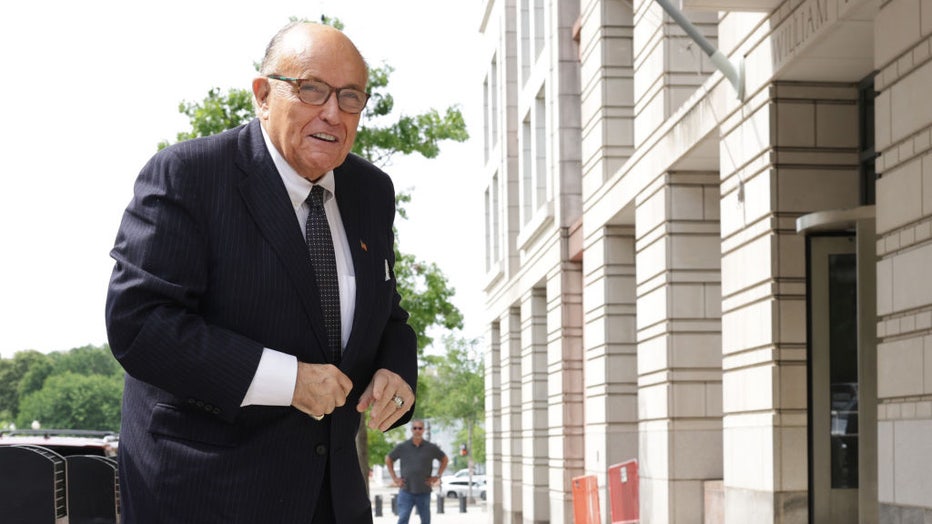 Former New York City Mayor and former personal lawyer for President Donald Trump, Rudy Giuliani, arrives at the U.S. District Court on May 19, 2023 in Washington, DC. (Photo by Alex Wong/Getty Images)
Trump, the early front-runner in the 2024 Republican presidential primary, has said he plans to turn himself in at the Fulton County Jail on Thursday. His bond has been set at $200,000.
A woman who identified herself as a loyal supporter of Trump's drove three hours from Tennessee just to be there when he arrives.
"I'm here to support him," Sharon Anderson said. "I want him to know that one person could make it here of the millions that support him."
Trump and his allies have characterized the investigation as politically motivated and have heavily criticized Willis, a Democrat. Giuliani also criticized the indictment of lawyers who had worked for Trump and said the justice system was being politicized. He highlighted the fact that some of the people indicted are not household names.
RUDY GIULIANI: HOW 'AMERICA'S MAYOR' TIED HIS FATE TO DONALD TRUMP, GOT INDICTED
"Donald Trump told you this: They weren't just coming for him or me," Giuliani said. "Now they've indicted people in this case I don't even know who they are. These are just regular people making a normal living."
Last month, Giuliani reportedly conceded that he made false statements about two Georgia election workers, according to multiple sources.
The concession was made in his latest court filing on Tuesday. But, Giuliani says he does not accept that his statements caused damage to the election workers and that his latest admission should not affect his argument that his statements about the 2020 elections are "constitutionally protected" by the First Amendment.
GIULIANI SAYS HE 'DOES NOT CONTEST' HE MADE FALSE STATEMENTS ABOUT GEORGIA ELECTION WORKERS
List of charges faced by Giuliani:
1 - Violation of the Georgia RICO (Racketeer Influenced and Corrupt Organizations) Act
2 - Solicitation of Violation of Oath by a public officer
3 - False statements and writings
6 - Solicitation of violation of oath by a public officer
7 - False statements and writings
9 - Conspiracy to commit impersonating a public officer
11 - Conspiracy to commit forgery in the first degree
13 - Conspiracy to commit false statements and writing
15 - Conspiracy to commit filing false documents
17 - Conspiracy to commit forgery in the first degree
19 - Conspiracy to commit false statements and writings
23 - Solicitation of violation of oath by a public officer
24 -False statements and writings
One of the charges Giuliani faces is ironically one he fought hard to use back when he was a lawyer in New York.
Giuliani arguably made his name using the Racketeer Influenced and Corrupt Organization statute (RICO) to prosecute organized crime and was one of the most effective prosecutors in American history in taking down the Mafia and cleaning up New York City. He is also known for taking down Wall Street executives like Ivan Boesky and Michael Milken.
Willis has set a deadline of noon on Friday for the people indicted last week in the election subversion case to turn themselves in. Her team has been negotiating bond amounts and conditions with the lawyers for the defendants before they surrender at the jail.
WHO ARE THE 19 PEOPLE INDICTED IN FULTON COUNTY'S ELECTION INTERFERENCE CASE? 
Eight other defendants – former Georgia Republican chair David Shafer, former Coffee County GOP chair Cathy Latham, lawyers Ray Smith, Jenna Ellis, Sidney Powell and Kenneth Chesebro, Trump attorney John Eastman, and Atlanta bail bondsman Scott Hall – have already surrendered to authorities.
The Associated Press contributed to this report.