Family demands answers after suspect armed with knife was shot, killed by Chandler police officer
CHANDLER, Ariz. - A suspect is dead after a police shooting broke out in Chandler Wednesday afternoon, authorities said.
The officer-involved shooting was reported on March 29 near Alma School Road and Warner at 12 p.m.
Police say the shooting stemmed from a robbery call at a nearby hardware store. The suspect, identified as 39-year-old Richard Ring, allegedly shoplifted from the store and fought with an employee before leaving the store.
After the shoplifting incident, police say Ring was spotted jumping fences into residential yards.
When officers responded to the scene, they found Ring, who was inside a home.
"As officers attempted to surround the home, the suspect exited armed with a knife that he had obtained from inside the home," police said. "Commands to drop the knife were ignored and resulted in one officer firing his duty weapon at the suspect, who died on-scene from his injuries."
No officers were hurt.
Police say Ring did not have a permanent residence and has family ties to Chandler.
This was the second police shooting in the city in 24 hours. In an unrelated incident on Mar. 28, officers opened fire at a domestic violence suspect wanted for shooting his ex-girlfriend, although he wasn't struck.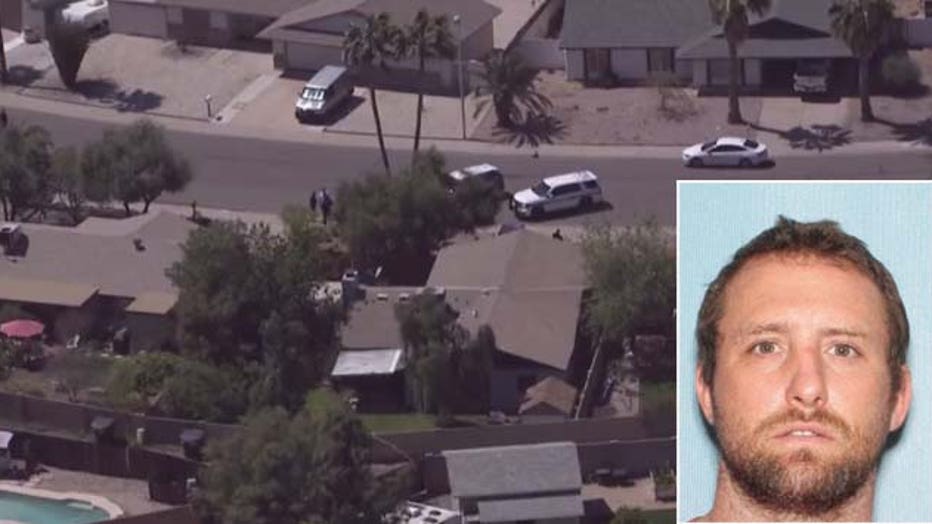 Police say Richard Ring, 39, was armed with a knife when he was shot and killed by police in Chandler.
Man interacted with suspect shortly before the shooting
We spoke with William Sigston, who lives in the area. He said he was in his garage when someone approached him. He showed us the surveillance video.
"I was just sitting here, like I do every day, looking at my phone, and I hear 'water, water, water.' I stick my head up, and here he comes from across the street, and I'm like, 'no.' He says 'What do you mean, no?' And I said 'no,' and I grabbed my gun and I stood up. He said, 'What are you going to do? Shoot me in the head or shoot me in the heart? But shoot me,'" said Sigston. "When he said that, it got me to thinking 'this guy's off his rocker' because he was hyperventilating. He was sweaty. So I reached out, and unfortunately, I told the cops this too. I pulled the trigger, and he heard the click, and that's when he went to the neighbor's house. About that time, a cop car went down the street. I went like this down the driveway, and he shook his head and went down the alley. Next thing I know, I hear 'pop pop pop.'"
As for why Sigston's gun clicked, he said there was no bullet in the trigger.
We also asked Sigston if he thought the man was armed. He said he was not sure, but that he was fearful of his life.
Suspect's family demands answers
As an investigation into the incident continues, members of the suspect's family are speaking out.
"It was kind of hard to believe. I had a conversation with him on the phone about 20 minutes before this incident happened," said Jacqueline Ring, Richard's sister.
"He was a person. He wasn't the person that they are portraying him out to be," said David Lang, a member of Ring's family.
Members of Ring's family are demanding answers as to why police thought it was the right call to shoot and kill him, when he was struggling with a mental episode and needed help with a self-inflicted injury.
"He had sustained a cut from himself that he wasn't going to walk away from the scene from anyways," said Lange. "So how do you need to put seven rounds into him? To finish the job? It seems to me like there's kind of a lack of training, de-escalation, tactics if somebody is going through a mental crisis. You don't shoot them. You get them help."
Family members say Ring suffered from mental illness and a brain injury from a prior motorcycle accident. They want police to respond better when people are in a mental crisis.
"Situations need to change, because it could be your brother. It could be your son that had a bad day or mental Illness, and he needs help. He doesn't deserve to be shot for that," said Jacqueline.
"Everybody has a bad day, but you shouldn't be shot for it," said Lange.
Area where the shooting took place: