Tropical Storm Emily forms in the Atlantic Ocean
CLICK HERE FOR THE LATEST TROPICAL STORM UPDATE
Tropical Storm Emily formed Sunday in the Atlantic Ocean, becoming the fifth named storm of the 2023 Atlantic Hurricane season, according to the National Hurricane Center.
Emily is also one of five potential disturbances or systems being monitored by the NHC in the Atlantic or Gulf of Mexico, though Emily is expected to be a short-lived storm with no impact to Florida.
A tropical storm forms when the storm's surface wind speeds reach at least 39 mph. The NHC said satellite wind data indicated the formation of Tropical Storm Emily. 
SUGGESTED
Where is Tropical Storm Emily located?
Tropical Storm Emily's center is located about 1000 miles west-northwest of the Cabo Verde Islands and traveling west-northwest at 10 mph, the NHC said in its latest advisory.
The storm has maximum sustained winds of at least 50 mph and a central pressure of 1001 mb, the NHC said.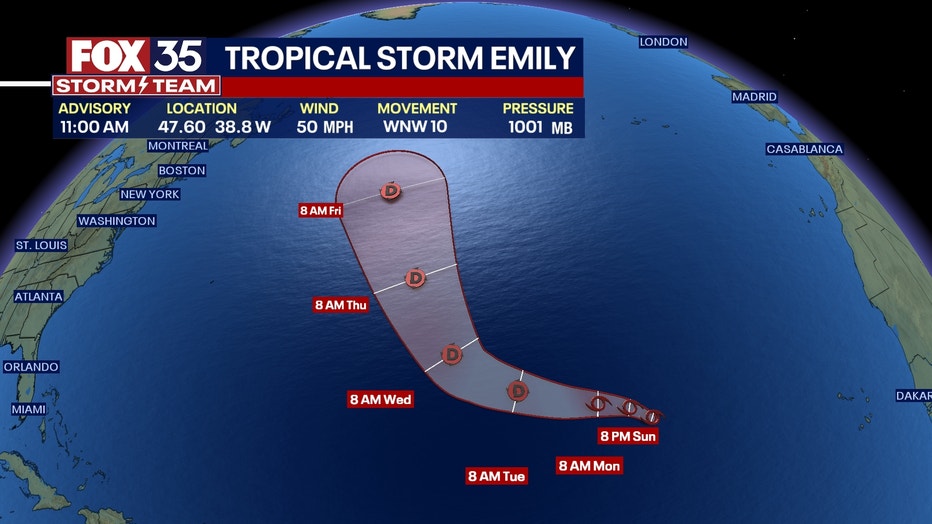 Will Tropical Storm Emily impact the U.S. or Florida?
"Emily is moving toward the west-northwest near 10 mph (17 km/h) and this motion is expected to continue for the next several days," the NHC's advisory said.
"Little change in strength forecast today followed by gradual weakening. Emily is likely to become a post-tropical remnant low by Tuesday," read the advisory.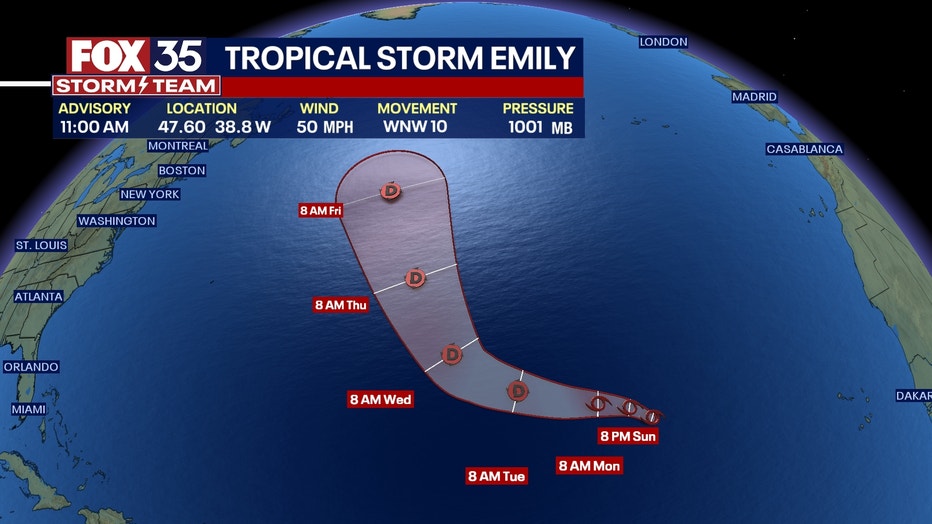 Tropical storm forced winds extend outward up to 185 miles per hour, the NHC said. No watches or warnings associated with Tropical Storm Emily have been issued.
The next advisory will be issued around 5 p.m. 
Are there other systems being watched in the Atlantic?
Yes. Tropical Storm Emily is one of five areas of interest being monitored in the Atlantic Ocean or Gulf of Mexico, according to the National Hurricane Center.
Tropical Depression 6: Located about 625 miles away from The Northern Leeward Islands, and moving west at 12 mph, the NHC said. Maximum sustained winds are 35 mph with some higher gusts. It's expected to gradually weekend and become a remnant low, then dissipate on Monday. 
Invest 90L: The NHC said showers and thunderstorms continue to show signs of organization with an areas of low pressure in the far eastern Carribbean sea, and that additional development is expected. It is likely to become a tropical depression in the next couple of days. It's moving west-northwestward at 10-15 mph over the eastern and central Caribbean. It should then move northward into the southwestern Atlantic Ocean. 
Disturbance #3: There is an area of disturbed weather in the far eastern Gulf of Mexico that could become an area of low pressure early this week, the NHC said. Slow development is possible as it moves closer to the western Gulf of Mexico coastline. Formation changes are low - 30 % - over the next two days, and 50% over the next week. 
Disturbance #4: This potential system is in the eastern tropical Atlantic. Right now, it's considered to be an area of disorganized showers and thunderstorms associated with a tropical way. "Environmental conditions appear conducive for gradual development of this system, and a tropical depression could form later this week while it moves west-northwestward across the eastern tropical Atlantic," the NHC said.
Here are the Atlantic Hurricane names for 2023: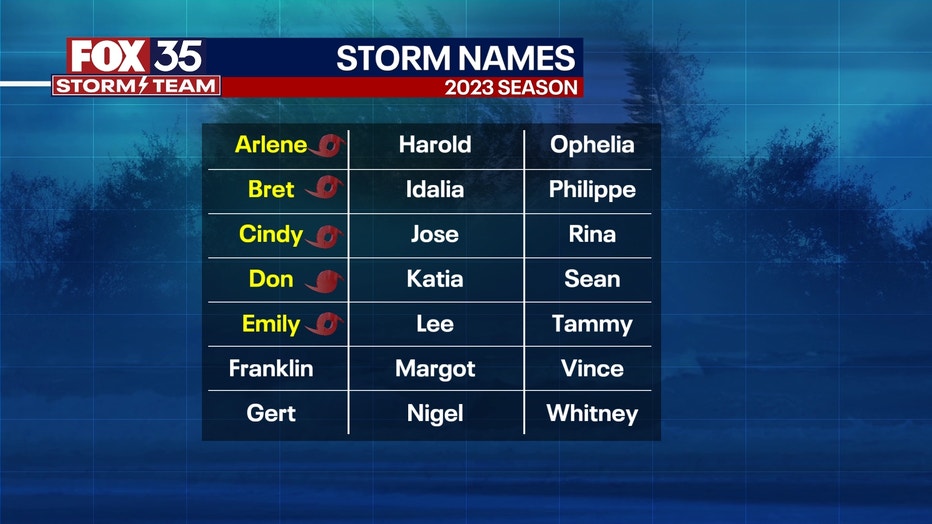 *Arlene
*Bret
*Cindy
*Don
*Emily
Franklin
Gert
Harold
Idalia
Jose
Katia
Lee
Margot
Nigel
Ophelia
Philippe
Rina
Sean
Tammy
Vince
Whitney
Asterisk (*) indicates a storm name that has already been used for the 2023 season