USDA cracks down on 'organic fraud' in food with new regulations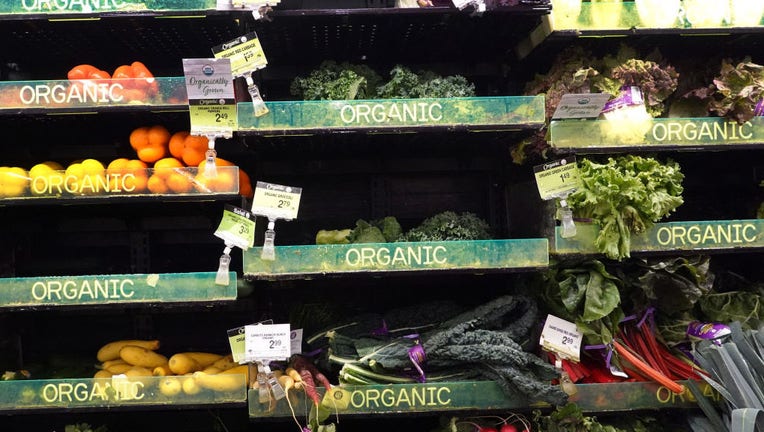 article
WASHINGTON - Is that really organic?  
The U.S. government this week rolled out new requirements for foods that aim to crack down on "organic fraud" and boost oversight of such products throughout the supply chain. Officials called it the most significant update to organic regulations in over 30 years. 
The U.S. Department of Agriculture on Thursday published a final rule that strengthens enforcement of the agency's strict definitions of organic, which must rely on "natural substances and physical, mechanical, or biologically based farming methods to the fullest extent possible."
Produce can be certified organic if it has grown on soil that had no prohibited substances applied — like most synthetic fertilizers and pesticides — for three years prior to harvest. 
Organic meat regulations require that animals are raised in living conditions accommodating their natural behaviors, like the ability to graze on pasture, as well as being fed 100% organic feed and forage, and not administered antibiotics or hormones.
For processed, multi-ingredient foods, the USDA organic standards prohibit these products from containing artificial preservatives, colors, or flavors and require that their ingredients are organic, with some minor exceptions.
These national standards for organic products are developed and enforced by the USDA's National Organic Program and are behind the official USDA Organic label applied to foods.
New USDA rule targets 'organic fraud'
The newly published USDA rule requires the USDA's National Organic Program certification for all imported organic food. 
It also increases the certifications of more businesses in the supply chain, including those in the middle — like importers, certain brokers, and traders of organic products. 
Additionally, it boosts authority for inspections, record-keeping, traceability, and fraud prevention practices.
Earlier this month, the Justice Department charged several individuals for their roles in a multimillion-dollar scheme to sell conventional soybeans and corn from Eastern Europe in the U.S. as "organic." Authorities said the scheme enabled them to charge higher prices for organic grains, as such foods can often cost as much as 50% more than non-organic grains. 
"The Strengthening Organic Enforcement rule is the biggest update to the organic regulations since the original Act in 1990, providing a significant increase in oversight and enforcement authority to reinforce the trust of consumers, farmers, and those transitioning to organic production," the USDA said in a statement. "This success is another demonstration that USDA fully stands behind the organic brand."
The Organic Trade Association, which lobbied for the rule, said the new regulations "will have significant and far-reaching impacts on the organic sector and will do much to deter and detect organic fraud and protect organic integrity throughout the supply chain."
The new rule takes effect in March and companies will have a year to comply with the requirements.
Demand and options for organic food grow
Demand for organic has grown steadily over the past several decades. Sales of organic foods in the U.S. topped $63 billion in 2021, according to OTA, with consumers willing to pay top dollar for products free of pesticides and other contaminants. 
Estimates from 2018 suggested that prices for organic foods had begun to lower as organic options multiplied. Organic food and beverages that year cost an average of 24 cents more per unit than conventional food, or about 7.5% more, according to Nielsen — which was down 9% from 2014. 
But there was also a lot of variation in the cost of organic food. The average price for a gallon of organic milk in 2018 — $4.76 — was 88% higher than the $2.53 shoppers paid for a gallon of regular milk. Organic eggs had an 86% premium. At $4.89 per loaf, organic bread was double the cost of regular bread.
This, while parents buying organic baby food paid just 3% more than they would for conventional baby food.
Toward the end of 2022, however, inflation appears to have had somewhat of an impact on both organic and conventional foods.
Between July and September 2022, the average price per pound of organic produce increased by 8.9% compared to a year prior, while the average price per pound of conventional produce increased by 10.3%, according to the Organic Produce Network. 
RELATED: Expects say Americans should expect even higher grocery bills
This story was reported from Cincinnati. The Associated Press contributed.